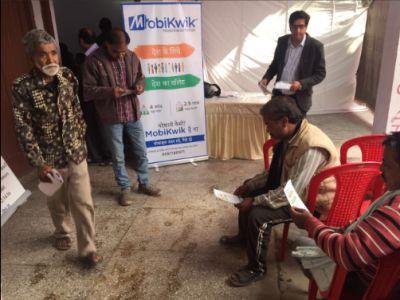 IMAGE: A Mobikwik outreach programme in Kanpur to enable street vendors to go cashless. Photograph: Courtesy, Bipin Preet Singh/Twitter.
Even as demonetisation is throwing up opportunities for e-wallets and the competition in the sector is stiffening, Mobikwik founder and Chief Executive Officer Bipin Preet Singh on Tuesday said Paytm, the largest player in the sector, has been "dumping capital" to gain customers.
"We must be sensitive to companies, especially those that have massive foreign investments," said Singh. "They can come into the country, dump capital and gain access to data."
His barbs were aimed at sector leader Paytm in which global e-commerce major Alibaba has a stake -- about 40 per cent according to some sources.
Singh also criticised Paytm for providing large discounts to users to gain market share.
"You do not need back-to-back print advertisements during demonetisation to gain customers. They give 50 per cent cashback on flight tickets and movies -- where is the innovation in that? I think that's where they have under-performed," he said.
Singh said there should be stricter regulations governing business practices in the sector, such as the amount of cash back that a company can offer. Asked if he was planning to take the matter to an agency, he replied in the negative.
"Right now, I am putting all my time and energy into expanding my business," said Singh.
The company, at present, has around 40 million users and 500,000 merchants. Paytm, on the other hand, has around 164 million users and around 1.5 million merchants. On several occasions, its founder Vijay Shekhar Sharma has said Paytm is a fully India-owned company.
Unable to take on the big money of global firms such as Uber and Amazon, more and more domestic players such as Ola, Meru and Flipkart are lobbying for more stringent laws.
Indian start-ups had in 2015 found investment of $9 billion but have just managed to raise around $5.5 billion this year.
"For many of these start-ups lobbying with the government to tilt the policies in their favour is the only play left. Next year, we would be looking at a major consolidation and start-ups fearing this are approaching NITI Aayog or other government departments," said a senior analyst at an international consultancy firm.
On Monday, Paytm and FreeCharge announced up to 100 per cent cashback offers. While Paytm announced 12/12 Cashfree Festival where consumers can pay via the digital wallet for offline shopping and get cashbacks among other offers, FreeCharge announced a two-day cashback offer where consumers can avail flat 100 per cent cashback for two transactions per day.