Priya Nair/Business Standard lists ways on how consumers can maximise benefits.
Illustration: Uttam Ghosh/Rediff.com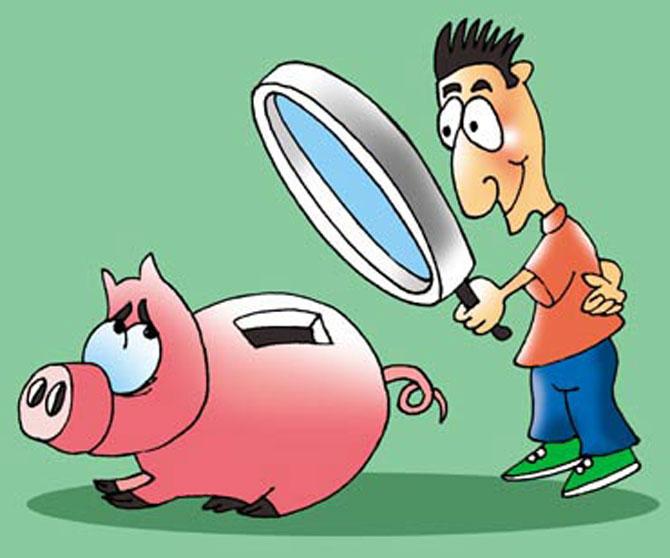 The government, a month after implementation of demonetisation, has decided to give a push to digitisation. On Thursday, December 8, Finance Minister Arun Jaitley announced a slew of incentives for people willing to transact digitally.
Making digital payment on fuel purchases from petrol pumps will be cheaper by 0.75%.
New policies bought from the customer service portals of the Life Insurance Corporation and public sector general insurance companies will attract a discount of 8% and 10% respectively.
There are a number of other transactions as well on which the government has decided to give discounts, provided one is willing to take the cashless route.
Says Madan Sabnavis, chief economist, CARE: "The government is almost following a placatory approach with these incentives, after almost forcing people to go digital in the first month. This is a good approach, as it makes people more comfortable."
Some petrol pumps charge 2% on credit cards, a deterrent for many people. Now, with the government giving a discount, many will be encouraged to use cards.
"However, to encourage the use of digital payments more aggressively, I believe, the government should give such incentives in many other areas," added Sabnavis.
This is good news for people who like to swipe their cards.
Say you spend Rs 10,000 a month or Rs 120,000 on petrol bills nannually, the saving of 0.75% would translate into a saving of Rs 900 a year, not a significant amount but could help buy a few more litres or fund a small dinner for the family at a reasonable restaurant.
However, if you take advantage of most of the benefits being offered -- cheaper season tickets while travelling within the city, new general or life policy, petrol or diesel -- the benefits could be much more.
For example: If a 25 year old purchases a term plan of Rs 1 crore from the LIC portal, the discount would Rs 1,920 a year.
Similarly, a 35 year old buying a family floater of Rs 10 lakh will get an annual benefit of Rs 1,300.
But remember that these discounts might become a marketing tool at the hands of insurance marketers, who will try and push their products, since this is a tax-saving season.
If you have adequate insurance, don't add more products to your portfolio.
You can purchase your season ticket through the IRCTC Web site for discounts. While all credit cards are accepted, debit cards of only seven banks are accepted.
"Currently, there is a transaction charge of Rs 10 to Rs 12 on debit cards and 1.8% on credit cards. But, with the government asking all central government departments and central PSUs (public sector undertakings) not to pass on the transactions fees/merchant discount rate charges (MDR) to consumers, it is perhaps safe to assume ticket bookings would be exempt too," says Navin Chandani, chief business development officer, Bankbazaar.com.
However, Yashish Dahiya, co-founder and chief executive of Policybazaar.com, feels while incentivising the procedure is a good way to encourage people to adopt digital payments, the move would be fully useful only when the benefits are extended to all channels like agents, brokers and aggregators.
"In a typical transaction, a significant time and effort is put for realisation, digital payments will reduce these," he explains.
Today, on a debit or credit card payment, the merchant has to pay MDR to the point-of-sale (PoS) acquiring bank.
At present, service tax is also payable on MDR. This has been waived off for transactions up to Rs 2,000.
MDR is capped at 0.5% to 1% for debit cards; for credit cards it can go up to 2%.
"While there is no immediate benefit to the consumer because the final bill will remain the same, this move will act as an incentive for more merchants to accept card payments and for banks to deploy more PoS. This will eventually benefit customers," says Chandani.