Builders bet on affordable homes as luxury sales dip, however, signs of revival after note ban and Rera are slowly visible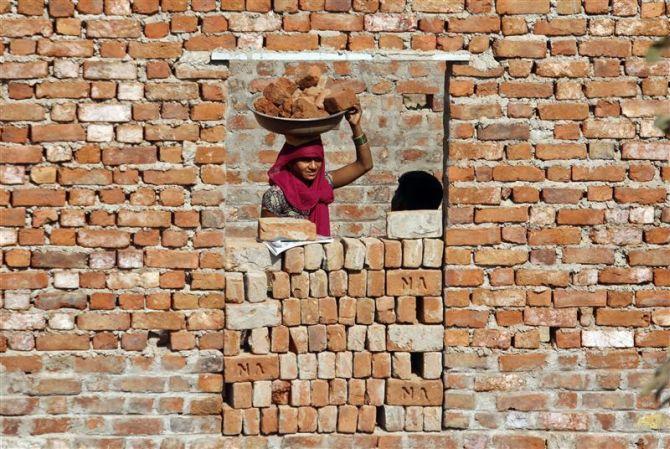 With slowing of luxury housing property sales, major real estate developers are banking on their affordable and premium segments for the coming months.
They're still bearing the brunt of last November's demonetisation, plus the impact of the new Real Estate Regulatory Act (Rera) and the Goods and Services Tax.
As a result of these, say developers, the luxury residential market is going through consolidation and slowdown.
Once that phase is over, they hope, wealthy individuals would again start spending on luxury properties.
Anarock Property Consultants says in the fourth quarter of 2016, a total of 3,864 luxury properties were launched. Plunging in the first quarter of 2017 to 599.
There now seems some return of stability to the market, say major players, optimistic on the growth of the affordable and premium segment properties, while seeing consolidation in the luxury segment.
"With the initial tremors of demonetisation settling down and the measures by the government in terms of interest rate cuts and increased focus on affordable housing, the overall outlook for the real estate sector is very positive," says Rajeeb Dash, head of corporate marketing at Tata Housing Development Company.
"While we are witnessing consolidation in the luxury segment, the affordable and premium segments have shon signs of improvement. We have witnessed a growth of over 30 per cent as compared to the preceding quarter across all our projects in the country."
The market is growing but "we don't expect too much of a price correction from branded developers. This is the right time for consumers to buy their dream homes, as every developer is offering good deals. This opportunity could vanish, once the economy starts showing signs of recovery", he advised.
DLF, the country's largest real estate group, reported a decline of 58% in consolidated net profit, at Rs 109 crore (Rs 1.09 billion), for the quarter ended June. Part of the reason was a higher base, due to an exceptional profit of Rs 329 crore (Rs 3.29 bilion) in the year-before period.
Also, though, there had been no sale of residential properties since May, though the top bosses at DLF say this was a conscious decision of theirs'.
"In the past four years, we have fulfilled all our commitments and delivered over 14.5 million sq ft per annum. We now have an inventory of ready-to-unlock and occupy stock of Rs 15,000 crore (Rs 150 billion). Not selling residential properties for the past few months was a legal requirement for all builders across the country.
It was a conscious decision to first register with Rera," said DLF's chief executive, Rajeev Talwar.
In the coming months, DLF plans to begin selling its vast inventory of premium residential properties, hoping to earn at least Rs 13,000 crore in revenue.
Some say they are bullish on the luxury market, since it saw a revival in new launches over the second quarter of 2017, from the preceding one.
"The segment saw subdued demand and low sales post demonetisation but should gain renewed momentum with the coming festive season.
The rapid increase in number of high net worth individuals and improved buyer confidence post Rera will further push the long-term demand for luxury housing," says Anuj Puri, chairman at Anarock.
At a glance
The luxury residential market is going through consolidation and slowdown after demonetisation
Experts say this is the right time for consumers to buy houses, as every developer is offering good deals
Experts say demand to rise in the coming festive season
DLF plans to begin selling its vast inventory of premium residential properties, hoping to earn at least Rs 13,000 cr in revenue
Photograph: Reuters