Developers are likely to start announcing their festive season offers soon, reports Sanjay Kumar Singh.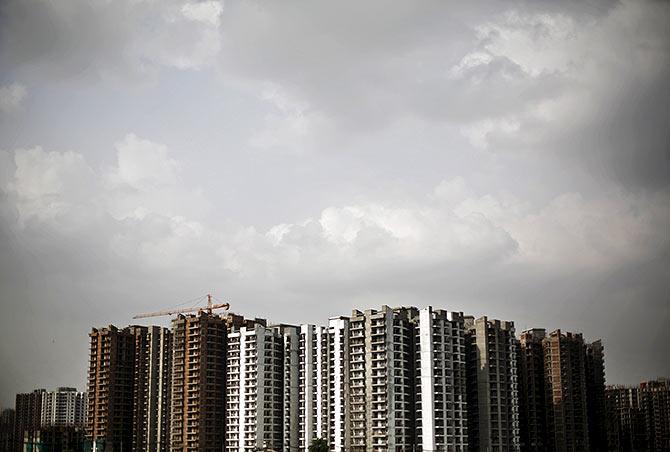 Real estate prices, which have been stagnant for the past two-three years, are showing signs of revival in select pockets of the country.
Though the pace of revival will not be uniform across different cities, for end users this could be good time to act before prices firm up and discounts vanish.
1. An incipient turnaround
According to the April-June 2017 Magicbricks Propindex report, 55 per cent of the 750-plus localities covered by their survey witnessed an average price increase of 2.8 per cent quarter-on-quarter (q-o-q).
The southern markets fared better; those of the West were up or down marginally or were stable; while those of the North continued to decline.
According to the report, user-driven (as opposed to investor-driven) markets that did not see drastic price increase during the boom period and suffered less from project delays (and the consequent hit to consumer sentiment) are doing better.
A recent report by Liases Foras suggests aggregate sales across the top eight cities rose six per cent in the June quarter compared to the previous one, with Mumbai recording the highest quarterly sale figure in seven years.
Colliers Research recently reported that the first half of 2017 witnessed a 17 per cent decline in the number of new launches compared to the second half of 2016 (aggregate for top cities).
It expects the number of launches to decline further in the second half of 2017.
"This period of fewer launches is good for the market, as it will reduce excess inventory," says Amit Oberoi, national director, knowledge systems, Colliers International.
2. Time to buy
End users, who have been sitting on the fence expecting prices to come down further, might be disappointed. As the festive season offers kick in and buyers develop greater confidence in the Real Estate Regulatory Authority or Rera, the markets may look up.
"If you are buying for self-use, don't try to time the market, as it is difficult to predict how prices will move. If you have a requirement, go ahead and buy," says Oberoi.
Developers are likely to start announcing their festive season offers in a few weeks. And, they are expected to be tempting.
According to Ankur Kapur, chief investment officer, PropTiger.com, "You may not get festive season discounts in ready-to-move-in (RM) properties but they will surely be offered in under-construction (UC) properties."
Adds Jayashree Kurup, head of content and advisory, Magicbricks.com, "If you begin doing your due diligence now, you will be able to narrow down on the locality and developer in a few weeks, by when you will be able to avail of these offers."
3. Ready-to-move or under-construction property?
Kurup suggests that given the history of project delays, buyers should opt for an RM property, especially in the North. Such projects, however, come at a premium.
"RM properties also require upfront payment. If you are an end user who has the payments arranged, go for one," says Dhawan.
According to Oberoi, the choice should also depend on the customer's risk appetite. He advises that if you decide to buy a UC property, opt for one that is Rera-registered and has a developer with a sound track record of delivery.
UC properties generally give better price appreciation than RM properties. Do undertake a site visit to a UC project to ensure that work is not at a standstill.
When choosing the locality, opt for one where the social and physical infrastructure are both developed, so that you are able to live in the apartment when it is delivered.

For those planning to buy into a luxury project, there are attractive opportunities. As there is over-supply in this segment, you can bargain for a good discount.
Many luxury projects have reached completion in the past year or so, so you have more RM options.
"People who wish to upgrade to a luxury property sometimes say that they need to sell their current house to buy another one. If you are going to buy at a lower rate, you can't simultaneously sell at a higher rate. So, if you can afford to buy one now while holding on to your current home for a year or two, by when prices would have improved, go ahead," says Kurup.
4. Invest with a five-year horizon
For investors this is a good time to enter the markets. However, they need to have an investment horizon of five years or more. Given the varied prospects of the realty markets in different cities, one option is to move out of your hometown (if its market is languishing) and invest in cities that currently have better prospects.
"Cities that have strong economic drivers and job opportunities tend to do well. If people from other cities come to it for jobs, the real estate market of such a city enjoys a lot of traction," says Kurup.
The office space absorption numbers of a city are a good indicator of the strength of economic activity.
Invest in a locality where the property can be easily rent. "You will have to rent the property while you wait for price appreciation. Invest in a property that is close to and well connected to an economic hub. You will find it easier to rent it and earn an income," says Kurup.
Investing in properties in the lower mid-price segment is a good idea. According to the Magicbricks-Propindex report, this segment is doing better than higher-priced segments. Even within cities, price appreciation varies from one project to another.
"People have realised that certain developers deliver on time and deliver quality, so there is higher demand for their projects. These projects witness better price appreciation," says Oberoi.
At all costs, avoid heavily over-supplied micro-markets. They are likely to offer neither good rental return nor price appreciation.
Photograph: Adnan Abidi/Reuters