The government on Monday said 18 coal mining projects of state-owned CIL have received clearances from the Environment Ministry.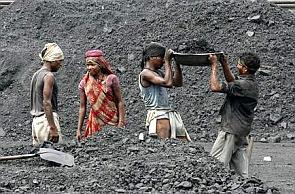 Of these, 14 have received environmental clearances and four forestry clearances, Minister of State for Coal Pratik Prakashbapu Patil said in a written reply to the Rajya Sabha.

"Soon after the meeting of CCI (Cabinet Committee on Investment)... MoEF (Ministry of Environment and Forests) has accorded environmental clearances (EC) for 14 projects and stage-I forestry clearances (FC) for four projects of Coal India Ltd (CIL)," the minister said.

The government has set up CCI to expedite decision-making process for clearance of projects in the infrastructure sector.

Patil further said that a regular interaction between coal ministry and MoEF is taking
place to address the pending issues concerning both environmental and forestry clearances.
"Similarly, regular interaction with the concerned state government is taking place to address the issues related to land acquisition and rehabilitation and resettlement of project affected persons," he said.
The Coal Ministry is also holding regular dialogue with Railways to address issues related to pending rail infrastructure projects for coal evacuation in different coalfields, he added.
The CCI had in February considered the proposal of the Coal Ministry regarding fast tracking of the approvals for the environment and forest clearances in respect of 12 coal mining projects, according to an official statement.
According to the Ministry of Coal, these 12 projects will lead to annual coal production of 36.97 million tonne and an investment of Rs 1,347.63 crore (Rs 13.47 billion).