About 1,070 units in Sivakasi can manufacture fireworks worth Rs 6,000-9,000 crore.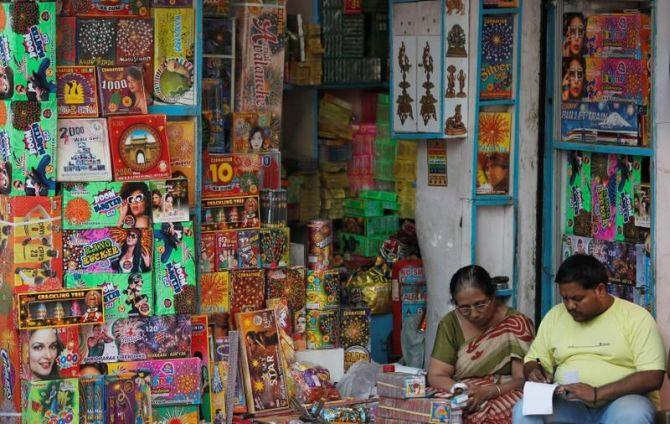 Sivakasi - the small town 550 km south of Chennai famous for manufacturing crackers and matches - breathed a sigh of relief on Tuesday, with the Supreme Court not issuing a blanket ban on fireworks ahead of Diwali.
This means the fireworks industry will not lose out on its biggest annual sale - though it is reeling from a 30-50 per cent cut in orders this year.
The town, also known as "little Japan", manufactures 90 per cent of firecrackers in the country and employs about 800,000 to 1 million people.
Ever since fireworks have been identified as a primary source of pollution, the manufacturers have been facing legal hurdles.
"Though the SC has not banned fireworks completely, the general trend seems to be towards banning barium salts. This is hardly practical for us, as we don't have alternatives," said K Mariappan, general secretary, Tamil Nadu Fireworks and Amorces Manufacturers' Association (TANFAMA).
Barium salts, such as barium nitrate is used to create colourful flames in pyrotechnics.
Mariappan said the ban on this essential ingredient was imposed with consulting the Petroleum and Explosives Safety Organisation, the licensing and administrative authority for the industry.
Barium nitrate has been banned based on a report by Council of Scientific and Industrial Research, New Delhi.
The industry could approach the SC to review the ban.
The TANFAMA claims the industry was facing losses to the tune of Rs 10-12 billion. Last year, too, the industry faced a huge loss with the SC banning sale of firecrackers in the National Capital Region (NCR).
K Sivabalan, an industry veteran, said, "Wholesalers in the NCR have not placed any orders with us this time."
About 1,070 units in Sivakasi can manufacture fireworks worth Rs 6,000-9,000 crore.
Photograph: Adnan Abidi/Reuters