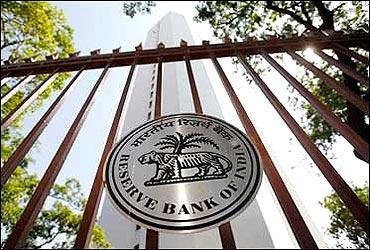 The Reserve Bank of India held its policy rate at 7.25 percent on Tuesday, pausing as widely expected after a spike in food prices sent consumer inflation to an eight-month high.
All but four of 51 analysts polled by Reuters had predicted the RBI would keep the repo rate on hold.
Commentary:

Radhika Rao, economist at DBS in Singapore
RBI's commentary today was balanced on growth prospects, but softened on inflation given the mention of some headroom for further accommodation.

Likelihood of rate cuts in Sept/4Q still hinges on the evolving inflation outlook, as policymakers reiterated that base-effects driven pullback in July/Aug will be overlooked. Provided inflation undershoots RBI's projections in Sept/Oct, the room to lower rates will open up.

Comfort is being drawn from lower commodity prices and improved monsoon outlook (until end-July), but external developments will also have an important bearing on the policy direction.

Notably, the RBI rate review in September is scheduled a fortnight after the U.S. FOMC meeting. Any renewed indication of normalisation in U.S. rates would limit RBI's room to lower rates.
Overall, risks of a cut in the final quarter of the year are still equally balanced, with a close eye on sequential inflation trends warranted.
G Chokkalingam, founder of Equinomics, Mumbai
"Quite disappointing. The worry is unwarranted. The whole world is worried about deflationary (pressures) and you have industries like steel, sugar, PSU banks going through stress... So it's quite disappointing. September to December there's certainly room for a rate cut."
Deven Choksey, Managing Director, KR Choksey Securities, Mumbai
"According to me they are going too cautiously. The RBI is driven by data and not other factors, which suggest that the economy could possibly go into the fast track if they bring down the rate of interest."
Arun Gopalan, V-P research, Systematix Shares, Mumbai
"I think it's a wait-and-watch policy. But the words "room emerging for accommodation" will definitely go down well with the market. RBI is still looking at transmission by banks. One can expect some rate cut in next three months if banks cut base rates and monsoon turns out to be good."
Abheek Barua, Chief Economist, HDFC Bank, New Delhi:
"The policy is a little more dovish than anticipated in the sense, they are looking for space to come up with an accommodative policy. There are clear risks on the horizon especially coming from the monsoon.
"If things look a little better with food prices and so on, both in terms of how the monsoon pans out, and the supply management ... then the possibility of a rate cut over the next couple of months, even outside the policy, is very much there.
"Unlike the last policy, where they sounded very hawkish and the market construed it as the end of the cutting cycle, this was clear affirmation they are not at the end and they would look for an opportunity to give growth a boost."
R. Sivakumar, Head of fixed income, Axis Asset Management, Mumbai
"The rates have been kept on hold as expected. The RBI has marked down the inflation expectations and therefore it is good news. It means the RBI is recognising that some of the risk that they saw in June are mitigating.
"In the near-term, we expect the RBI to remain on hold due to U.S. Federal Reserve's decision. From markets' perspective any delay in rate cuts till the end of 2015 will not be a concern."
A Prasanna, Economist, ICICI Securities Primary Sealership Ltd, Mumbai
"The policy is along expected lines. They have softened their language on inflation. And if inflation undershoots from their trajectory, then some space for monetary easing could open up later in the year."