Four big deals within within a week could well be only the beginning of a mergers and acquisitions season for India Inc.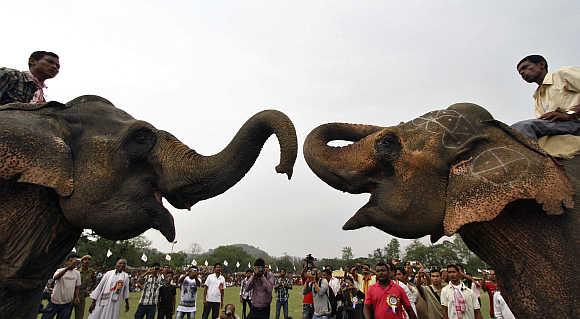 Image: Two elephants fight during a traditional festival in Boko, Assam. Photograph: Utpal Baruah/Reuters
On Friday morning, the Kishore Biyani-promoted Future Consumer Enterprises announced it was buying the south India-based Nilgiris convenience store chain for an estimated Rs 300 crore or Rs 3 billion.
This followed Thursday's announcement by Tech Mahindra that it would buy US-based global telecom network service provider Light Bridge Communications for around Rs 1,500 crore or Rs 15 billion and Kotak Mahindra Bank's decision to buy ING Vysya Bank in an all-stock deal with a purported value of around Rs 15,000 crore.
These three acquisitions were announced less than a week after JSW Energy said it would acquire two hydroelectric power plants of Jaiprakash Power Ventures for Rs 9,700 crore or Rs 97 billion, taking the weekly M&A deal value to Rs 26,500 crore (around $4.3 billion).
"The market is in a frenzy; it is rare to find so many deals in such a short span of time," said Ajay Garg, managing director of Equirus Capital.
"In the last six months, the excitement has been building up, first in the secondary equity market, then it moved to primary market and now it seems to be getting into larger consolidation in industry," Garg said.
Of this week's four deals, three are for consolidation in the local market. According to Mergermaket, a global M&A intelligence service provider, India saw $21.7 billion worth of M&A transactions in the first nine months of 2014, up 22.4 per cent from the corresponding period of the previous year. With these four deals, M&A transactions in 2014 have surpassed the $22.3 billion of 2013.
"There is certainly much more activity in the M&A space now than in the past three to four years," said Ajay Saraf, executive director with ICICI Securities. "We are seeing two themes: assets are moving into stronger hands through consolidation and stocks are being used as currency for M&As."
Further consolidation in banking seems imminent, with the State Bank of India considering a merger with its five associates.
Power is a sector where consolidation is a continuing theme. In August, Adani Power acquired the 1,200 Mw Udupi thermal power plant from Lanco Infratech.
Telecom is another sector awaiting regulatory clarity to get into a consolidation phase. But the current M&A spree is way behind what was seen before the financial crisis of 2008.
"The previous M&A surge in India was on the back of inbound deals but what we are seeing today is a reverse of that," said Rajeev Gupta, president at Mumbai- based boutique investment bank Arpwood Capital. A veteran in deal-making with earlier stints at local ventures of global giants Merrill Lynch and Carlyle, he added, "It is certainly a phase of consolidation at this stage."
A busy week
Friday: Future Consumer Enterprises acquires Nilgiris for Rs 300 crore or Rs 3 billion
Thursday: Kotak Mahindra Bank acquires ING Vysya Bank in all-stock deal for purported value of Rs 15,000 crore (Rs 150 billion)
Thursday: Tech Mahindra acquires Light Bridge Communications for about Rs 1,500 crore or Rs 15 billion
Sunday: JSW Energy acquires 2 hydro power assets of Jaiprakash Power Ventures for Rs 9,700 crore or Rs 97 billion