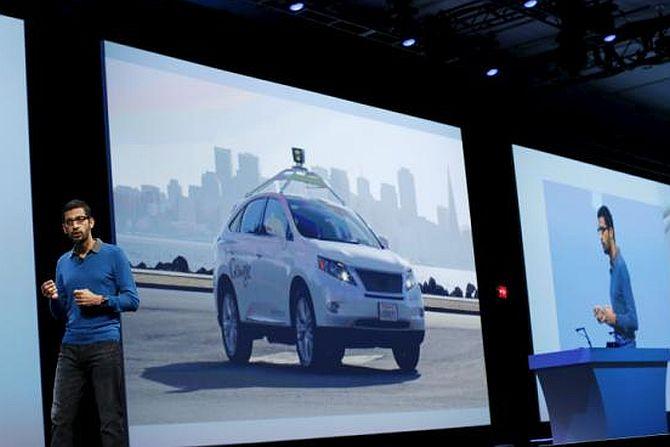 Sundar Pichai has been appointed the new CEO of Google amid a structural overhaul by the tech giant.
Google has created a holding company called Alphabet. Under the new corporate structure, the Google unit will encompass the core search engine as well Google Maps and YouTube.

One of the world's most powerful persons in the tech world, Sundar Pichai had a humble beginning.
Here are some facts about Sundar Pichai which perhaps you did not know...
*Born in Chennai, the 43-year-old Google boss' real name is Sundarajan Pichai.
* Hailing from a middle class family, Pichai's family did not own a car or a television during his childhood.

*Sundar Pichai's mother worked as a stenographer while his father was an electrical engineer.
*The man behind the success of Android OS had his first tryst with a phone when he was 12 years old.

*He was very good at remembering telephone numbers from a young age. He could remember every number he dialled! He was also interested in technology.

*Pichai's academics is however not related to his job as he studied metallurgical and materials engineering. He pursued a course in electronics even when it was not a part of the curriculum. A silver medallist at IIT-Kharagpur, Pichai went to Stanford on a scholarship pursuing his American dream, after his graduation in 1993.

*He did his Masters in engineering and materials science at Stanford University and MBA from the Wharton School of Business.The cost of living in the US was a shocker for the modest Pichai.
*His professors remember him as one of their brightest students. He was always forthcoming to discuss his ideas and new projects with fellow IIT-ians at Kharagpur. He was always keen to innovate and work on new ideas.

* A down-to-earth and unassuming person, students at at IIT-Kharagpur interact with him over Skype at regular intervals.
*Pichai served as the company's senior vice president of products, largely responsible for the creation of Google Drive, the Gmail app and Google video codec. He joined Google in 2004 after a stint at Applied Material and McKinsey.
*Pichai floated the idea of a new browser. The suggestion was not very well received since it was thought that there was no need for another browser. Today, Chrome is the leading web browser in the world, displacing Microsoft's Internet Explorer which dominated the market for decades.
*It is rumoured that Twitter tried to hire Pichai four years ago but Google paid him an exorbitantly higher pay to keep him back at Google.
*He was also one of the top contenders for the top job at Microsoft, which went to Satya Nadella.
* Besides being a soccer and chess lover, he is a big cricket fan. While in school, he was the captain of the cricket team too.
*At Google, he is one of the most popular bosses. He is good at maintaining relationships and managing employees. Sundar Pichai is married to Anjali. They have a daughter and a son.
Photograph: Reuters