Ethanol blending with petrol has resumed after more than a year. Last week, sale of blended petrol started in Bangalore, Mathura and parts of Gujarat. While blending will be gradually extended to the other parts of the country, the quantity of ethanol contracted so far is insufficient to continue the programme nationally beyond eight months.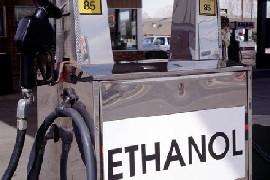 "It will take two-three weeks to stabilise the programme and then we plan to take it to the other parts of the country. By December, sale of blended petrol is expected to begin in Mumbai and Delhi," said an official at Indian Oil Corporation, which along with Bharat Petroleum and Hindustan Petroleum, is selling blended fuel.

Ethanol blending with petrol at five per cent continued for about two years before coming to a halt in October last year, due to low supply on account of dip in sugarcane output and default in supplies by standalone ethanol manufacturers.

Ethanol is considered a green fuel and blending will also help in reducing India's heavy dependence on crude oil imports.

Some oil companies also plan to start ethanol production. Hindustan Petroleum, for instance, bought two sick sugar mills in Bihar in 2008 to produce ethanol. These mills will start producing ethanol from December.

A sugar industry official said even though nearly 1,000 million litres of ethanol was offered by manufacturers, only 580 million litres qualified due to stringent tender norms.

Most disqualification took place the ground that manufacturers failed to show that the molasses used in producing ethanol were indigenous. The annual requirement for five per cent blending is 860 million litres. So, oil companies may have to come up with a fresh tender to source more supplies.

The Cabinet approved an ad hoc price of Rs 27 per litre for ethanol and set up a committee to come up with a pricing formula.

A committee, headed by Planning Commission member Saumitra Chaudhuri, recommended that the quantity of ethanol use be restricted to 400 million litres as of now. In its draft report, the committee also said it was 'neither feasible nor appropriate to require that the alcohol-based chemical industry be effectively denied access to domestically produced alcohol'.

The chemical industry, led by companies like Jubilant Organosys and India Glycols, is one of the primary consumers of molasses, which is processed to make ethanol, along with the liquor and ethanol industries. The chemical industry is against the mandatory nature of blending and a fixed price of Rs 27 per litre.