'There are different kinds of risk.'
'It is a very powerful value. Your ability to de-risk the risk is also as important for risk taking.'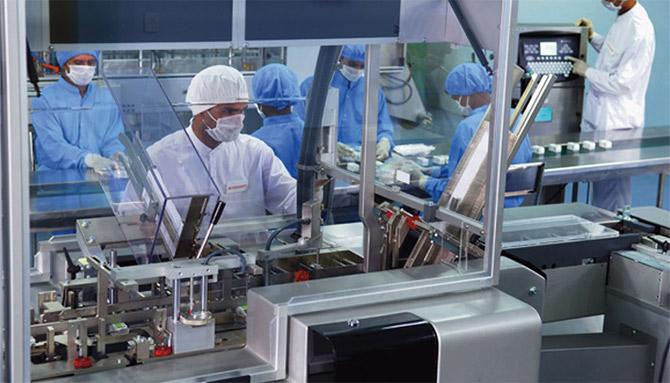 When it comes to running Wockhardt Ltd, although his son Dr Murtaza Khorakiwala is now in the driving seat, chairman Dr Habil Khorakiwala has always advocated a few tenets.
That the company must have: An open culture, participative-management practices, innovation, be customer-centric, look for continuous improvement, a speedy response, empowerment and every one must be enjoying their job.
But as far as management of a company goes, Dr Khorakiwala believes, as he told Rediff.com/Vaihayasi Pande Daniel in Part II of this exclusive interview, that family-run firms/groups can be equally professional if they make an effort to follow professional systems.
Further, he believes family-run firms/groups have the ability to out-perform non-family-run companies because they can take advantage of the entrepreneurial spirit of the founder who is often ready to push
Dr Khorakiwala explains the Value of Risk in this, the concluding segment of the interview.
In your book Odyssey of Courage: The Story of an Indian Multinational (Rupa) you refer many times to business culture ethics, best business practices.
What business values are missing from Indian business culture?
What are the challenges implementing global standards and management practices in India?
What is good to have is a degree of professionalism. It is there. But it is not universal.
It should be there because I don't think companies which are not professional and organised systematically can succeed on a long-term basis; in a family company it is necessary.
Secondly, transparency is very important.
By and large professional companies are relatively more transparent than family organisations.
Yes, like Nirav Modi?
(Smiles) That is an extreme example. That is a scam. We are not talking of that.
But the degree of transparency is becoming a norm if you have to succeed and grow.
Third, very important, is that companies which are professional are basically foreign companies, having their subsidiaries here.
So they have a mindset -- the people who come here have much wider global exposure and a global mindset of how to do business and what are the things to do.
Unless an organisation becomes global, this mindset is not there.
Therefore as the organisation goes outside (beyond) India and starts working (abroad) (acquiring) that global mindset is very important. Because then you accept competiveness as a part of dynamics.
You don't want to go to the government every now and then asking for protection if something goes wrong. You try to find a solution.
Also, then transparency is there. Then you keep your word when you make a commitment as an organisation and contracts become important.
All these small elements -- which are part of having a global mindset, I would say -- are important to succeed.
All global companies are also not like that. Some are different. But by and large, these are some of the things that the family company should do to move ahead.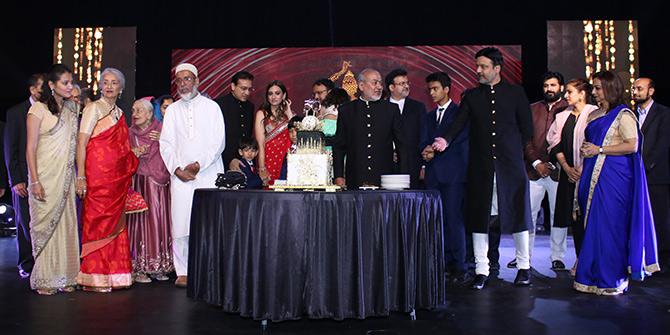 Education doesn't seem to have enough value in this society. Too many people value making money more than broadening their knowledge.
Do you think our society values learning the way it is to be valued?
In some areas I will agree. In other areas, our education is good -- look at all technical education like engineering, medical education. They are pretty good. Our chartered accountancy is pretty good. So in some professional areas, it is good.
I will put it to you differently. My driver made sure he knew how to drive. He is not educated. He comes from Jharkhand, I think. But he has sent his children to do chartered accountancy and things like that.
How do you judge if people value education? You go to the lowest level.
They want their children to have good education because they were deprived.
They think the only thing they can give their children is a good education so that they can have a proper life in society.
So you have to judge education, not by what we think of it, but by what people who are not educated think and what they actually do for their children or people around them.
You find this universally without exception.
The upper classes are not valuing education the way lower classes are. That is the point I am making. Because they feel they don't have it.
What are your values? In this conversation that we have ,had you have used the word risk taking at least 15 times. So that is an important part of your outlook.
Yeah, of course, you can't succeed without having the ability to take risk.
But there are different kinds of risk.
It is a very powerful value. Your ability to de-risk the risk is also as important for risk taking.
Can you explain that?
If you say I want to go where others have not gone, I may be the first to go there, alright. So the going there is itself a risk.
Then (once you are there and are in a position of risk) you systematically look to see what you need to do.
You go on looking to see how, step by step, you can reduce the risk.
I will give you an example: Because of the very fact that we have spent 20 years on the drug discovery programme, in another 4 or 5 or 2 or 3 years we will have a drug on the global market.
In the next one year we will have one on the Indian market.
So our approach is that getting the product there is the most important thing.
Everything else is something we have to de-risk.
Like, for example, we have this FDA (United States Food and Drug Administration) challenge going around. So I have left the whole manufacturing in Europe and US. We are not doing it.
We have discovered a new drug. But even though we can manufacture it here -- we have the technology -- we are de-risking it to get it manufactured (elsewhere) because we don't want anything to come in the way of this success.
The second aspect is the clinical trials we undertake.
Multinationals have a whole battery of people who do clinical trials. We are doing it for the first time. We don't know how to do it and we don't want to learn the hard way... making mistakes.
So we have created a (group of) very key people, 8 to 10 people, who know this antibiotic, anti-infective area, who we got from the industry in the US and Europe.
Clinical trials, where 100 hands and legs are required, we have given entirely out to CRO (a Contract Research Organisation). Manage the data... manage the whole thing. We just supervise their work.
That is de-risking things, which are less important in (the project to put a new drug on the market).
So de-risking has to happen for the risk taking to continue. To continue to a larger goal. That's what I mean.
Another way I de-risk the organisation: Every time we want to do new things, we don't do something totally new. Something we know and where we have a strength.
We identify one element which is new, so I am managing the risk.
The second aspect -- since were talking about risk-taking -- I don't do things which are simpler than what we are doing today. Because value creation is not there.
Your competition can take it over?
Competition can take over.
Let me go back to the question of who you are.
I am a very driven person.
But you are not as traditional as your family (His father, who hailed from Palanpur, Gujarat, was the late Fakhruddin T Khorakiwala, Padma Shri, a sheriff of Mumbai. The family owns the Akbarallys chain of department stores.) You seem to be traditional, but you seem to have moved away from being as traditional as they were.
My father was not that traditional.
No, I cannot be traditional. Because I want to change things around me (laughs).
I want to break tradition actually. My mindset is fundamentally that everything is possible, provided it is worth doing.
Second if there are problems, like we face massive challenges, financial challenges now. I don't give up.
Basically, every problem has a solution provided you try to understand things, have the staying power and remain calm.
I never get flustered. I never carry my work home.
I am definitely spiritual. I am also religious to the extent that I believe in religion.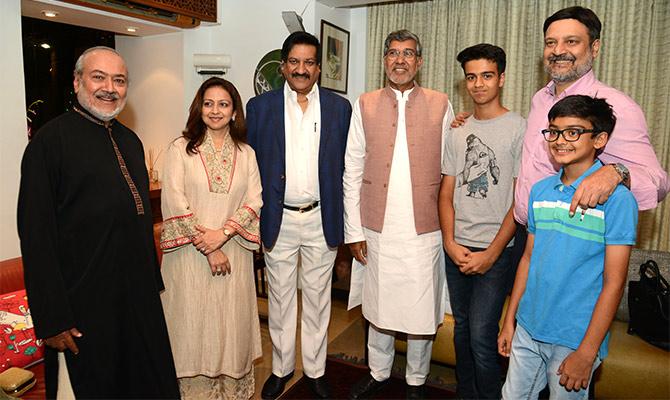 What about your future? What are your future plans?
I am very excited about the research part of the organisation.
Research is where we are making a huge difference. We are in the process of creating a very different kind of organisation. The organisation we have is very good for current business.
A research organization is a very different kind of organisation. It is global because 90 per cent of the business would be outside India, 95 per cent maybe.
You need a different way to communicate and market it. You need a different skill set, like we are building up on clinical trials.
Discovery we had done earlier, clinical is going on -- strengthening all those aspects.
It is a very, very, exciting period.