'We've seen tremendous traction from fruit and vegetables.'
'Around 18% of our business comes from these, almost three times higher than physical stores.'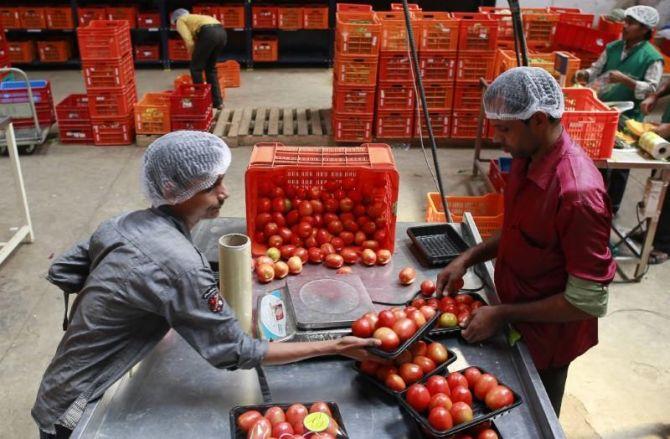 Photograph: Danish Siddiqui/Reuters
BigBasket, the country's largest online grocery, has closed a $300 million funding round led by Chinese Internet giant Alibaba. This round values the company at $950 million.
"When competition comes in, things open up much faster because everyone is making the jump from physical grocery to online," Hari Menon, bottom, left, co-founder and chief executive officer, tells Alnoor Peermohamed and Bibhu Mishra.
Competition in grocery has picked up. Both Amazon and Flipkart want to be in the space. How will the new capital help?
How will it help us take on competition? I don't know and that's not our focus.
Our focus is on building ourselves and this money will help us achieve a strong growth trajectory.
We're at a Rs 200 crore (Rs 2 billion/gross merchandise value of products sold on its platform in a month) run rate.
This will move to around Rs 300 crore (Rs 3 billion) in August and about Rs 500 crore (Rs 5 billion) in March 2019.
That's the whole plan and, fundamentally, this is what the money will get utilised for.
I don't know where the competition will be, but we'll clearly be the leaders in this space by miles.
At Rs 200 crore, we'll be about four times (bigger than) our nearest competition.
Everything we do now in terms of enhancement in technology, data analytics and infrastructure will all be geared towards these numbers.
How do you plan to achieve this growth?
Do you need to enter new markets or tap more customers where you are present?
No, we're just going to go deeper into our existing markets.
It's such a large market, $600 billion, and such a large opportunity that we are only skimming the surface.
That's also why we don't worry about competition coming in.
In fact, when competition comes in, things open up much faster because everyone is making the jump from physical grocery to online.
How healthy are your numbers? How often do customers buy from you?
Customers today, on an average, buy about three times from us a month.
Our objective is using data analytics and all the tools we are building now to move that to about five times a month.
That's how many times an average customer buys groceries anyway, right?
We've seen tremendous traction from fruit and vegetables; around 18 per cent of our business comes from these, almost three times higher than physical stores.
We are very, very, focused on the strategic business that is fruit and vegetables.
We have a solid farmer connect programme. We work with 1,800 farmers and this will grow to 3,000 farmers in the next few months.
Almost 85 per cent of what we sell comes from farmers.
So, that is a strong strategic piece for us today and our focus is to be the most preferred partner for farmers in India.
We are also building our own private labels across categories.
BigBasket is $50 million short of becoming a unicorn (term for a start-up worth $1 billion). Are you satisfied with the growth?
We should be. The valuation is almost two-and-a-half times up the round (previous valuation).
In the latest Budget, there's a thrust on digital e-highways. How are policies aiding your business?
It is really helping. The more you drive people to go digital, platforms online really begin flourishing.
It really helps us directly because more people go online; it's not a cash economy anymore because people are starting to pay digitally.
Second, the Budget has done so much for farmers and that's really critical because it is a very strategic piece for us.
When investments in agriculture increase, it helps build our business.
The government has also allowed 100 per cent foreign direct investment in food retailing. Will this bring more players and is it a good thing?
Of course, we will see more players. The moment people see groceries are being bought online, they will come in.
Grocery is the most difficult category to execute and it's the most difficult category to get people to switch, as it is a very dear category for every household.
People are not necessarily happy buying groceries, right?
It's a chore, but they need to get it done three to four times a month.
So, what we see is more and more people are moving to buy online.
This is also the sort of thesis for Amazon and Flipkart, where they claim the 100 million customers they have will start buying more often from them if they introduce groceries. Where is BigBasket in terms of size?
Today, we have 8 million customers roughly and grow typically at 8 to 10 per cent on a monthly basis.
So, growth has been fantastic and it's such a large market that every time you grow, you feel it is not enough.
But, that's the key, right? Get new customers online while getting existing customers to buy more often from you?
The key is retention.
Retention is a bigger focus than getting new customers because this category is very sticky.
People buy three to four times a month, unlike buying a mobile phone and electronics.
So, here you have to keep acquiring new customers.
In grocery, with 8 million customers buying three times a month, if they start buying four times a month, we'll be a rocking business.
But, this is what takes time.
The other thing is that the model has already been proven.
We have Bengaluru where we have already broken even; we are generating cash.
Three more cities are going to break even in the next few months -- Chennai, Hyderabad and Kolkata.
Earlier, we had investors putting money into unproven models and allowing them to grow, but now investors like Alibaba and SoftBank are putting big money into proven models.
Will the money in unproven models come back?
Yes, this is because unit economics is a critical piece.
Everybody wants to see profitable scale and you are right, more and more money will now come into firms that are showing positive unit economics.
I don't think money will start coming back to companies not showing viable business models. It shouldn't, actually.
By when do you plan complete break-even?
Right now, we are focused only on operational break-even.
We are already close to doing that in five-six cities and by the end of the year, most of the other cities should be as