'The Tata group will need for its new leader to show the same foresight and willingness to go against conventional wisdom to keep the group's aspirations high and uphold the values of innovation, ethics, corporate responsibility, trust and leadership that are frequently associated with the Tata name.'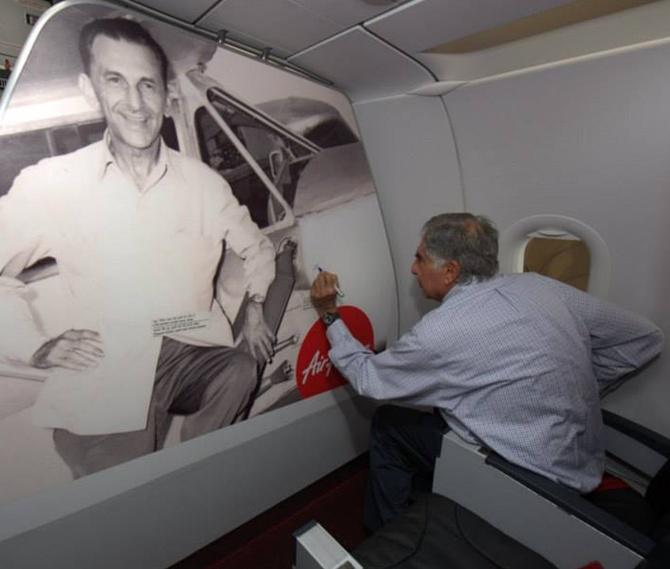 IMAGE: The Tata group's interim chairman Ratan Tata, with the portrait of the legend he succeeded in 1991, J R D Tata. Photograph: Kind courtesy AirAsia.
Dr Sunil Mithas, professor of business administration at the University of Maryland, worked for nearly 10 years in engineering, marketing, and general management positions with the Tata group after securing an engineering degree from IIT, Roorkee. He left the group to pursue a PhD at the Ross School of Business, University of Michigan.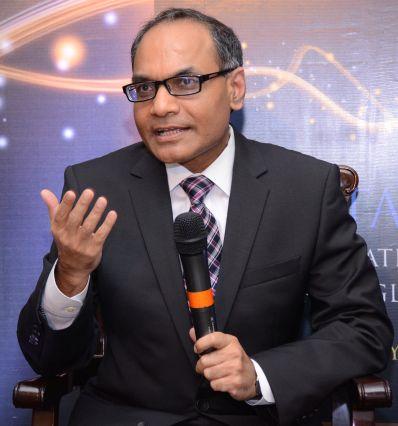 Dr Mithas, image, left, who has written a book on the Tata empire, Making the Elephant Dance: The Tata Way to Innovate, Transform and Globalize with a foreword by Ratan N Tata, tells Rediff.com's Shobha Warrier in an email interview that he is as surprised as everybody else at the recent developments in Bombay House.
As the author of a book on the Tata empire, are you shocked at the recent development at the Tatas?
I am as surprised as anyone else, both in my capacity as an author and as a professor at the Robert H Smith School of Business with research interests in corporate transformations and strategies.
Such leadership changes can be surprising, but they are not unheard of. We have certainly seen examples like these at other reputed firms, such as Starbucks and P&G.
According to the Tata Business Excellence Model, leadership and results were deemed very important. Do you feel under Cyrus Mistry, these two suffered?
The Tata Business Excellence Model certainly emphasises the critical role of leaders and leadership systems in shaping the longer term trajectory and results of an organisation.
With insufficient information in the public domain to comment on specifics, I would hope that board members considered far more details to inform their deliberations and decisions than what we can speculate.
It is rumoured that Ratan Tata, who took pride in making the Tatas a global player, was unhappy with the way the UK steel operations and the Docomo project were handled. Do you feel so?
I have seen these rumours and do not know enough to comment on them.
The UK steel plant workers union president spoke on Indian television about how unhappy they were and they would like to talk to Ratan Tata himself. Do you consider it a failure on the part of the leadership under Cyrus Mistry?
I do not have sufficient information to comment on this.
Since you have studied how the Tatas worked, do you feel as an outsider, Cyrus Mistry could not get the pulse of the organisation?
I do not know the particulars of this case, but in general, one would expect top leaders to have a good sense of different stakeholders' expectations and feelings regardless of whether they come from outside or within the organisation.
You said while management fads come and go, the Tatas' steadfast commitment to this metrics-driven system has paid huge dividends, literally and figuratively.
Was there a compromise on these ideals in the last four years?
My book covered the period from 1991 onwards and beginning 1994 until about 2013 or 2014. The group certainly did very well during this period when it was benefiting from actions taken in 1990s and 2000s when Mr Tata was at the helm of affairs.
The Tata Business Excellence Model is deeply ingrained in the Tata group and I believe that the group has continued to use the model in its various companies.
All Tata stocks were down after Cyrus Mistry was replaced. Do you think the Tatas will regain its old glory?
I hope that the Tata group will continue to be an exemplar of ethical and responsible capitalism as it has for many decades now.
It is best to avoid over-interpreting stock market fluctuations.
Do you think as a global player, the Tatas will have to manage its overseas projects more judiciously?
From what I know, the Tata group has some excellent people who are leading its global forays and overseas ventures.
Sometimes it is hard for companies to counter large macroeconomic forces and I anticipate that the Tata group will eventually succeed with the persistence that it has often shown, even under adversity, in its long history.
Do you feel Cyrus Mistry's appointment as chairman four years ago was a 'failed experiment in succession'?
It was an experiment worth trying and certainly a bold move at that time.
The good thing about experiments is that they can help us to navigate the future more effectively if we learn from them.
What kind of a leader does the company need to make it successful?
Leaders are not judged by their performance alone, their actions and values as important if not more.
The Tata group did very well during Mr Tata's leadership of about two decades, he unified the group and pushed it to globalise and innovate to compete successfully in a liberalised and increasingly competitive economic environment that Indian companies were facing in the 1990s and 2000s.
The Tata group will need for its new leader to show the same foresight and willingness to go against conventional wisdom at times to keep the group's aspirations high and uphold the values of innovation, ethics, corporate responsibility, trust and leadership that are frequently associated with the Tata name.
The Indian economy is witnessing significant changes due to digitisation and the Tata group and its companies will have to reinvent themselves all over again to compete in a more digital environment.
It helps that some Tata companies facilitate digitisation efforts of their customers all over the world (for example, TCS, Tata Technologies).
The trick will be to use some of that expertise with some augmentation to help group companies to compete more effectively while continuing to build new businesses.
The new leader must demonstrate an ambidexterity to grow revenues while reducing costs. In my research (external link) with Professor Roland Rust that was published in MIS Quarterly in 2016 we show that such a dual strategy is more profitable and value adding if firms complement that with appropriate investments in information technology.
Doing so may require significant investments in human capital and the Tata group is well-known for not shying away from that in the past, but this time they may need a particular attention on honing what I call digital intelligence.
Combining digital intelligence with the Tatas' brand and excellent human and physical resources that it already has can be a promising start for the group to create synergies among its various companies.
In my mind, I think of digitisation as a potential rallying cry to start the next growth curve for the group, similar to what the group did with the Tata Business Excellence Model in the 1990s.
Mr Tata has demonstrated some of this digital savvy through by investing in many digital startups.
It remains to be seen whether that spirit will be embraced by the new leader. I discuss this topic in my book Digital Intelligence that Penguin will be publishing in December 2016 for the Indian subcontinent.