'We are in the reverse gear and we are not there anywhere compared to the rest of the world'
'What is needed for an entrepreneur is stability. But there is too much of uncertainty now'
'Now we are in reverse mode of liberalisation'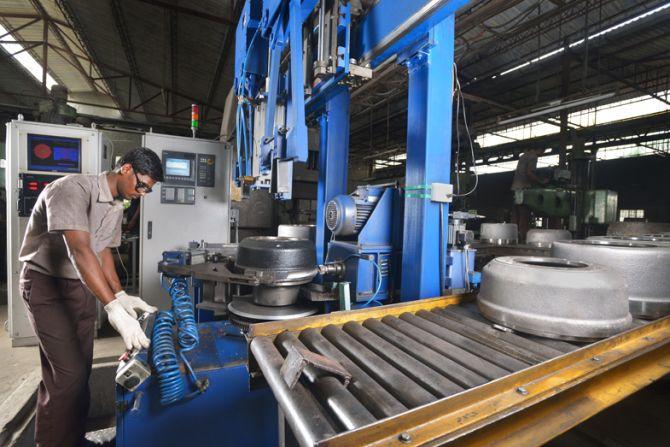 July 2019 was one of the worst times for the automobile sector in India, when sales of passenger cars fell by 36%, motor cycles by 19%, scooters by 12%, medium and heavy commercial vehicles by 37% and light commercial vehicles by 19%.
Naturally, Coimbatore in Tamil Nadu, the automobile hub of India with hundreds of small-scale industries manufacturing auto spare parts, has been badly affected.
K Ilango, former chairman, CII, Coimbatore region, and the past president of Coimbatore District Small Industries Association (CODISSIA) who runs a unit that manufactures spare parts for commercial vehicles, is also one of the leading exporters of auto spare parts.
In this interview to Rediff.com's Shobha Warrier, Ilango, below, says what the auto sector has been experiencing for the last three years, is "avoidable".
Reports say that the auto sector in India is going through one of the worst phases in the last 19 years with the sales of heavy vehicles to scooters have come down drastically. How real this is?
It is very real. As we are in the automotive component sector for the last 50 years, we see it on the ground and we feel the pain of the slowdown.
One of the major reasons for the slowdown as far as the commercial vehicle sector is concerned in which we are in, is because of the lack of finance availability from NBFCs (non-banking financial companies).
You mean the liquidity crisis in the banking sector?
Yes, especially the NBFCs which are the primary funders of motor vehicle loans while the role of banks is only 25%. I see this as one of the biggest reasons for the auto sector getting affected.
You have been in this industry for many decades. Have you seen anything like this before? Is it worse than the 2008 world meltdown?
In fact, in 2008, when the whole world meltdown happened, India bounced back very quickly. I was the president of CODISSIA at that time, and I remember that in just six months, the entire industry was back on track. That was because domestic demand did not suffer.
Though the global situation had an impact on the industry, domestic demand was far more to help the industry back on its wheels. India was far more insulated in those days.
Even the few months of slowdown then had got to do with sentiments rather than the ground situation.
When did you start seeing the signal this time? Is it because of the 28% GST for automobiles?
Since we cater to the commercial vehicle segment, we started feeling the pinch much earlier.
When the government suddenly said the capacity of commercial vehicles could be increased by 25%, it had an impact.
Of course, 28% GST had a major impact. Ever since GST was implemented, I have been talking about this. This 28% GST is not just for automobiles but for spare parts too. Nowhere are the scooter components to car spares to commercial spares bracketed as luxury goods.
Somehow, the auto components are clubbed with automobiles and considered as luxury with a GST of 28%. This is wrong.
If you have high taxes in the B to C segment, it will create a lot of tax evasion and it has been happening in the last two years. I don't think the government realises the impact of this evasion. The scale is much bigger for them to catch all. So, 28% GST has been detrimental for the government as far as auto components are concerned.
In the B to B segment when you supply to an OEM, 28% does not matter as the government does not get any money.
Now, regarding vehicles, it is not just 28%, it is 28% plus cess. I don't know why the cess has to be there at all.
And, you cannot club a Rs 20 lakh car and a Rs 5 lakh car and label all as luxury cars.
You said the industry had been talking to the government. What has the response been from the government?
While the government was ready to reduce the GST for a colour television and many other things, when it came to automobiles, they are resisting saying that it would create a big dip in their finances. They are looking at only their finances and saying that it would affect their GST collection. Auto industry is an organised sector and it is easy for them to collect 28%.
I would say they have a myopic view on this by not letting it go. Only cement and automobiles are taxed 28% and nothing else among the utility items. Both cement and automobiles are used by the common man and both are significant contributors to the economy.
We have spoken to the finance minister many times but the government is only looking at the revenue. But what is happening now is, because of the slowdown, say if the sales have come down by 25%, the government's revenue also has come down by 25%!
It is not just 25%, it is not just a slowdown, there are layoffs too. So, people don't get paid as much. When people don't get paid as much, they don't spend as much. This also makes the revenue come down again.
It is a vicious cycle…
Absolutely. Any high tariff is not good for the economy. One of the significant things that was supposed to happen after the introduction of GST was to reduce tariffs. The mean tariff, the original commission they came up with, was 15-16% as revenue neutral. It means if the government taxes everybody at 15-16%, it will be revenue neutral.
When the old regime was there, there was the VAT 14.5% and the central excise of 12.5%, and this is higher than that! I don't know why they have this 28% GST.
After all this, there is no saving for any of us in the automotive component sector.
Do you feel the government refuses to accept the fact that there is a slowdown in the economy, and unless they accept the reality, there will not be any corrective measures?
The government, unfortunately, has in the last few years, got into the mode of tightening compliance. If you look at compliance, they have been tightening it to such an extent that it is stifling to work. Entrepreneurs are finding this extremely difficult.
In a place like Coimbatore, where there are tens and thousands of MSMEs, quite a few of them have disappeared because they could not face the compliance issues. The biggest drawback the GST has brought in is compliance and confusion.
They brought in GST in a premature way and the effect is being seen slowly. The last date for the annual return for 2017-18 is this month end but I don't think it is possible for us to submit it because it is so complicated.
My own company has been working on it for so long. I am a knowledgeable person in these but even for me, it is a struggle. That is because the system is not geared up, and the information that is required is not available.
They have just enforced the system and have been tinkering it so badly that it has become so confusing.
What is needed for an entrepreneur is stability. But there is too much of uncertainty now.
On one side, the government is talking about having more and more entrepreneurs. But when one speaks to entrepreneurs, they say it is very difficult to be an entrepreneur now…
Absolutely. I have been an entrepreneur from 1985. In 1991, I saw the economy started slowly liberalising. Now, we are in the reverse mode of liberalisation. Today, the tightening has gone back to the pre-liberalisation era.
I don't blame the government. They have seen evasion by the public and a lot of big companies. But they have to tackle those people and not put everybody in trouble.
I don't want to sound political but demonetisation was not the solution to deal with black money, and it did not deliver the results. What was needed was to catch those who were making mistakes and punish them, and set it as an example for others to comply.
But what they have done in the case of GST, other tax laws and Companies Act, they just went left, right and centre tightening the process and making it so stifling for entrepreneurs.
So, today entrepreneurs are very hesitant to invest money for expansion and growth. It is not that we are not doing it; we are doing. But today the paperwork is absolutely horrendous.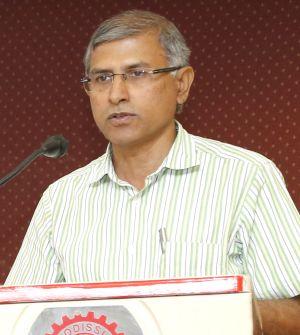 You said, we are in the reverse mode of liberalisation. Can you expand?
We had the licence raj in the pre-1991 era and we needed licence to produce anything. And, it had disappeared post-1991. But today, you need approvals required to do even the smallest thing. Yes, it is not called licence; it is approval and it requires a lot of time. Okay, some of them are needed like the approval for environment compliance but the process should be easy.
Today, Companies Act has become so regimental that it is just impossible for an MSME to become a partnership or anything like that. Its only for the big boys and not for MSMEs.
You mean ease of doing business is not there?
It is not there at all. There is no doubt about that. We are in the reverse gear and we are not there anywhere compared to the rest of the world.
As an entrepreneur, I spend double the amount of time on compliance ever since GST was introduced.
The system is so badly designed, introduced in a hurry and they have been tinkering with it all the time.
The fundamental concept is good. We had been fighting for it for the last 10 years and it is good that this government introduced it. There is no second opinion on that but the problem is in how they went about it. Also, trying to capture every data, every transaction in the country is making entrepreneurship stifling.
We have been in the export business for so long and I have travelled extensively and dealt with businesses in the US and Australia. I have found that nowhere in the world your day-to-day operations are so badly controlled.
This is a larger malice which is also affecting the economy.
So, in my opinion, this is an avoidable economic slowdown.
Avoidable?
Yes, this is avoidable. The government has to only think a little more positively and differently. I think the government now realises it.
Another thing that has majorly impacted the sentiments in the automotive sector, is the unnecessary policy pronouncements. For example, they announced that in two years, we will have only electric vehicles.
It is a good intention but you are hitting the market sentiments badly with such policy pronouncements. If you have a plan to buy a car or a two-wheeler, will you do it when the government says that in another two years' time, there will only be electric vehicles? You will wait till it is implemented.
Transition to electric vehicles will happen and it has to happen but we are nowhere near it happening.
Do you think both manufacturers and consumers have lost confidence now?
Absolutely. You look at all of them. Maruti has shelved its expansion plans. So also Bajaj.
Transition has to be smooth and not abruptly. Suddenly this government felt we had to be world leaders in electric vehicles technology and went about making such policy pronouncements. We are a 1.5 billion people and it is not possible to change things overnight.
Your objectives are good; nobody has any doubt about it. The problem is in how you go about it. You want overnight results in everything. You can't be in such a hurry; you should do it slowly and wait for the results to seep in. You shouldn't be disrupting everything.
No economy, no entrepreneur likes disruptions. Everybody wants smooth work. They need time to adapt to changes.
Tata Motors, Ashok Leyland and many other big auto players are closing down some of their units. It means job losses for thousands of people. If this continues, what will be the situation by the end of 2019?
The job losses are in the temporary contract level and no permanent employee has lost his job so far.
What I want to say first is, this is avoidable and the economy can be revived with some policy changes.
My own company is working only four days a week now and we have cut down from three shifts to one shift. Ashok Leyland is one of our major customers and their slowing down is impacting us significantly.
If a revival does not happen and if it prolongs till the end of this year, we will start seeing casualties, where financially weak and excessively leveraged industries may close down.
Coimbatore is the auto auxiliary hub of India. How is it coping with the crisis in the auto sector?
Companies are cutting down on production and laying off workers. That is a melt.
Exports are also affected, and we have become uncompetitive thanks to all the tightening that has made us inefficient internationally. Our company used to export 20 containers of components a month but today, we are exporting just 2-3 containers.
We have been chased out by the Chinese. They are very competitive and we are nowhere near them.
Now that the Chinese are struggling, they are going around recklessly and throwing their products all over the world. And the Chinese government supports exports at any cost. This has also affected us a lot.