'How does it matter to me if a foreigner comes, starts an industry and makes India a $5 trillion economy when I am dead?'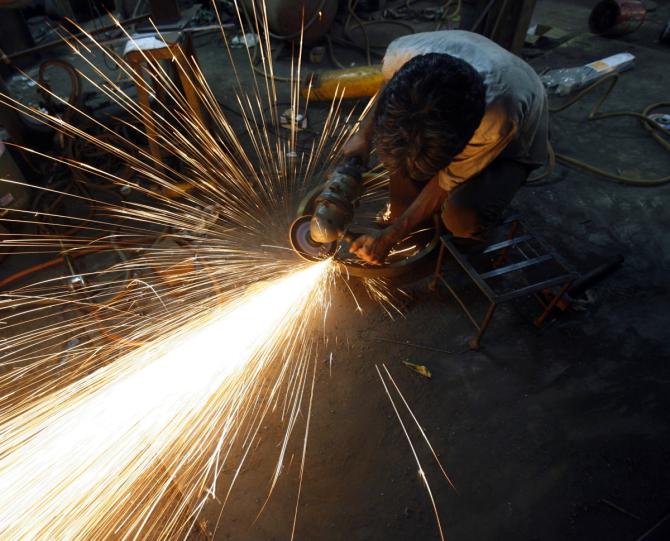 An emotional outburst from entrepreneur K E Raghunathan at an event organised by the Congress party in Coimbatore went viral after it was tweeted by Rahul Gandhi. The entrepreneur became a sensation, with the Opposition hailing him as a hero and Bharatiya Janata Party members slamming him.
Raghunathan from Chennai, convenor, Consortium of Indian Associations, is unfazed at the varied reactions his speech has drawn.
"When seven crore (70 million) MSMEs go out of order, there would be job losses of 20 crores (200 million)," he tells Shobha Warrier/Rediff.com in the concluding segment of a two-part interview.
You are branded as a Congressman...
I may be branded as a Congressman or a politician, which I am not. That is a different issue.
I keep on explaining to everyone that I am not a politician. I tell them, why don't you understand the agony we are going through?
I would have said the same thing to anybody. Had the prime minister been there, I would have said the same thing to him too.
Three weeks before this meeting, I was on a TV debate with Mr Nitin Gadkari, and I said the same thing to him.
I said, 'Sir, please help us, you are our saviour'. Does that mean I am a BJP man?
These are words I use to attract people's attention.
Rightly so, Rahul Gandhi understood the gravity of the problem. He even asked a few questions during lunchtime and then tweeted my speech.
I was relieved when he asked me questions because somebody was willing to hear me. Whether he solves it or not is a separate issue.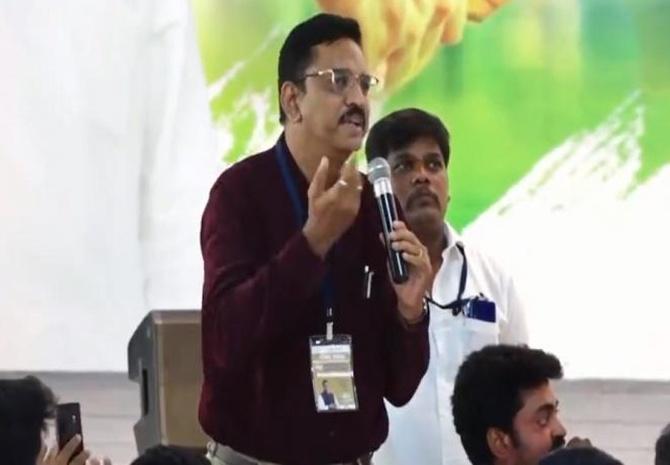 Was there any response from the government after Rahul Gandhi's tweet went viral?
Not at all. Till this minute, there has not been a single call from the government to know what our pains are.
I am yet to hear from anyone. Maybe my painful speech has not yet reached those who matter. I don't know.
I go to Tirupati and tell God my problems and come back hoping He would solve my problems. When He doesn't solve them, I go again and pray.
I don't blame or curse God for not solving my problems, I live on hope.
Likewise, we hoped there would be something in the Budget speech for MSMEs. It is not that I am the only one who has submitted suggestions to the government; several associations have done that.
So, all of us thought there would be some relief in the Budget. But the Budget did not give any relief to the MSMEs.
It is fine to have five-year plans, 10-year plans and 50-year plans. But today, we are in the ICU and we are saying, please save us.
How does it matter to me if a foreigner comes, starts an industry and makes India a $5 trillion economy when I am dead?
It is said that MSMEs employ 100 million people...
This country has had only unemployment problems till now. Now, we are going to see the employer becoming unemployed.
This was what I told Rahul; when seven crore MSMEs go out of order, there would be a job loss of 20 crores. People laughed at me and asked, from where did you get this 20 crore number?
My simple to answer to them was, 'When you value a company, you don't value based on the balance sheet of today. Your value is based on the potential of the company in the next 5-10 years'.
Similarly, today MSMEs may be employing only two crore (20 million) people, but when you nurture and groom them well, they are the potential employers of 20 crore people.
So, by killing 30% of the MSMEs, they are losing an opportunity to create 20 crore jobs.
The government talks about Aatmanirbhar Bharat all the time....
Jargon is fine, but jargon alone does not help. You also had jargon like 'Start-Up India, Digital India, Make in India...'
A good title alone is not enough to make a book good; you need good content too.
Feature presentation: Rajesh Alva/Rediff.com