'Walmart will source globally and more from China and will dump these cheap goods in India, making our country a dumping yard.'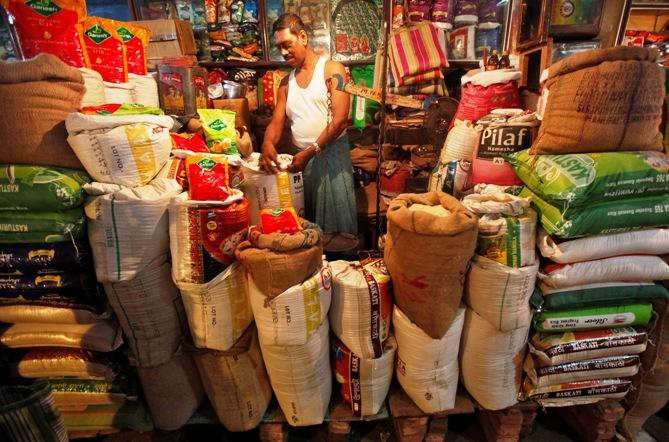 While young entrepreneurs look upon Walmart buying a 77% stake in Flipkart for $16 billion as inspirational, those working in the retail business in India look at the deal with fear -- the fear of being made extinct by the huge wave that is coming in the form the world's largest retailer.
"All of us know that Walmart is not entering the Indian market to do charity. It is coming to make profits and, looking at the track record of Walmart, it can go to any extent to achieve the goal," Praveen Khandelwal, secretary general, Confederation of All India Traders, tells Rediff.com/Shobha Warrier.
Why is the Confederation of All India Traders unhappy with the Walmart-Flipkart deal?
The main reason is the deal seems a little dicey.
The real intent behind the deal is to try to enter India's retail trade through the e-commerce channel, and capture and then monopolise it.
What gives you the impression that Walmart is trying to capture India's retail market through e-commerce?
E-commerce is not the core competence of Walmart. It's an offline retailer company.
So, an offline retailer entering the retail market gives rise to suspicion in the minds as to why it is entering through e-commerce.
How do you think it will enter the offline market through the online business?
Walmart is big enough to source its inventory from across the globe wherever it is available at a cheaper price.
So, what Walmart will do is, it will source globally and dump all the kachra in India at a relatively lower price by indulging in deep discounting and low funding.
The ultimate goal is to wipe out competition.
You mean, in e-commerce?
No. When you sell at a very lower price online, people would prefer to buy online rather than from an offline retailer.
Naturally the impact of online business will be on the offline retailer.
So, competition will be wiped out not only in e-commerce, but even in offline retail as well.
You also said the Walmart-Flipkart deal is dicey. Why do you get the feeling that it is dicey?
Number one, Walmart is not an online retail company.
Secondly, the stake of 77% means it has virtually taken over the company.
Once Walmart takes over the company, it will be dictating its terms.
All of us know that Walmart is not entering the Indian market to do charity. It is coming to make profits and, looking at the track record of Walmart, it can go to any extent to achieve the goal.
And this will have its ramifications on the state of the Indian economy as well.
What kind of impact will it have on the economy?
There will be destabilisation in the retail market and power will be controlled by these MNCs.
I am sure after Walmart, Amazon and Alibaba also will follow the same path.
So, Indian retail will be controlled by them which will go against the fundamentals of the Indian economy.
FDI in retail is not allowed in India...
Absolutely. That is why they want to enter retail through the backdoor. That is the reason we see this deal as dicey and that's why it needs complete interrogation.
The Indian offline market is very fertile and versatile and that's why Walmart has been too eager to enter the offline retail market of the country.
Through e-commerce, it will be able to fulfil its long-pending wish.
In India, only 40% of the population has access to the Internet, and millions still buy offline. But you still feel that the Indian retail market will be affected by the deal.
Yes. You will agree with me that people in India are cost-conscious.
So, when goods are made available at a relatively cheaper price, the offline consumer will become an online consumer.
Or, Walmart will redefine its strategy to take online goods and sell them offline through its associates or affiliates.
Nobody can stop them from selling through such route.
Won't be they purchasing from Indian companies?
Today, Indian goods are not competent in the market. Indian producers cannot compete with, for example, cheap Chinese goods.
You need to understand that funding in the US and Europe ranges from 1.5% to 2.5% interest while in our country, the interest rate for a dealer ranges from 11% to 12% to 20% which is a huge gap of 10% at least.
This itself is enough to kill the competition.
Then, Walmart will source globally and more from China and will dump these cheap goods in India, making our country a dumping yard. And it will adversely affect the small manufacturers of the country.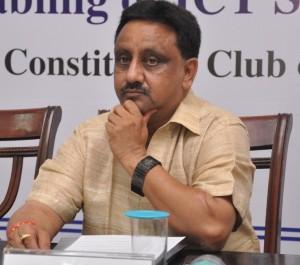 Can the small traders of India stop this deal between two private parties from materialising?
First of all, the Government of India should frame a policy for e-commerce and the retail trade.
Then, there has to be a retail regulator to monitor and regulate the retail trade.
If these two things happen, Walmart will not be in a position to dictate terms and conditions.
Probably we may have a level playing field.
Today, our retailer is not able to compete with Walmart because of limited resources.
Do you expect the government to do anything?
We want the government to interrogate the deal on all aspects, particularly the questions raised by us. Then, there has to be consultation with small retailers.
Approval should be given only after an e-commerce policy and a retail regulatory in place.
Traders in India are big supporters of the BJP. If something like this happens, will you withdraw support in the 2019 elections?
It is too premature to answer the question. But if things happen the way it is happening, it may have its impact.
What is needed is the government should have consultation with retailers.
It should support retailers in modernising and upgrading the existing retail trade.
All the most important modern tools should be available to our retailers too.
There has to be upgradation in consultation with trade organisations.
Without the support of the government, we cannot bring Indian retailers to a certain level. After that, you open the market for anybody, we are ready to compete with them.
I am hopeful that better sense prevails upon the government. vIf not, we are ready to fight this battle up to the highest court.
Many say the Indian retail market is booming and creating a lot of jobs...
I am sorry to say I reject this expert opinion. These experts never visit the market. They sit in air-conditioned rooms and make such expert comments.
The ground reality is different and they are far away from reality.
The fact is, the Indian retail market is suffering to a large extent.
You mean, due to demonetisation and GST implementation?
Not due to demonetisation and GST, there are many other factors.
For example, infrastructure. Power is not available in many places.
Internet connectivity is not there in some other places.
There are no roads in several places.
Our markets are in a shabby condition. There are cumulative problems. These problems have to be addressed first by the government.
Sadly, since Independence, the retail trade has not been a priority for any government although we have an annual turnover of around Rs 40 lakh crores and we contribute around 45% to the GDP. Yet no government has given priority to the retail trade.
This is the only sector in the economy which doesn't have a policy or a ministry. That itself shows how badly the retail trade has been treated.