'Industry realises we cannot overly depend on imports from anywhere including China.'
"Localisation gathered momentum after COVID-19 and it got precipitated due to the geo-political situation," Vinnie Mehta, director general, Automotive Component Manufacturers Association of India, Shobha Warrier/Rediff.com in the concluding part of his interview.
There has been an unofficial ban on Chinese products when almost all the industries, including the auto industry, depend on China for many components. How much has this affected the auto industry?
Actually, for a week or so, there was some amount of disruption because of the geo-political situation. Thankfully, everything is restored.
At present, there is no disruption of imports coming from China.
Also, the industry realises that we cannot overly depend on imports from anywhere including China. So, there is a very big focus on localisation within the industry also.
Yes, localisation gathered momentum after COVID-19 and it got precipitated due to the geo-political situation.
How long will it take to be Aatma Nirbhar realistically?
We have to be practical. There is no point in having a knee-jerk reaction.
When you talk about Aatma Nirbharta or sourcing locally, you have to invest in the development of products and technology. That does not happen overnight. It takes 2-3 years to get into a new product cycle.
Realistically speaking, in 3 to 5 years you will see a very significant change in the sourcing pattern.
The other day, Maruti's R C Bhargava said that importing components from China was inevitable.
That's why I said, you should not get into a knee-jerk reaction. India does not have the capability of making certain electronic items. We have to realise that it takes time, and we have approach this practically.
In this globalised world without borders, is it possible to close borders for products?
Globally, the industry value chains are undergoing a change.
Post the pandemic and the disruption, every industry and every geography has realised that you cannot be dependent one country or one economy for all their requirements.
So, everybody has started thinking about alternate sources too.;
Even if you continue to deal with China, you also want to deal with it yourself and also an alternate source ready in case of a disruption of one source happens.
With the economy contracting 23.9% in the June quarter, is the auto sector the most affected?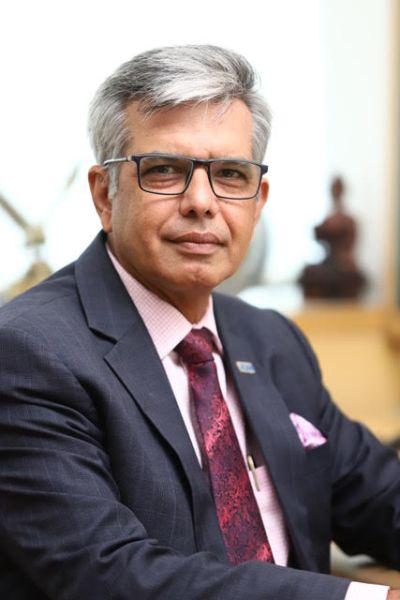 I do not have the comparison with the sectors. But I can say that the auto sector contributes 7% of GDP.
In that sense, it is one of the key drivers of the Indian economy, and any shrinkage in the Indian economy will have direct impact on the automotive sector.
With the unlocking happening, I understand that people have started to restore pre-Covid level salaries. This is very heartening.
You also find labour returning to the industry. So, there will be money in the hands of people.
Would you say the pandemic will permanently change the auto industry?
There are some definite changes.
People will be very careful in cash management. It is a very important lesson learnt; that is, to conserve cash and stay capital light.
Even when production is almost returning to normal in the auto component industry, those who have corporate offices are not using the offices as they realise that it is a huge overhead.
Functions that can be done from home are allowed to be done from home.
The industry is also looking at automation very seriously.
In that sense, changes that are inevitable will be adopted. So, we have some positive lessons learnt from the disruption.
Experts predict that while some companies may emerge stronger after the pandemic, some may find it too weak to survive on their own, and many factories may shut down.
Survival will not be a problem for the companies that were cash rich.
So also companies that have invested heavily in R&D, companies that were open to assimilating newer technology, companies that were working with start-ups.
Such companies will have an edge compared to those who were not doing any of these as this is the age of technology.