'You have to move from one skill to another skill.'
'An employee can't say this job is my right and even if you train me, I refuse to get trained.'
'Those who participate in re-skilling will remain in the industry.'
'Those who refuse to get re-skilled will have to go.'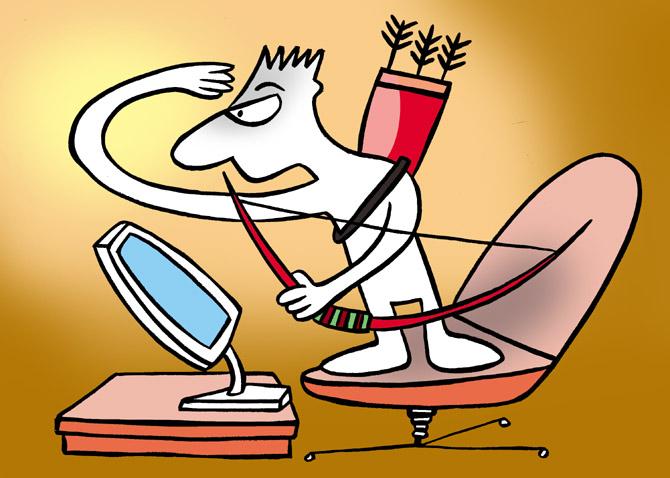 Illustration: Uttam Ghosh/Rediff.com
Nasscom Chairman Raman Roy -- who is also the CEO and MD, Quatrro Global Services -- tells Rediff.com's Shobha Warrier why it is so important for techies to reskill themselves.
From the IT sector's point of view, how has the last year been?
The Nasscom guidance was for 8% for the full year and we are pretty pleased with the results of all our listed companies as everybody has come out with results that are better than the guidance. Naturally, the future looks quite bright.
Are you not worried about the sluggishness in the Indian economy?
Only 20% of our business comes from the domestic economy and 80% of our $150 billion business comes from outside India.
With a business of $150 billion, we are the largest industry now.
While there is sluggishness in the global economy, their need for technology is paramount right now.
Everybody is digitising, everybody is moving to newer technologies, everybody is into using apps, and we are the global providers.
That's why our guidance says, we will grow at 8%.
On the 20% part of the domestic industry, the sluggishness of which you are talking about, we are going to play a greater role in the Digital India initiative, in helping digitise India.
All the retail companies, all the e-commerce companies, digitisation of payments, digitisation of banks, digitisation of cities.. it's our industry that is going to play a role in the digitisation business.
That's why we are very bullish about all that is happening in India. That's why we have given a guidance of 8% for growth.
The other day, (former Infosys CEO) Kris Gopalakrishnan said the Indian IT industry could hope for a 10% to 15% growth...
That happened during our heyday, but Nasscom now is aiming at 7% to 8%. You must understand that 8% growth on a business of $150 billion is a whole lot of money.
When we were a $50 billion to $60 billion industry, 10% growth would have been possible. Today, we are talking about a $150 billion industry and a growth of 8% is $12 billion!
Also, this $12 billion growth will have a multiplier effect on the Indian economy.
Our estimation is that one direct job creates four indirect jobs.
If we can create even 100 jobs, many more people are going to be employed indirectly.
This has a more multiplier effect too in various sectors in the market like the retail sector, housing, etc etc.
If you look at the entire economy of Gurgaon, in terms of infrastructure, like office and residential buildings, the catalyst has been the IT and the BPO industry.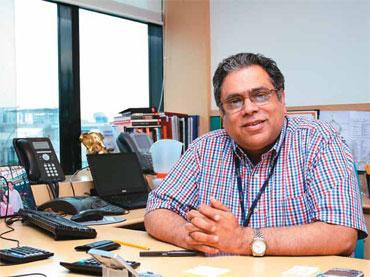 Do you feel the IT sector can be a driver of the Indian economy at a difficult time like this?
We are already the single largest exporter in this country. 6% of the GDP comes from this industry.
It was reported that the days of the IT industry hiring fresh engineering graduates in the thousands is over. Is it true?
In our guidance, we have said that our industry would hire 200,000 people.
We are the only industry that hires people in such large numbers. If we are going to do $15 billion digital business, it is going to create jobs.
It created panic among many youngsters when a lot of people in the IT sector lost their jobs.
As the industry moves to new technology areas, how important is it for employees to re-skill themselves?
Just because a few companies asked some employees to go, you cannot describe it as a situation that created panic.
Nobody is running a charitable organisation. Despite giving opportunities to train in new skills and improve, if an employee does not perform, s/he has no right to be in the company.
Just because a large company that has 50,000 to 60,000 people working got rid of 1% or 2%, you cannot say the IT industry is asking thousands of people to go.
Remember 1% to 2% of 50,000 to 60,000 will come to 1,000 people. The media blew it up by saying thousands of people lost their jobs.
If the journalists had done their work properly, they would have found out that those employees were first put on a PIP (Performance Improvement Plan) for 9 months.
And if their performance did not improve even after that, what would the employer do but ask her/him to leave?
Even when we were asking people to leave, we are also hiring people.
Look at the prices of IT companies in the stock market, it is at a 1 year high.
Why? Because the revenue is coming from them.
You mean there is no cause for panic?
Cause for panic is for those who are not willing to reskill themselves.
I would say that you have to move from one skill to another skill. An employee can't say this job is my right and even if you train me, I refuse to get trained.
It is absolutely essential for her/him to reskill herself/himself in new technology. And the industry supports re-skilling.
At Nasscom, we have made a statement that over a three-year period, we have employed 4 million people directly. But 30% to 40% of this work force will have to be re-trained.
Those who participate in re-skilling will remain in the industry. Those who refuse to get re-skilled will have to go.
My grandfather was in one job all his life. My father might have changed his job twice or thrice in his life, but my daughter in her twenties has already changed four jobs.
This is the new reality. This is the new world. And it is different.
Last year, the revenue of the IT industry grew by 8.3% and jobs grew by 5.4% which means the rate of growth of revenue was higher than the rate of growth of the people hired.
This means per head revenue of the 8.3% revenue that came in is higher than the revenue before.
This also means the growth is non-linear where the growth of revenue will not be in tandem with the growth of people.
It also means there is higher salary per head.
The employees who are re-skilled and those who have absorbed newer technologies are more in demand as they are the biggest contributors to this industry.
They are the biggest gainers and get more salary now.
IIT Madras and IIM Lucknow witnessed a 56% and 50% rise in tpre-placement offers this year. Does that mean good times are ahead for new jobseekers?
I would say there are good times for job creators and also job-seekers.
We also reported that there is a significant increase of 1,000 new start-ups last year.
What is more exciting is there is a shift from job seekers to job creators.
Is the Start Up India initiative the reason for the increase in these numbers?
That has definitely helped. Yes, there is an increase in angel funding and venture funding unlike the times when I launched my start up 20 years ago when none of these facilities were available.
In those days, society also did not look at launching a start-up favourably. Today, it is socially acceptable and youngsters are proud to be entrepreneurs.
There is a social revolution that is happening and the number of job creators has increased tremendously.
It is not that every student in a university is becoming a job creator, but a large part of top students is looking at how to be a job creator and a very large part of top students wants to join such start-ups than big companies.
That is a huge shift, a welcome one, in the attitude of students.
If you go to an IIT and see who accepted what, you will see that some of the brightest students rejected offers from big multinational companies and accepted subdued offers from start-ups.
That is because they want to be a part of this new revolution.
This fundamental shift in the attitude augurs well for our country, for our society, and the industry.
Recently, Nasscom recognised the top 50 emerging companies and it was so exciting to talk to the young entrepreneurs and listened to their ideas.
Just like the IT revolution that happened earlier, what you see now is an entrepreneurial revolution.
The Nasscom report says India is the third largest start-up ecosystem in the world. Do you foresee India becoming the start-up hub of the world?
Hub is an enabler. Maybe we become the best enabler. As long as we are able to create new start-ups, it is a great achievement.
Our challenge is a geographic expansion. Nasscom has listed 10,000 start-ups, but all are in the metros.
We have to spread this idea across the country, from metros to Tier 2 and 3 cities. It doesn't matter where you have your start-up in this world of the Internet.
India jumped 30 places in the World Bank ranking on the ease of doing business. Do you feel we have to do a lot in this field to have a real entrepreneurial revolution?
We have to understand that this is a race in which the finish line keeps changing.
It is great to be in the top 100 as it is because of the hard work done by the government.
Yes, there is a lot of work and lot of learning to be done to the new goal set, that is to be in the Top 50.
You have to aim for the sky to reach the top of the mountain.
So, you see good times ahead for the IT sector?
We are very bullish about the future as our industry is doing very well globally and domestically.
We are making ourselves globally competitive.
We are also excited because we would be helping the Indian economy by creating new direct and indirect employment.