Keshav Murugesh, CEO of the Nasdaq-listed WNS, discusses the impact of the Trump administration on BPO and BPM industry with Ayan Pramanik.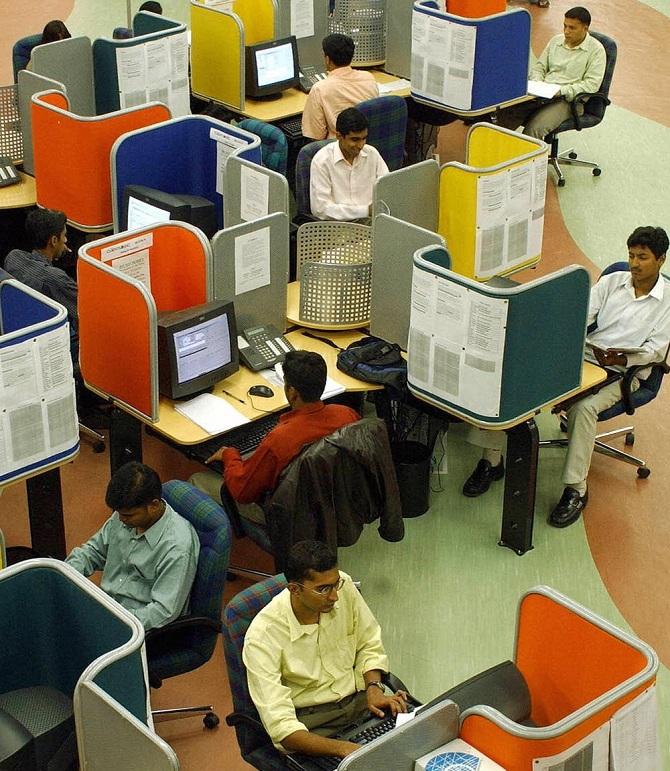 IMAGE: The WNS CEO believes that demand for the BPM industry continues to be very nascent, and the industry continues to be under-penetrated. Photograph: Getty Images.
India creates jobs in the United States, contrary to the general view in that country, says Keshav Murugesh, chief executive officer of Nasdaq-listed WNS.
The business process management service provider believes the changes in H-1B visa norms will not make much difference, especially for the BPM and BPO industry, as the company hires a good number of locals.
Murugesh, who is also the chairman of Nasscom's BPM Council, discusses a range of issues in this conversation.
Edited excerpts:
What are your customers saying in a changing business environment?
Many of us seem to be focused on the impact of disruption of service provider model.
The reality is the disruption is taking place on the clients' side around the digital models, availability of data and integration of different models, and in terms of competition and the political rhetoric. It means a tremendous change that they need to adapt to in order to stay relevant to their customers.
It creates a very interesting dynamic from that point of view, because it completely creates a new opportunity for the entire BPM (business process management) industry and companies like us.
The demand for the BPM industry continues to be very nascent, and the industry continues to be under-penetrated. In the past two quarters, we've increased our guidance to the street at 11.5 per cent (mid-point of the range) on constant currency terms, which is ahead of industry growth rates.
How do you think the BPO industry has changed in terms offering career opportunity?
First, we've rebranded the industry.
We are helping on the supply side for the potential employees to understand how exciting this industry is from a growth and transformation point of view, and (by) moving away from lower-end services to much higher-value services.
We need our people to think about banking, insurance, travel. We've experts in all these areas. We create domain knowledge. Hence, when we hire we build domain experts in the longer term. As clients keep moving up the value chain, people who come into the industry will need to be qualified, need to have good understanding of the domain, be it banking or travel.
Therefore, all of us are focusing on skilling to make sure the talent we have is relevant for a long time.
WNS said it hired people locally in the US and other global locations, unlike the pure IT players. Is the company well positioned to offset the impact of strict H-1B visa norms?
First of all, our business model is completely different from that of traditional IT services players.
We provide complex decision support for our clients. We do not really leverage H-1B visas, so the whole noise is irrelevant for us as a company and the whole industry.
Actually, we create jobs onshore in the US and other countries. If you look at WNS, of our 33,000-odd employees, close to 11,000 employees are outside India in the US, multiple centres, China and other countries.
From an industry perspective, the general view in the US has been that companies from India are just taking jobs away from US. But the reality is it is not true.
What we are actually doing is right sourcing. We are actually creating jobs in US and other countries. But more importantly many companies in the West use this as a strategic tool in order to deliver their strategic requirement to shareholders.
WNS has recently bought Denali at $40 million to improve capabilities in sourcing and procurement. By when do you expect to integrate the firm with WNS?
Let me talk about our capital allocation programme.
We are very positive about the prospects of the industry for longer term. We have been delivering strong growth; our sales pipeline is solid globally and very diverse. Cash flow has been solid.
Now, over the past year, we have focused on deploying the cash around our buyback programmes as well as on some very strategic M&As.
One of which we did last year was on the pharma analytics side, and the company is integrated very well.
The second one is Denali, in the procurement area, which happened recently. We've brought in really high quality talent through Denali. Integration has only started. By end of this year it will be completed.