'This announcement is big foolishness.'
'The government has no idea of economics. They are just announcing what comes to their mind.'
'Let them implement what they have announced and just see what will happen in two years.'
On July 4, the Narendra Damodardas Modi government approved a substantial increase in the minimum support price of most kharif crops, which will cost the exchequer more than Rs 15,000 crore (Rs 150 billion).
The increase was in line with the announcement by Finance Minister Arun Jaitley who had said while presenting the Union Budget for 2018-2019 that the government would fix the MSP for all crops at 1.5 times the cost of production.
The move has been welcomed by many; Home Minister Rajnath Singh called the decision 'historic'.
However, Dr Ashok Gulati, the well-known agricultural economist and former chairman of the Commission for Agriculture Costs and Prices, feels otherwise.
Currently the Infosys Chair Professor for Agriculture at the Indian Council for Research on International Economic Relations, Dr Gulati -- who declined in September 2017 an offer to become part of a government panel constituted by the NITI Aayog on reforming the agriculture sector by 2020 -- tells Syed Firdaus Ashraf that this government has no idea of economics.
"Economics gayi bhaad mein (can go to hell)," he tells Rediff.com in this interview.
What is your first reaction to the Modi government's decision to increase the Minimum Support Price on kharif crops?
There are a lot of questions to be asked. Whether this will be implemented or not? Who will procure?
Don't you think this is a good step as it will raise the income of our farmers?
Cotton exports will come to a zero and all the cotton in our country the government will keep on its head.
The MSP of cotton has been raised by 28 per cent. We are the second largest exporter of cotton and this move will make cotton exports zero.
This move will also hurt rice exports.
Once you go against the international price line, then you accumulate stocks (domestically) -- and dead stock at that -- because you have to unload that stock (which you buy).
(Agriculture) price mechanism does not work on the whims and fancies of a government. You cannot announce it like that.
Price is determined by demand and supply.
We export seven million bales of cotton and there is a price difference of 10 per cent compared to the international market.
Now if the government increases the minimum support price by 26 to 28 per cent, the export of cotton will go bust.
The Cotton Corporation of India will have to procure seven million cotton bales and if they do not do that, then the domestic price will collapse.
There must be some thinking behind this move.
The thinking is only to win the 2019 elections. There is no other thinking.
After four years, Prime Minister Modi is remembering his promise to farmers, and now only nine months are left for elections.
Won't farmers' income double as PM Modi has stated by 2022 through this move?
Kahan se hogi farmers ki income double? (How will their income double?).
It is not possible. Only if someone procures will something happen.
At this moment, groundnut MSP is Rs 4,500 per quintal. And in Gujarat, groundnut is selling for Rs 3,500 per quintal.
The Modi government could not solve this problem till date.
You mean the government is not procuring groundnut from farmers at Rs 4,500 per quintal in Gujarat.
The government cannot do it. The Modi government cannot become a baniya shop by buying these crops (as they announced on Wednesday).
Will the government buy Niger seed? Check out by what percentage the price has increased.
Then check ragi seed; its price has increased by 50 per cent.
Will the government be able to procure all this at the rate which they have announced?
Are you saying the government cannot practically procure grain at the price they have announced?
In Bihar, farmers sold wheat under Rs 1,500 per quintal whereas the MSP is Rs 1,735 per quintal.
There is no system in place. In the last 30 years, we only have a system in place for two crops -- wheat and rice.
When it comes to other commodities, the government does not know what to do after they procure the food grains.
Take the example of pulses. The government is sitting on four million tonnes of pulses and they do not know what to do with it because the market price is Rs 1,000 lower than MSP.
Becho (sell it).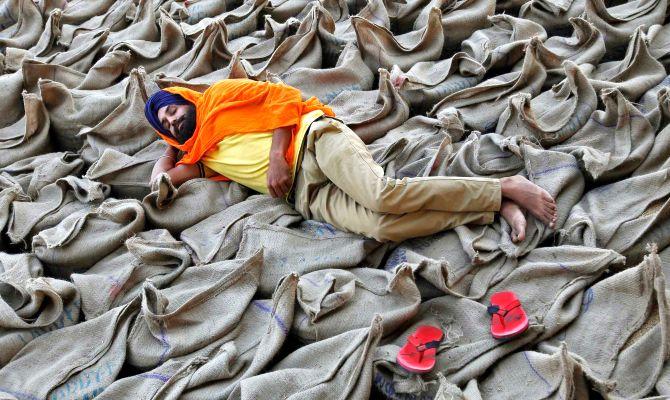 So what is the point in India becoming a food surplus nation? What do we gain from it?
The only benefit is that you stock more and more to 200 million tonnes.
Last year, the government procured 36 million tonnes of rice. This year, they will procure 40 million tonnes and this rice will not sell and instead rot (in government godowns).
The same will happen to wheat too.
This year we procured more than 33 million tonnes of wheat and since you have now increased the MSP of rice, you will have to increase the MSP of wheat too.
A lot of countries tried to do what the Modi government is doing now, but they were defeated.
There is too much of stock accumulated and the government's inefficiency is exposed.
But there must be some system in which everyone benefits.
The government pays Rs 33 per kg of rice to farmers and they want to sell it for Rs 3 (through the public distribution scheme), resulting in food subsidies costing Rs 169,000 crore (Rs 1.69 trillion).
Now you give more food subsidy and add Rs 15,000 crore. Now make it Rs 185,000 crore (Rs 1.85 trillion) food subsidy.
You can't deny that the Modi government's intentions are good as it wants to help farmers.
It is not a question of the Modi government's intentions, but the question is whether they are applying their mind to this problem.
You have to have a policy instrument.
The prime minister of Thailand did the same thing before elections. He announced he would procure rice at a higher price and then the stock accumulated.
In three years, the entire system collapsed.
We, in India, do not have the place to store so much food grains and moreover, our fiscal deficit too will rise.
Market distortions cannot work. We do not have godowns to store.
There must be some logic in procuring so much grain by the Modi government if, as you say, we do not have the godowns to store.
No logic. Economics gayi bhaad mein (can go to hell).
After four years, the Modi government has woken up to his promise.
The only logic is that the elections of 2019 have begun. The Modi government's announcement on MSP is nothing but an election game.
Won't farmers be happy with this move?
I told you the MSP of groundnut is Rs 4,500 per quintal and he is selling it for Rs 3,500 per quintal.
Now you are saying you will buy it for Rs 5,000, but the real cost in the market, at which farmers sell, is Rs 3,500 per quintal.
Is the government not buying groundnut from farmers at Rs 4,000 per quintal?
Where are they buying?
All the godowns are fully stuffed. And the government says the MSP is Rs 4,500.
Pulses and even oilseeds are also selling below the MSP. How much can the government buy?
They now want to buy Niger seeds. They want to buy jowar at 44 per cent.
State governments too are involved in procuring grain; they too have a role in procurement.
The state governments will say they do not have money to pay salaries.
It is the central government that has announced the price and not the state governments.
When the central government is announcing, so let them procure.
The MSP is announced in coordination with state governments, the Cabinet Committee on Economic Affairs and the central government, isn't it?
So let them do the coordination.
First let them do it in Gujarat. You give me Rs 4,500 per quintal for groundnut in Gujarat.
You cannot give me that as it is selling for Rs 3,500 per quintal.
Why don't we export it?
If your price is more than that the market rate, then how can you export?
That is what I said -- the Modi government has increased the MSP of cotton crop by 28 per cent and you earn 10 per cent from the international market.
So exports will come to zero as you have raised the MSP of cotton.
You are presenting a very scary picture for agriculture.
This announcement is big foolishness.
The government has no idea of economics. They are just announcing what comes to their mind.
Let them implement what they have announced and just see what will happen in two years.
The entire textile industry will face trouble if the government gives such a high price for cotton.
And if they do not give, then the farmers will say the government is announcing the price but not procuring at the price.
Today you check any food commodity in the market and compare that with the government announced MSP.
You will find out that every commodity is selling at least Rs 800 to Rs 1,000 below the MSP in the market. First let them correct this.
When we cannot export and we cannot sell, why are we producing so much?
That is right. Last year, cow's milk was selling at Rs 27 in Vidarbha and today it is selling for Rs 17.
Let the government procure it. You cannot go against market trends. It is not possible.
You can go here and there by 2 per cent, but not 20 percent.
If you do major distortion in the system it will take five years to clean up the system.
This means we will face difficult times.
Before the Modi government, Europe did the same thing and so did the United States of America -- they made the same foolish move.
They all burnt their hands and gave up. They all accumulated huge food grain stocks and sat on it.
After a point of time, all that stock rotted away.
What do you do after producing so much grain? What is the solution?
All prosperous countries produce more than what they eat.
The USA does not eat all the food they produce. They export it.
You have to be competitive.
When your productivity goes up, your cost per unit should come down.
The whole focus has to be on productivity augmentation.
India can feed the world, at least South Asia.
Bangladesh next door is an importer (of food grain), we can give them more. Every country wants to export more than imports.
India is the largest exporter of rice, the second largest exporter of cotton and bovine meat in the world.
Now if you increase the prices of every commodity in the country you will be priced out of the international market.
You cannot be out of line with international price settings.