'The central government is putting conditions on farmers organisations, that they have to allow passenger trains to ply, only then will they allow goods trains to ply.'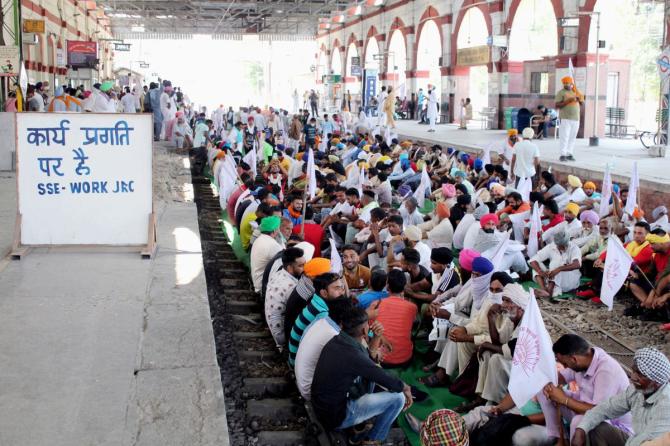 It is more than two months since the Narendra Damodardas Modi government passed the new farm laws giving access to farmers to sell their produce in any part of the country.
What was considered to be a pro-farmer move has had a negative fallout on the ground with farmers across the country protesting the laws.
The worst of the protests is being seen in Punjab, where the Congress government has passed laws negating the central legislation, but where farmers have sat on railway tracks and not allowed the plying of trains unless the central government scrapped its laws.
Syed Firdaus Ashraf/Rediff.com spoke to Sukhdev Singh Kokri, general secretary, Bharatiya Kisan Union (Ugrahan), to find out why farmers in Punjab are not giving up their protests.
The protests by farmers, particularly in Punjab and Haryana, seem to not stop. Why?
This is happening because the farmers of Punjab know the fact that the farm laws of the Modi government will destroy farmers forever.
First, they (corporates) will take away our crops and later on they will take over our land too. That is the reason farmers are protesting even during sowing and harvesting time while working on their farms.
People from all walks of life too have come out in our support.
But trains are being stopped during your protest which is affecting the common man as well as the state because, for one, foodgrains are not being transported.
Right now in Punjab, farmers organisations of different ideologies have come together on one platform. And our organisation did take part in the rail roko initially in terms of coordination with other farmers organisations.
It was for not more than 20 days, though. We did that so all farmers feel that all farmers organisations are on one platform.
Later on, in the larger interest of farmers, on October 12 we lifted the rail blockade. And instead we started doing dharna outside BJP (Bharatiya Janata Party) leaders's homes and offices in Punjab.
Other farmer organisations, however, continued with the rail roko agitation with the exception that they will not allow only railway passenger trains and not stop goods trains.
But taking advantage of the situation the railways have stopped the goods trains too.
Now the central government is putting conditions on different farmers organisations, that they have to allow passenger trains to ply, only then will they allow goods trains to ply.
Is railway blockade the only option for farmers?
We had to join in because other farmers organisations would have accused us of betrayal. We were not in favour of a railway blockade. We only got involved in coordination and that too at some two-four places only.
We did this as we wanted to pressurise the government to withdraw the farm laws.
When we do rail roko the government comes under pressure. This has happened in the past where governments have passed anti-farmer bills and later withdrawn them due to farmers's protest.
The government wants the buying and selling of farm goods to be handled by corporates, therefore we are opposing this move.
Will these tactics really work as the laws have been passed in Parliament?
Big laws have been passed in Parliament and farmers have seen those laws being scrapped.
Earlier too, there was a law passed stating that if a farmer does not pay his debt his land will be seized.
In Punjab we stopped many such nilami (auction) of farmers's lands.
Court orders were there, but still farmers agitated and didn't let the law being implemented on the ground.
Another instance was the land ordinance. The government wanted to make a smart city by taking farmers's lands but then they had to withdraw that bill.
Farmers came on the roads and the government had to cancel the notification.
There is no coal in the state so there is no power and industries are being damaged in Punjab because of your protests.
Right now the rail tracks are empty and no farmer is sitting on the tracks.
We have done this so the Modi government should not get an excuse not to run the railways.
But the government says farmers are sitting on rail tracks and not allowing passenger trains to ply.
They have just got an excuse to not run the trains.
The real issue is that Punjab has shown the rest of India what a farmers's protest can do. We have been protesting peacefully and no damage has been done till date.
And now the Modi government is calling farmers Urban Naxals, (they say) there is danger to the trains from us.
Punjab's own farm bills passed in October clearly state that anyone buying wheat below MSP will face three years imprisonment. Why then the protest as the state government is protecting farmers's interests?
It is not going to work. Ths is only a showpiece of the Congress party to save their seat.
Our legal advisors are telling us that in this bill (Punjab's farm bill) farmers have to prove that someone has forced them to sell at lower than the MSP.
Now, how can a farmer prove that? It is not that anyone who buys farm goods from farmers below MSP will be punished.
Moreover, the Punjab government should have said in the bill that if a farmer is selling his produce below MSP, then they will compensate the price difference. These things are not mentioned in the bill.
How can a farmer reach the Supreme Court against traders?
Don't you feel that we need laws that will give farmers more space to sell their produce, and that the Modi government's farm laws do exactly that?
This is applicable to only one percent of farmers who have resources and can sell their farm goods anywhere.
Some 96 percent of farmers of India do not have the means to go and sell their farm goods to their village mandis. How can they then go out and sell in other markets?
In Punjab, maize's MSP was Rs 1,850 per quintal but traders bought it for Rs 900 from farmers. And this is happening when the MSP law is there. No action was taken against them by government.
But why are farmers selling at a loss?
The government is not buying and therefore farmers have no option but sell to these traders. They have to pay their debts and pay their home bills.
Moreover, they have to get starting with another crop sowing season so they cannot wait.
Farmers cannot keep the produce at home when the harvest is ready. The government is not buying, so they have no option but to sell to traders.
The BJP says it is the middlemen who are protesting and misleading armers to join the protest.
Why will the middleman mislead farmers? He has no interest in this protest.
Farmers have understood this bill. There are 1.5 crore farmers in Punjab and only 10 lakhs of them have come on the roads to protest.
Therefore, the (central) government is trying to divert attention by calling farmers Urban Naxals or sometimes dismiss it as a middleman's protest.
And in spite of that, farmers are still coming in lakhs to protest day and night.
Prime Minister Modi has repeatedly said that MSP is not going away, so why protest?
He should have written these words in the laws.
PM Modi is lying to the farmers.
His government said before elections that the M S Swaminathan report will be implemented and farmers will get the benefit of that.
Later on, in the Supreme Court his government did a U-turn and gave an affidavit stating that the Swaminathan report cannot be implemented.
Why is Punjab alone fighting on this issue? We don't see such protests in other states.
It is wrong to say this. On November 5, in 18 different states of India protests took place in some 2,500 places.
In Punjab alone, the protests took place in 300 places, therefore it is wrong to say that only Punjab's farmers are protesting.
On November 26 you will find the answer in the Delhi Chalo movement by farmers.