'Modi hasn't done much to change the basic macro economic problems facing India. Too much regulation, too much control and the rupee is still not convertible on the capital account. This is 2015, not the 1950s.'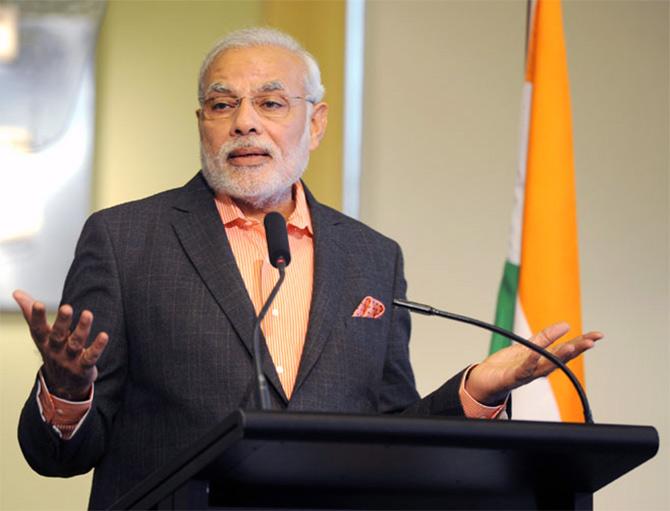 "In 1962 Burma was the richest country in Asia. They closed off (to the outside world) and Myanmar became the poorest country in Asia. Closing off is never good."
This is how global investor Jim Rogers, who recently sold his India investments, warns India might go if the Indian currency is not convertible and open the Indian economy further for foreign investors.
What also shocked Rogers was the Union government's handling of the minimum alternate tax that was to be applied on foreign institutional investors.
"And this happened during Mr Modi's tenure and not under the previous government," he says, emphasising that he had pinned a lot of hopes on Narendra Modi when he ran a successful election campaign and won a handsome mandate from India's electorate.
Rogers discusses with Prasanna D Zore/Rediff.com his disappointment with Prime Minister Modi's economic reforms, why he is betting big on the US dollar and the Chinese renminbi and what will bring him back to India some day.
While everybody now knows that Jim Rogers has sold his India investments, could you tell us what was the tipping point?
I don't know the exact tipping point, but I do know that since March I started worrying about the markets. Sometime this summer I decided to sell because nothing had happened in the last 13 months (since Narendra Modi took over as India's prime minister) and I was worried about the markets. So, I decided to sell.
What could have encouraged you to stay invested in India?
I hadn't invested in India before in my lifetime. I had avoided India most of the time because I had not seen great opportunities, but when I saw the (2014 election) campaign that Mr Modi (then Gujarat's chief minister) led, and considering his good record when he was running a state (Gujarat), I presumed he knew what he would do and what needed to be done. He said a lot of things about mending the Indian economy during his campaign run.
When I saw that he was going to win, and actually he got (one of) the biggest mandates in independent India's history I thought this would be great (for the Indian economy), and all (the big bang reforms) is going to happen now. But then when I began to notice that nothing was happening, I mean some small things happened that made it possible for more people to make pickle, well I like pickles, but he (Modi) didn't do much else.
While what he has done was equally important, he hasn't done much (to win my confidence as an investor in India). Finally, I realised nothing much is going to be happening and so I sold (my India investments) because I am worried about (Indian) markets and I am worried about the world (markets).
What is your biggest disappointment with Prime Minister Modi?
My biggest disappointment is how little he has done. He hasn't done much to change the basic macro economic problems facing India.
Too much regulation, too much (bureaucratic) control and the (Indian) rupee is still not convertible on the capital account. This is 2015, not the 1950s.
(Financial) markets should be open. I, and everybody else, should be able to pick up the phone, and (should be able to) buy shares or buy anything in India, just like I can do in Germany or Australia or the US.
He hasn't done much for farmers. They have been terribly restricted. India used to be one of the great agricultural nations of the world... you got the weather, the people, the soil, everything (that is conducive for the growth of agricultural sector).
But God also gave you Delhi, which makes everything so difficult.
I love your country. It's a great place to be in, but it's a difficult place to do any business.
What should then India do to gain the confidence of foreign investors like Jim Rogers? What more do you want to see happening in India?
Countries which close out to the outside world usually do not prosper, and often decline. History has shown this many, many times. Outside investors come with new money, new capital, new technologies and new ideas. So, opening to the outside world is what made America great and that's what made many other countries great in history and shunning the outsiders caused many to decline.
In 1962 Burma was the richest country in Asia. They closed off (to the outside world) and Myanmar became the poorest country in Asia. Closing off is never good.
In my view, I would reckon, your currency should be completely open (convertible), your markets should be completely open, everything should be (open to market forces)... but for some reason (you have not opened it). I know the historic reasons why you have not, but as I said this is not the 1950s.
Do you see this happening in the next four years, especially rupee convertibility?
I don't know and I am not sure. But just look at the whole thing that they were going to tax (the minimum alternate tax on FIIs) retrospectively. This, in my view, was bit of a shock. And this happened during Mr Modi's tenure and not under the previous government.
So, it was a shock that it was even suggested originally. Of course, they rejected it now, but I was very surprised that it was even suggested in the first place.
As far as opening the economy further, I don' see any significant opening even if they are talking about it. The talk is different from reality.
Was the government's vacillation on MAT a tipping point for you to sell your India investments?
I don't know what the tipping point was, but I had this realisation that nothing was happening and it was for quite some time that I was worried about the world (economy).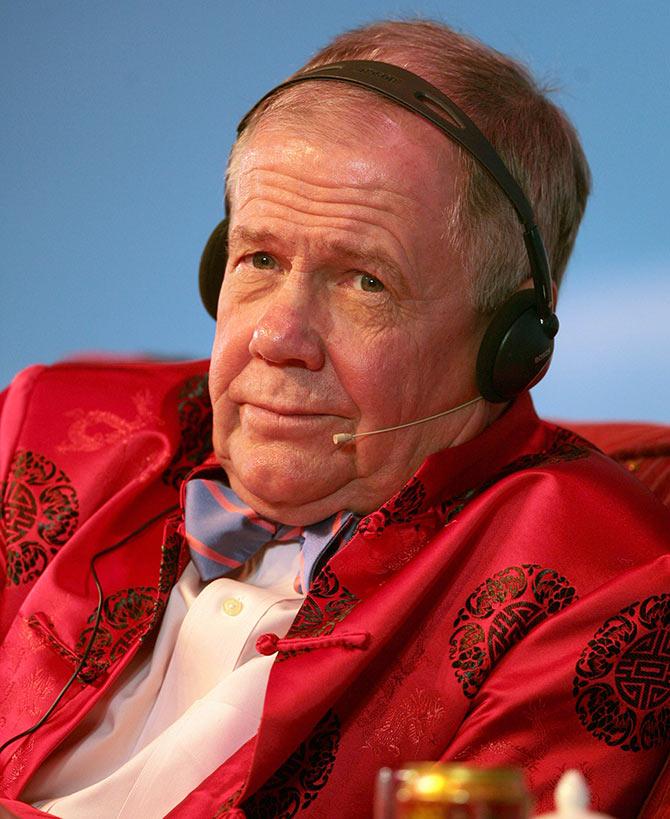 IMAGE: Jim Rogers in Nanjing, China, June 28, 2008. Photograph: China Photos/Getty Images
Now that you have sold your India investments which emerging markets do you think offer value?
I am not really investing or buying much anywhere because I see more possible turmoil in the world. We have had no economic problems in the last six years (after the financial meltdown of 2008-2009 in the US) and it (turmoil) is long overdue.
I see turmoil beginning to develop and I am watching and I have got a few shares in China which I bought when the Shanghai Composite collapsed (ever since the People's Bank of China devalued the Chinese renminbi on August 11) but I am not buying China now. I have got a few shares in Zimbabwe, a few shares in Ghana but...
So right now Jim Rogers is sitting on lots of cash?
I am sitting (on cash) and looking out the window.
You have said you will look at India as an investment destination sometime later. At what point will you invest in India?
I am always reconsidering my decisions about everything, everyday. If I see major reforms, major reforms besides somebody being able to make pickles, of course, I will have to reconsider.
What would be those major reforms?
The first thing for me is if they (the Indian authorities) make the currency convertible and if they open the financial markets to outside investors I am sure I would be investing in India the next day; in fact, on the same day.
Mr Modi has the largest mandate ever; if he is not going to do it, who is going to do it?
Would you be back in India if you were to find the Sensex 20 to 30 per cent lower than what it is today and there are no reforms that you want to see happen?
It will all depend on what is happening in the rest of the world. If the rest of the world is down 50 per cent and India is down 30 per cent, I'd rather look out at other places.
If you were to talk only about regulations in the financial sector then Chinese rules and regulations for investors are far more opaque than they are in India. Wouldn't you, given this fact, consider India as a better investment destination than China?
I have invested in China. I bought China recently when they collapsed which I have not sold. I am just not buying China now. I am not buying anywhere.
Where do you see China heading after the People's Bank of China devalued the Renminbi and which, in turn, started a sort of meltdown in emerging markets? When will this contagion stop?
Just to correct you, China did not devalue (its currency); the whole world, America, IMF, everybody has been educating China to make its currency convertible, to open their markets, which they did so finally; just what the IMF and America has been requesting. They marked it (the Chinese currency) down two per cent one day and one per cent the next day... that's not devaluation... I mean the (Indian) rupee goes up and down two per cent every second day.
I think after this mark down (in its currency) China has opened to market forces (allowed its currency to swing to demand and supply). With this China seems to be moving in the right direction... I hope so. You have a very smart central banker (RBI Governor Raghuram Rajan); he is one of the best in the world, or least bad in the world, and if he were to run (the) Indian (economy), people would be much more interested in India. He understands the world, the money and how it works.
There are many problems in China, there are many problems in the world but I am optimistic about China opening its markets; it's now possible for foreigners to invest in China through Hong Kong. It's possible in China. It's not possible in India.
Is there anything that you like about India in the current economic situation?
When I speak around the world I tell them there is only one country where you have business opportunities and that is India. There is no country in the world with a range of man-made and natural sites, the religions, the languages, the food... I love it.
But as far as doing business it's very difficult to do business in India. It has the worst bureaucracy in the world and that's one of Mr Modi's biggest problems. I thought he was going to deal with the bureaucracy but apparently he cannot or has not.
At one point I invested in tourism in India thinking that it would become a great tourist destination but there too nothing much has really happened (because of bureaucracy). I do not own shares in India tourism anymore.
Considering that the US Fed is expected to raise interest rates would you be buying US dollars now?
My largest currency position is the US dollar because I bet there would be more currency and financial turmoil of every kind in the world and when that happens, many people go to a safe haven. They think that the US dollar is a safe haven.
I own US dollars and I bet it will go higher in the next year or two or three at which point it will probably get overvalued, and I hope I am smart enough to sell my US dollars then but I would not know now what I will do then.
If the US Fed raises rates after the September 16-17 meeting, how do you see the RBI governor reacting to it later in the month on September 29 when the fourth bi-monthly policy statement for the year 2015-16 will be announced?
Interest rates worldwide should be higher. They are artificially low now. This is a terrible policy for the world and they have to go higher now. There is a lot of debt which has to be financed so rates should go higher.
I think what will happen is the market will force rates higher and at some point markets will worry (about the hike in interest rates and the financial turmoil it will create), everybody will call the central banks to save them and these central banks, run by academicians and bureaucrats, who don't know what they are doing, will panic and do something to save the market which will lead to another big rally. That will probably be the last rally.
Do you foresee gloom and doom scenario for emerging market currencies?
The only currency (among the emerging markets) that I own is the Chinese renminbi. It (the Chinese economy) is opening up more and more and you will see the Chinese currency emerge as the second strongest currency in the world. After the US dollar the Chinese renminbi is my second largest currency exposure.
Now (since) they are opening up their currency (the renminbi devaluation is a sign) it is possible to buy shares in Hong Kong.
India has a lot of internal and external debt... China is much, much bigger creditor nation... they are developing internal debt so that might be a problem in China. But at the moment I am more optimistic about the renminbi because if and when it goes completely convertible that would change a lot of things in the world.
Do you see those keenly following you in India will now follow you out of India?
I don't think so. I doubt it.
If you were to write a letter to Prime Minister Modi about your India exit what would it state?
I would say, 'Just get it done!'
'You have got the mandate; you say you know what needs to be done. So, just get it done.'
'If you don't know what needs to be done get some good advice and get it done.'
Would you have felt confident about the pace of economic reforms in India if this government had enacted the land acquisition bill and goods and services tax?
Farmers in India are not allowed to own more than five hectares. That is making Indian agriculture not very competitive in the world. You should be one of the greatest agricultural nations in the world given your resources and natural conditions that are favourable for farming but because of restrictions and controls and many other problems Indian farmers cannot compete with those farmers in the world who have 50,000 hectares.
The land law is part of the reason but there are many, many more reasons why Indian agriculture has not seen the kind of growth that it promises.
I hope that somebody makes Indian farming prosperous again.