'Maybe, India will never be reformed and maybe India will continue to have a quagmire for the rest of history.'
Legendary investor Jim Rogers, in a no holds barred interview!
Legendary investor Jim Rogers says he won't be investing in India unless we open our markets more and make the rupee convertible on the capital account.
Rogers tells Prasanna D Zore/Rediff.com why he is contemplating buying the US dollar even as he predicts a recession in the "largest debtor nation in the history of the world."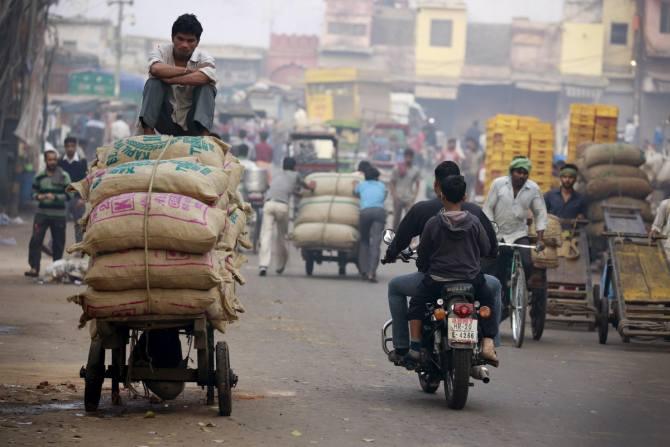 When we spoke last September the bellwether Sensex was at 25000 levels from where it hit a low of 23000 on February 12 and has since then jumped to 24600 levels.
Would you be looking at India now as an investor?
I am not looking at India now. If Mr Modi opens the market more I might think about it, but I am not doing anything yet.
What do you think of India's Budget for 2016-17?
I have looked at some of the numbers, but I have not yet done a thorough job. Maybe I will now that you have asked me.
The finance minister has stuck to the 3.9 per cent fiscal deficit target for 2015-16 and for the next year he has said the fiscal deficit will be at the targeted 3.5 per cent of GDP.
Do you think this makes a case for interest rate cuts by the RBI (Reserve Bank of India)?
First of all, I have heard many things like this from India for many years. I have heard things like that from every government around the world. I don't believe it's going to happen.
Indian stocks have started sizzling again, expecting a rate cut after the Budget.
Well, markets everywhere have been going up, but I don't think it is just because of the Budget. The markets, be it in America or Europe, have been very strong.
What are your worries about the global economy at this point in time?
My main worries are the huge debt (many countries have accumulated huge debt to stimulate demand in their economies, like the US) they will bring economic hard times, financial hard times, in the next couple of years.
Having said that, I am contemplating adding to my investments because it looks like maybe we need a big rally in the stock markets, especially in America and China.
What are you looking at right now?
I am trying to figure out if there is going to be a big rally.
Are you looking at buying the US dollar?
I own a lot of US dollars. Now, I am thinking of buying more when I already own so many. I am just trying to make an opinion if I should add more long (US dollar) investments or not. If I make that decision, then I will have to decide which market to invest in.
Are you not looking at investing in stocks or not looking at investing in any emerging markets?
Maybe, Nigeria or Kazakhstan because of oil. I think the oil rally is going to continue. I think I will probably buy oil or those markets.
Right now I am having a rethink about what to do. I don't know.
I have been pessimistic about much of the world and I am trying to decide if the rally points to that or not.
If crude continues its rally, Russia will be its first immediate beneficiary and probably that is where I would start. But I don't know yet. I am thinking about it.
How do you look at the pace of economic reforms in India?
In my view, Mr Modi continues to build a small road in the things he does, which is very good for India, especially foreigners now.
If I decide to buy anything, I doubt I will decide to buy India yet because there still aren't enough reforms.
I don't know why your currency is still restricted, why your market is still restricted... very difficult for foreigners to buy anything in India. And your currency itself is still blocked.
What are global investors telling you about India when you meet them?
I don't meet too many investors at all. I am very much a loner and I work on my own.
Now that there are mixed signals coming from the US Fed about sustaining the hike in interest rates there, are you still betting on the US dollar strengthening further?
Which currency attracts you the most now?
There is going to be more turmoil in the markets in the next couple of years which means the dollar will go higher (against other currencies).
If, however, there is going to be a further rally (in the dollar) for the next few weeks it might cool down, but I expect the dollar to be much higher in the next two years.
While you are betting on the US dollar you are also foreseeing a US recession in the next one year...
Yes, yes, I do... sometimes I think I should keep my mouth shut... but sometime in the foreseeable future (there will be a US recession) but that's the reason the US dollar will strengthen further because if economic turmoil is here they (global investors) will look for a safe haven and the US dollar is considered a safe haven.
Not a safe haven, of course, because the US is the largest debtor nation in the history of the world, but if you think the US is a safe haven then people will put (their money) into the US dollar.
However, if the markets are going to rally for a while, then that means not a great urgency to invest in a safe haven, maybe then the dollar could continue to correct.
India's Parliament has not been functioning for more than three sessions now because of the charges being traded at each other by the Opposition and government. How do you look at this imbroglio over legislating business in India?
Mr Modi has one of the biggest majorities in three decades and if he cannot reform India, then who is ever going to reform India?
Maybe, India will never be reformed and maybe India will continue to have a quagmire for the rest of history.
I don't know if he cannot do it, who can!
Are you looking at India with concern because of the shrill debate in India about religious intolerance?
I do not approve of religious intolerance. It holds people back; it holds countries back; it holds economies back.
There was religious intolerance in India ever since I was born. But that doesn't have much to do with my view of India.
IMAGE: A labourer sits on a pushcart loaded with spices at a busy market in the old quarters of Delhi. Photograph: Cathal McNaughton/Reuters