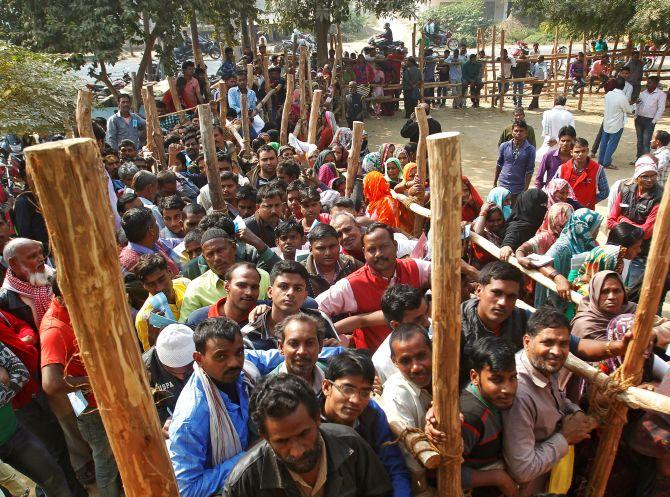 IMAGE: Villagers queue outside a bank on the outskirts of Allahabad. Photograph: Jitendra Prakash/Reuters
'The execution has been 100 per cent faulty.'
'The scheme is also a stupid one, a real Tuglaq Darbar scheme.'
'This way of attacking black money is the most ineffective one.'
Economist Venkatesh B Athreya, below. left, is an advisor on food security at the M S Swaminathan Research Foundation, and also adjunct professor at the Rajiv Gandhi National Institute of Youth Development.
He served as professor of economics at the Bharathidasan University in Tamil Nadu for nearly three decades. He also held faculty positions/fellowships/visiting scholarships in various universities like the University of Wisconsin and Bucknell University in the US, Oxford University and the University of Cambridge in the UK, Lund University in Sweden, the Scandinavian Institute of Asian Studies in Copenhagen.
Professor Athreya discusses demonetisation with Rediff.com's Shobha Warrier in an exclusive interview.
What is your reaction to demonetisation?
They claim demonetisation would help in four areas: Curbing black money, eliminating counterfeit notes, stopping terrorist funding, putting an end to corruption. I find all these claims not sustainable.
Corruption is an ongoing activity and it will continue to occur in all activities in the future too. You cannot end it by taking out some currency notes from circulation.
Second, terrorist funding does not come only from counterfeit notes or black money.
It is said that stone pelting stopped in Kashmir after demonetisation...
It has nothing to do with this. Stone pelting is an ongoing process, which has its ups and downs.
Defence Minister Manohar Parrikar claimed that in the border areas, all terrorist activities have stopped. I am amazed by the frivolousness in such statements.
Terrorists get money through proper channels too. This has become an important propaganda weapon for the Bharatiya Janata Party.
Let me put this in perspective: Black money is not just idle money kept under mattresses and inside pillows.
Black money constantly is engaged in economic activities like buying and selling of shares, in stock markets, etc.
For example, the whole issue of participatory notes where Foreign Institutional Investors who are not registered here can operate with participatory notes without having any disclosure requirements.
You won't even know where the funds are coming from and who owns them.
This plays an important role in terrorist funding too.
There have been repeated requests for banning participatory notes. I remember (then national security advisor) M K Narayanan used to describe this as the route for terrorist funding.
If you look at the black money issue separately, my point is that black money is flowing all the time.
Is it a parallel economy?
It is not a parallel economy alone; it can intersect also. There is no Chinese wall between the parallel economy and the so-called legal economy because money is generated for legal activities.
So, the activity may be legal, but the income may not be reported and hence black.
Then, there are all sorts of ways to change black into white and the government was facilitating this activity.
For example, when they gave the six-month window to deposit and pay tax at 45 per cent without having to disclose the source of income.
This was an open encouragement in the Union Budget of tax evasion. This was done in 1997 by P Chidambaram and in 2016 by Arun Jaitley.
In this country, the governments are unwilling to politically confront black money power and bring them to book.
Instead they prefer to offer them time to time amnesties.
They say that they got Rs 69,000 crore income and Rs 29,000 crore in taxes. This is trivial in front of the outstanding taxes
So clearly this government's credibility on the issue of black money is suspect looking at the tax concessions given to tax evaders in the past.
Now, the question is: How much of black money is held in cash?
If you look at the income tax raids conducted in 2012-2013, what emerges is roughly 6 per cent of the undisclosed income is held as currency notes.
So, 94 per cent of the wealth is in other forms and it keeps generated in activity and reinvested.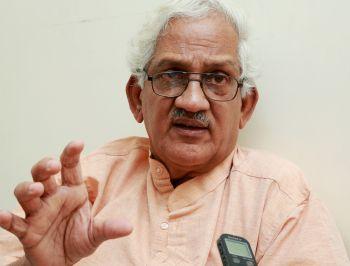 What should the government do to attack this 94 per cent?
I would quote (then RBI governor) Raghuram Rajan. He had said this much earlier and not in connection with this. When he was asked on demonetisation, he had said the perception that high value notes taken out of circulation to control black money is misplaced.
He said if you did something like that, the rich would find a way around it and that they would have their people to manage.
He also said that India now had a reasonable tax rate. The way to make people pay tax is doggedly pursuing it through the regular channels.
As the bulk of the black money is in the form of jewellery and real estate, if you look for the transactions and find the source of income, you can pursue them.
Yes, it is painstaking work. This was what the British administration was famous for -- they keep pursuing.
The same view was expressed by a Government of India committee in 2012 headed by the chairman of the Central Board of Direct Taxes.
The committee said the perception among the public that taking away high value notes would curb black money was misplaced as only a very small proportion was held as currency.
The way is to do with normal taxation channel carefully. Ultimately, that is the only sustainable way of doing it and not dramatic gestures.
I am very convinced that only a very small fraction of black money will come out by this exercise.
In the case of counterfeit notes, it is also found that counterfeit currency is only around Rs 400 crore out of Rs 17 lakh crore, which is 0.0008 per cent or so.
So, the argument that the move is to find counterfeit money is also completely bogus.
Do you feel the idea is good, but the execution has been quite bad?
I am not saying the idea is great. What I am saying is this is a very poor way to address the black money issue.
Yes, something might still come out of this as 6 per cent of black money is held in currency.
Suppose half of that 6 per cent comes out, it is something, but not a big sum.
The State Bank of India says the bank collected Rs. 1.14 lakh crores as deposits in the last one week...
But why should that be black money?
People have been asked to deposit money in the banks, so you are forced to deposit money and they are limiting the amount to be taken over the counter.
On one hand, the government wanted to stop high denomination currencies to stop black money, but why come out with the Rs 2,000 note?
The government has not given any satisfactory explanation. That is why it looks ludicrous in the eyes of the intelligent public.
This is a completely silly and illogical measure.
In fact, it is causing a lot of inconvenience to people.
If you can print such a large number of Rs 2,000 notes, why not more Rs 100 notes instead?
The move towards lower denomination notes is always a good thing.
Nobody is opposing banking, plastic and all that, but we are very far from achieving all that.
Whatever said and done, 90 per cent of transactions in India is through cash and not plastic.
Only 46 per cent of adult India has bank accounts and many of them are dormant Jan Dhan accounts.
22 per cent of India only has Internet penetration.
19 per cent of Indian households do not have access to electricity.
This is the kind of economy you are dealing with.
The numbers of rural India will be worse as these are averages.
According to me, it has no logic and it need not have been here.
High denomination notes may not encouragem but facilitate illegal activities.
Let me say again: Black money is not stationary like a piece of furniture, it keeps moving.
One major black money activity other than jewellery and real estate is hawala operations where money is taken out of the country and brought back through the Mauritius route, turning black into white.
The other is the participatory notes in the market.
Is scrapping a certain currency denomination all of a sudden the only way to tackle this issue?
That is why I say that the execution has been 100 per cent faulty.
The scheme is also a stupid one, a real Tuglaq Darbar scheme.
This way of attacking black money is the most ineffective one.
The government has given December 31 as the deadline to deposit the Rs 500 and Rs 1,000 notes. Why didn't they allow people to use Rs 500 and Rs 1,000 rupee for day to day activities till December 31 and gradually phase them out?
Instead of making them illegal, they could have phased out gradually.
Then this would not have inconvenienced people at all. They would have gradually returned the money to the bank.
In my opinion, it is difficult to resist the conclusion that this is a move with the Uttar Pradesh and other state elections in mind.
But don't you feel this would affect the BJP adversely because of the way the common people have been inconvenienced?
The BJP's calculation, I think, seems to be that the regional parties have far less flexibility and manoeuvring possibilities in converting black money into white.
The BJP has already done so.
Also, regional parties have more support from small and medium business players who like to keep cash while the national parties get money from the bigger guys probably through other channels.
So, this will have a greater impact on the smaller parties.
Also, the announcement will make Narendra Modi the great saviour of the country, killing black money.
They (the BJP) will tell people that they are doing it for the country.
The BJP is projecting this as a nation saving measure, a bold decision the PM has taken, which nobody has taken before. They are asking people to bear with them.
Their expectation is things will settle down after a few months.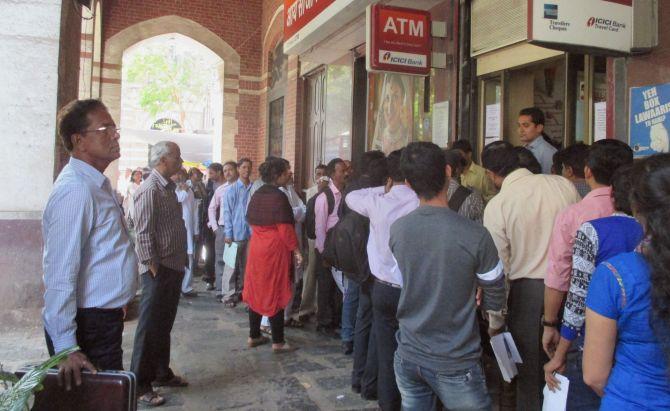 IMAGE: People queue up for money outside a bank in Mumbai. Photograph: Sahil Salvi
So, you feel this was more a political move?
In my view, this is more of a political intervention to give the BJP some brownie points in the coming state elections, mainly because none of the promises made by the BJP in the 2014 elections were fulfilled.
This government's credibility to speak on black money is very low.
What kind of economic impact will this have?
There are serious consequences because of this. What has it done?
It has taken out 86 per cent of the currency in circulation. There will be a very sharp reduction in liquidity.
This will have a big negative impact on demand.
Purchases will run dry.
At the level of consumption, lot of transactions will stop.
So, the immediate impact will be on consumption.
There will be a demand reduction in the economy and a collapse of the market.
But the more serious is its impact on production.
Suppose I am a unit in Tirupur, and I pay Rs 10 lakh as weekly wages. I can draw only Rs 50,000 from my current account in a week. So how does an honest businessman give wages to the workers and purchase raw material?
The real distress is right now happening in rural India.
Do you call this kadvi chai or poison for the masses?
It is bitter tea for the masses and sweet for the corrupt.
Anyway, the government's policies are like giving poison in small doses every day.
I have a very dim view of the government's free market policies. This is just an addition to it.
This is not a surgical strike against black money, this is the surgical strike against the working poor and farmers.
As a measure, this is ill-advised and extremely ill-implemented too.
For example, if they had confined to just Rs 1,000 notes, it would have been far better as two thirds of the notes in circulation are Rs 500 notes.
Imagine, removing 86 per cent of the notes in circulation one fine day. You are causing a huge liquidity squeeze in the economy, and an artificial crisis in the economy.
You feel this move was completely unwanted?
Completely unwanted and poorly designed.
They shouldn't have done this at all. There are better ways to clean up black money.
Professor Venkatesh B Athreya's photograph: Sreeram Selvaraj