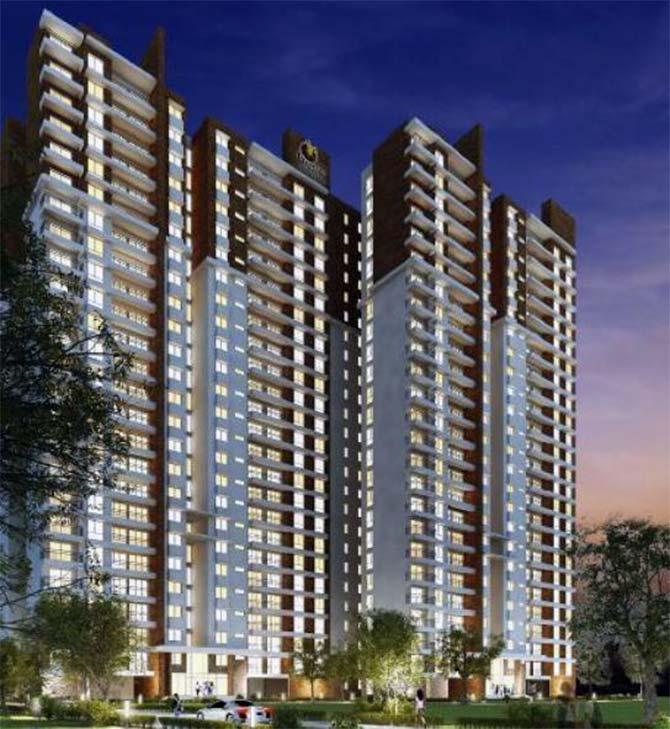 'This year was very good for office properties and Bengaluru has absorbed 14 million sq foot.'
"There is opportunity here in mid-budget segment homes -- properties below Rs 1 crore (Rs 10 million).'
'The city is growing haphazardly because we have not had any planning.'
Bengaluru-based Mantri group recently raised funds for two residential projects in the city.
Sushil Mantri, chairman of Mantri Group, tells Raghu Krishnan that some private equity firms have evinced interest in structured debt, as the firm expands into new commercial properties.
Excerpts:
Have the Piramals invested in Mantri's projects?
We have raised funds for residential projects and the Piramals have invested Rs 100 crore (Rs 1 billion).
The land acquisition is going on.
Private equity players have also shown interest.
However, it will take some time to fructify.
Most of the deals are structured debt.
We are expecting an equity structure and we expect it will take a year for the market.
We have closed nine projects with Xanders.
Are you still a residential player?
Today, 75 per cent of sales come from residences, while 25 per cent is retail and commercial. Going forward, it will be 65 per cent and 35 per cent, respectively.
Some of the properties are at approval stage.
Real estate is a disciplined business, so temptations are high. If you are disciplined, chances of failure are very little.
How is the market?
There is opportunity in mid-budget segment homes -- properties below Rs 1 crore (Rs 10 million).
Then, there is enormous interest from non-resident Indians.
This year was very good for office properties and Bengaluru has absorbed 14 million sq foot.
We see similar demand next year.
It is because there is huge job creation in Bengaluru.
We'll see a good amount of influx of people.
Outsiders are coming for jobs and settling here.
Can the city handle such large migration?
It is high time the policy makers (in Karnataka) respect planning.
The city is growing haphazardly because we have not had any planning.
A good master plan should visualise for 30-40 years, in Hyderabad, when they did the 2005 master plan.
There was a huge vision to build infrastructure.
Bengaluru is still looking at 18-metre roads, whereas what is needed is 36-metre and 42-metre roads.
In Hyderabad, there is no congestion because the roads are wider.
The 2015 city development plan is still not out.
It will take one or two years to implement.
We are still building the city on the 2005 CDP, whereas it has grown thrice since then.
In every city, the outskirts are better than the central business district.
In Bengaluru, which is better?
We have asked the government to include Credai (Confederation of Real Estate Developers' Associations of India) members in preparing the plan.
The concern is there could be a conflict of interest. . .
Bengaluru's development is thanks to developers.
So many information technology parks have been built by developers.
For example, I don't think the government would have built the International Tech Park. If all the IT companies prefer to come to Bengaluru, it is not because of the government.
It is because the developers have built office infrastructure meeting global standards. We are stakeholders of the city.
Are your commercial customers concerned about Bengaluru?
The traffic and water situation is bad.
They are considering Pune and Hyderabad as an alternative.
Bengaluru is also quite expensive.
Average rental is Rs 60-70 per sq foot and Pune's is Rs 40-45 per sq foot.
The cost of establishment for employees also makes a difference.
In Bengaluru, the average rent for a two-bedroom house is Rs 30,000; in Hyderabad, it is Rs 15,000-20,000.
When you do an apple-to-apple comparison, and the cost of establishment falls on the organisation.
Do you have projects in these cities? Are you planning expansion?
Besides Bengaluru, we want to be in Hyderabad, Chennai and Pune.
These four cities have actual user base markets.
As of now, we don't want to enter Delhi and Mumbai, as these are investor and speculative markets.
We have set up Mantri Primus, a concept for senior living for those who are above 55 years of age.
It is for luxury living and the first project has started with good response.
We want to grow this into a new vertical across cities.
The image is used for representational purpose only. Photograph: Rediff Archives