'REC will be the premier power sector financing and development enterprise by the end of 2020.'
'About Rs 10 lakh crore is required for generation and distribution during the period 2017-22.'
Rural Electrification Corporation (REC) has reported a 28 per cent increase in its profit after tax for the quarter ended December 31, 2016, at Rs 1,754 crore. In an interview with Sanjay Jog, REC chairman and managing director P V Ramesh, bottom, left, talks of the growth strategy and the company's plan to ride the transformation wave in the power sector.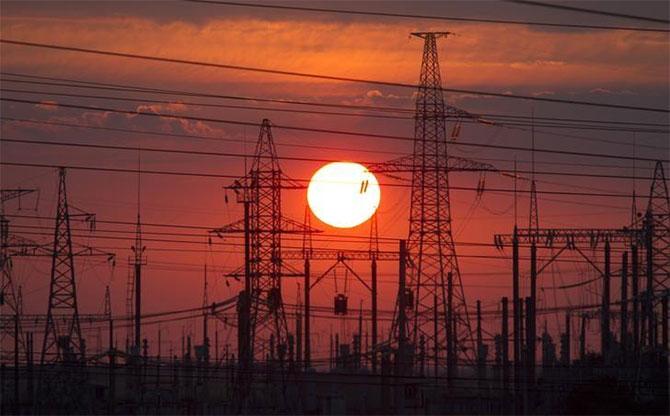 What is REC's growth strategy?
We are working with state governments and utilities to see how we can support them consistently. REC has signed an agreement with the Andhra Pradesh government for a loan worth Rs 61,000 crore (Rs 610 billion) and a deal with the Karnataka government for Rs 45,000 crore (Rs 450 billion).
We will soon sign a similar deal with the Jharkhand government for a loan of Rs 30,000 crore (Rs 300 billion). We have finalised agreements with Bihar and Maharashtra for loans of more than Rs 25,000 crore (Rs 250 billion). We are looking at a five-year horizon.
Renewable energy (RE) is a big driver, with the government's plan to add 175 GW over the next five years. We would like to ride the wave in partnership with others. Besides, there is a big opportunity in the evacuation of power, the green corridor, and storage technology. We want to be there too.
There are antiquated thermal power projects (of 25,000-30,000 MW) that need to be refurbished and modernised. We are talking to states including Maharashtra for providing loans for this. The demand for power should pick up.
If the demand grows, the distribution sector is modernised, and the national transmission grid becomes fully operational, we will see a major transformation.
We will position ourselves to ride that transformation wave. We will be the premier power sector financing and development enterprise by the end of 2020, and knowledge partners to states and power utilities.
We are the nodal agency for UDAY (Ujwal Discom Assurance Yojana) and the Deendayal Upadhyaya Gram Jyoti Yojana. We can drive this process and leverage our strategic position.
We are working with all the discoms, states and power departments to exercise strategic influence in transferring knowledge, good practices, and best examples from one discom to another.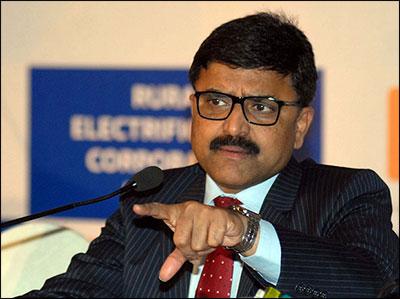 How does REC plan to mobilise funds?
According to the proposed National Electricity Plan, about Rs 10 lakh crore is required for generation and distribution during the period 2017-22.
REC pitches a major player and, accordingly, we will revise upwards our borrowing programme. We will continue to raise funds and one of the options is green bonds to mop up half a billion dollars.
Apart from this, REC will, for the first time, go in for social impact bonds, which have not yet been tapped by Indian players so far.
Funds in Canada and Scandinavian countries raise these bonds for investments, especially in projects that have a direct social impact.
REC believes rural electrification and household electrification will have a transformational impact in villages. We want to tap social impact bonds as early as possible because we can raise them at lower rates and then lower the interest rates.
Social impact bonds, by nature, are small, say, $100-150 million. It is not a question of size. What is important is to register ourselves in the international markets and arena.
For 2016-17, RBI has given permission to raise ECBs (external commercial borrowings) worth $1 billion, of which $330 million has been tied up while the balance $670 million can be raised by June.
Besides, we are hopeful of getting RBI's approval for ECBs worth $1 billion, to be raised during 2017-18.
In the current volatile economic condition, is REC confident of meeting its lending and borrowing targets?
We have revised our borrowing targets because we are expecting a greater outflow by the end of 2016-17. By the end of the third quarter, REC's disbursements stood at Rs 37,000 crore (Rs 370 billion) and they could go up to Rs 55,000 crore (Rs 550 billion) against the original disbursements target of Rs 45,000 crore (Rs 450 billion) for the current fiscal year.
We are looking at volumes and with larger volumes we will be able to marginally reduce the lending rates and still remain profitable in medium term.
As far as the next financial year is concerned, we are ambitious and will continue to expand and focus on rural and household electrification and discom modernisation.
How much hit has REC taken after the launch of UDAY?
In UDAY the debt accumulated by all discoms is Rs 4.31 lakh crore, of which Rs 3 lakh crore was to be taken over by states.
REC's exposure is Rs 78,000 crore (Rs 780 billion) and we have got back Rs 31,137 crore (Rs 311.37 billion). This was a pre-payment but we have foregone only the penalty.
We are supposed to get another Rs 13,000 crore (Rs 130 billion) from Telangana and Tamil Nadu, which came on board a month ago, and we are expecting the payment in March or April. We have enough liabilities, debt servicing, projects to lend to and those will not affect our bottom line.
UDAY is an opportunity for REC to invest in modernisation. UDAY repayment has not impacted our margin, it remains at a healthy 4.5 per cent.
Further, there is a general misconception that REC is buying discom bonds from the governments. We are not subscribing. We are not in the business of buying but in the business of selling, investing, and lending. Whatever money has been received under UDAY has since been profitably employed in the company's business operations.
Photograph: Vasily Fedosenko/Reuters