"If I am using data to build intelligence and personalisation for you, then it's meaningful," Ankur Warikoo, co-founder and CEO, Nearbuy, tells Ritwik Sharma.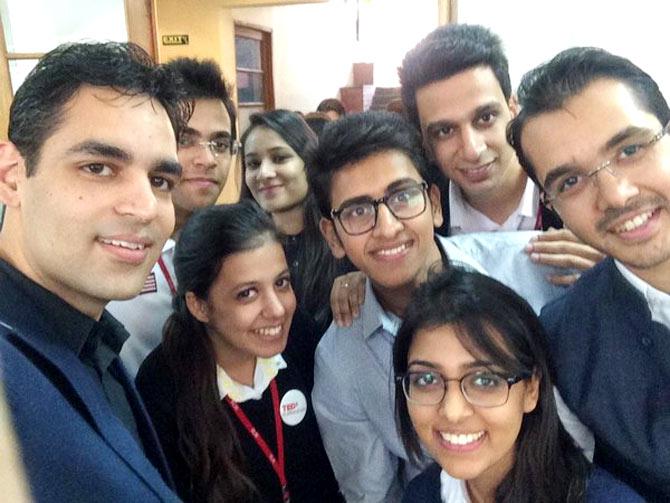 IMAGE: Ankur Warikoo joins the selfie craze. Photograph: Courtesy @warikoo/Twitter
What are the emerging trends in the coupons business in the last couple of years?
We are India's largest online-to-offline player; we bring offline merchants online and help consumers buy through an online platform.
The five categories we operate in are food and beverage; beauty and wellness; movies and events; hotels and, finally, shopping.
Across these five categories, the Indian consumer spends about $76 billion a year. And we want to own the dollars flowing into this industry.
We've been in existence since August 2015 as Nearbuy.
The biggest trend we have seen is that more and more merchants are willing to come online and think of online as a legitimate sales channel.
For the merchants we work with, we're driving between seven and nine per cent of their sales. But it's a long way to go.
There is surprisingly less resistance among merchants in smaller cities to come online.
Second is the shift of the consumer from planning to real-time demand.
Three years back, when people used to buy anything from Groupon (Nearbuy's earlier avatar) they used to consume the product in three and a half days. Today, two-thirds of our transactions are consumed within four hours.
That has largely happened because of mobile phones, and also because on-demand services have created a web around us.
It's a chaotic system where consumers have made a dramatic shift but merchants haven't and that's why they are suffering. And this is where we come in.
Third, we are by definition a discretionary spends business.
Five years back, an average urban Indian used to spend three to four per cent of their disposable income on discretionary spends. This number has now become almost 13 per cent.
Today, seven per cent of India's GDP is discretionary spends. This compares to almost 30 per cent in the US. So, there's enough head room to grow for us.
How have they impacted Nearbuy?

We have benefitted a lot because of these trends.
Our business has grown four times since we became Nearbuy.
We have almost three and a half million downloads on the app and we are India's highest rated transaction app on Google Play Store.
We are a 100 per cent digital money business and we saw a positive effect because of demonetisation.
After November 15, we saw an unnatural spike of almost 15 to 20 per cent. Things have started to now become normal.
What made you shift from being a company that offered products as well to a services platform?

Groupon globally offers products and services. We used to do the same thing.
But when we became Neabuy, we shut down our products because we realised three things.
First, we were not in any position to do a better job than the guys who are already there, whether it's Flipkart, Amazon or Snapdeal. So, in terms of delivery, assortment or price, we were not better than them.
We figured the only times people buy from us is due to some stroke of luck because that day we are the cheapest.
Second, if we were to run the business of lowest price or cheapest deals in town, it would never make money.
Thirdly, because of the first two reasons, the consumers buying from us were never coming back because they were not having a good experience.
We took a hard call and said, "Let's do what we do best, which is services."
Is the use of data a major factor in differentiating yourself and to strike a balance between the interests of all?

We genuinely believe we are in this business because of the merchants, to help them sell their inventory most effectively.
It's a limited inventory business, which means a restaurant has only so many seats. And they have to sell every hour, every day. What they don't know is what the demand is outside.
Look at what Uber has done. It knew someone is looking for a cab, and someone has a cab. 'I will let both of them know of this data.'
We are building the exact same thing for businesses.
Is there a flipside to the reliance on data?

There's a difference between data privacy and data intelligence.
So, if I share or use your data by calling you you, then that is almost amounting to (an invasion of) privacy, because at no point of time should data be pointing at you.
But if I am using the data behind a layer of opacity to build intelligence and so-called personalisation for you, then it's meaningful.
What is funny is that we as a society are getting more and more comfortable with being creeped out.
No one knows more about our life than Facebook, they can draw out anything. If they are using it to make businesses robust, then I don't think it's a bad thing.