'One has to see the corporate tax cuts in that context.
'Investment leads to higher wages, which feeds consumption.
'Anticipating that consumption, investment further goes up.
'In the short run, right now, we recognise that anticipated consumption is important for investment to pick up.'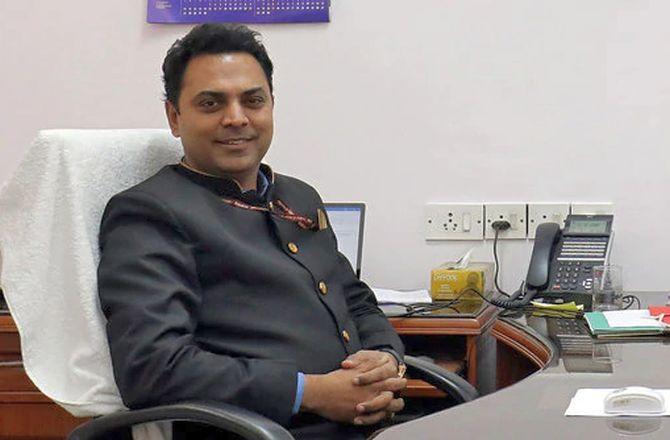 The economy could grow at 6-6.5 per cent this fiscal year (2019-20 or FY20), said Chief Economic Advisor Krishnamurthy Subramanian, revising his earlier estimate of 7 per cent in the Economic Survey.
In an interaction with Arup Roychoudhury, he said supply-side measures, including corporation tax cuts, will boost consumption and demand, and non-tax revenue may make up for shortfall in tax revenues. Edited excerpts:
Even as we are in the middle of slowdown, the Centre feels that growth will pick up in the second half. You had earlier forecast a gross domestic product (GDP) growth rate of 7 per cent in the Economic Survey? Has that changed?
When you look at the long-term fundamentals of an economy, which is basically what is used to assess potential economic growth, those long-term fundamentals are primarily driven by demand for goods and services and the ability to meet that demand.
When you look at the last couple of quarters, I wouldn't say there has been any demographic change to affect these aspects.
There was a decline in investment and that impacted productivity and wages.
And therefore consumption at household level has also been affected by more debt.
The non-banking financial companies (NBFCs) have faced some trouble. That is the overall assessment.
The government has taken steps to bring in liquidity in the system.
So in essence, the long run fundamentals which affect the potential growth rate are intact.
However, in the interim, over the medium-term, there is a slowdown, which I think is reflected in forecasts by various agencies.
There will be some slowdown compared to what we had projected earlier.
I would say 6 per cent plus.
So 6-6.5 per cent, is that a fair range?
Yeah. It depends on how some of the steps taken by the government over the past few months pan out.
The finance minister has announced a number of steps in the past few months to boost the economy. Almost all of them are aimed at the supply side, including the corporation tax cuts. Are there any steps expected to help the demand side? Nobel laureate Abhijit Banerjee has said corporation tax cuts are not likely to benefit the economy, and that reducing taxes to boost growth is a myth. Do you agree?
I would focus on the economic aspects here.
At the macro-economic level, every variable is both cause and effect.
A country like India, at the stage it is in its economic cycle, the key driver is investment, which eventually does affect consumption.
And consumption is a force multiplier.
The point is that some slowdown in consumption is a lagged effect of slowdown in investment, primarily through wages.
If we have to have sustained growth rates for the Indian economy, investment is absolutely critical.
One has to see the corporate tax cuts in that context.
Investment leads to higher wages, which feeds consumption.
Anticipating that consumption, investment further goes up.
In the short run, right now, we recognise that anticipated consumption is important for investment to pick up.
For a longer-span, all the four steps are important at a macro-level.
What is the government doing to give more cash in the hands of the poor and more so in rural India? Is there a plan to increase the amount under PM Kisan, NREGA etc?
We recognise that boosting consumption is important, through the way I have explained.
The government remains committed to take the necessary steps that are required to bring consumption back.
Once consumption picks up, then it is about the cycle starting to move.
The job of the government is to find ways to trigger that cycle even further for it to operate.
Last year, with a growth rate of 6.8 per cent, gross tax revenue fell short by Rs 1.9 trillion. This year, can the shortfall be higher? How grave is the fiscal situation?
The non-tax revenue, on which emphasis is now being put, has the emphasis to cover up for any shortfall in tax revenue.
It is generally expected that when nominal growth slows down, tax revenues will get impacted.
What I would surmise is that the government, as of now, is committed to doing what it takes to continue on the growth path while keeping a very careful eye on the fiscal math as well.
So you say asset sales and non-tax revenue will make up for revenue shortfall. The divestment target is Rs 1.05 trillion. Can that be exceeded?
If you looked at the kind of demand that the IRCTC IPO generated, clearly there is significant demand for some other well-performing state-owned entities.
All it takes is one or two big divestment deals for the targets to be met.
It is dangerous to speculate whether the targets will be exceeded or not given that these involve the markets as well.
It should not be difficult to meet the targets.
Are we expecting expenditure cuts?
We are very clear that capital expenditure will not be compromised.
There will be no cuts in capex.
The SBI chairman is the latest to call for a resolution process for NBFCs. Your views? And by when can we expect the FRDI Bill in its new avatar?
It is important to have a bankruptcy process for financial institutions.
That needs to be worked through.
Financial sector firms are an important part of the macro-economy and therefore having that process laid out for them is an important step.
It is being deliberated upon.
I am not in a position to give a timeline.
With the Regional Comprehensive Economic Partnership (RCEP), India still has some issues regarding agricultural products. As CEA, do you think the deal should be signed or should India push its position harder?
If you look at any economy that has grown well, in other economies the exports have been a big part of their progress.
Exports cannot be enhanced unless we are trading on an even platform, wherein imports and exports both matter.
I would say that RCEP has the potential to enhance our exports.
Conceptually it is important, all the necessary steps have been taken to ensure that our position is enhanced as a result of RCEP.