'The next fiscal year will be a good one.'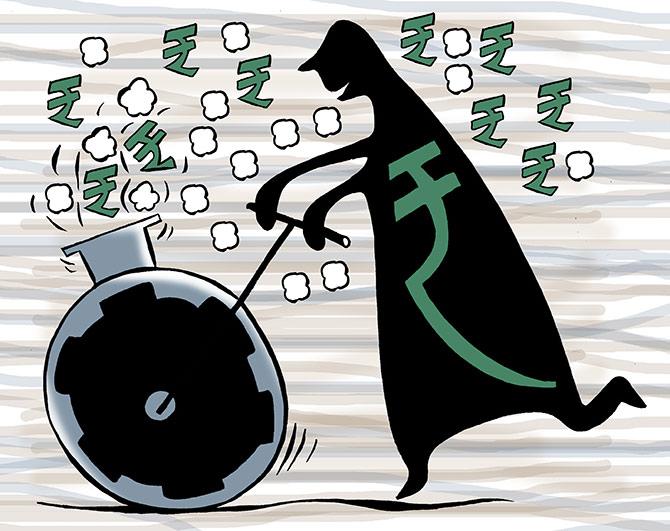 Illustration: Uttam Ghosh/Rediff.com
In Part 1 of his interview with Rediff.com's Shobha Warrier, Dr Ashwani Mahajan, co-convenor of the Swadesh Jaagran Manch, which is aligned with the Rashtriya Swayamsevak Sangh, had asked why the RBI does not lower interest rates to boost private investment and give the economy a boost.
"We have to come out of the mindset that FDI and foreign investors would change our country; only our people, our farmers, our youth, our small scale entrepreneurs and our start-ups can develop our country," says Dr Mahajan in the concluding part of the interview.
You spoke of public investment. What about private investment? Do you think recapitalisation is a good idea to start the investment cycle once again?
We have wasted so much time waiting for the NPA (non performing assets) situation to improve.
You cannot just write off bad loans unless you make a settlement with the borrower.
Those who are talking about the government writing off the loans of the big borrowers should remember that it was crony capitalism that led to all this mess.
Today, the private sector is sitting on more than Rs 12 lakh crores of cash which they could have easily invested.
Here, I would say, by reducing the interest rate, you would be reducing the incentive of the private sector not to invest. Because of the high interest rate, they are gaining by just making huge financial investment.
In the interest of the country, they should be penalised for not investing during a certain period. You just can't have so much reserve always. Instead they are incentivised to just keep money.
GST is expected to help businesses because it was supposed to be one country, one tax. But it has certainly killed many small businesses. What is your opinion on this?
While designing the GST, we didn't pay much thinking on its implementation. That is reflected in fixing the rates of different commodities in a very technical manner.
Proper consultation with the stakeholders were not done. After implementing it, the government is now asking for suggestions to make it easier.
Are they not doing it because of the Gujarat elections where the BJP's support base is small traders?
We have a democracy and that is why they are listening to people.
Is it not a bit late?
I won't say that, but I will say, the sooner the better.
They are giving relief to the small-scale sector, doing away with the 28% slab and many more things.
All this is because they are getting feedback from the people. People should not read only politics in it.
One year after demonetisation, do you feel it served the purpose of bringing black money out? The criticism is that it acted as a speed breaker when the economy was growing...
I feel demonetisation served its purpose.
To those who say that no black money came out, I will only say, look at the increase in the number of tax payers.
This year, 18% more people have filed tax returns and there is an increase in the tax collection too.
More than 90 lakh (9 million) PAN cards are being issued every month.
More and more people should pay taxes and those who need to pay, should pay more.
This is just one thing. There are so many other things demonetisation has achieved.
It was after demonetisation that the rate of interest came down. As banks are flooded with cash, they had to reduce the rate of interest.
Real estate prices have not increased exponentially after demonetisation. I feel good about it because now, houses are well within the reach of many people.
Fake currency has come down and that affected terrorism and Naxalism too.
With a good monsoon, do you also expect the agriculture sector to perform well next year?
Yes, nature plays a role in agriculture doing well. But I ask the policy makers in the government also to change their mindset.
They feel that a farmer need not be paid remunerative prices. We should give good price to the farmers so that they are incentivised to produce more.
Only then our dependency on other countries for pulses and edible oil will go down.
When the government offered good price for pulses, the production of pulses went up by 57% in one season last year and overall, there was a 37% increase in the pulses production. It also became affordable to people.
I welcome all the initiatives by the government. Along with that, farmers should be given remunerative prices too.
When do you expect buoyancy in the Indian economy?
When the government starts public investment, when private players are incentivised to invest, when rate of interest comes down, the Indian economy will have to revive.
I expect the revival to start in December itself. The next fiscal year will be a good one.
So, there is no cause for worry, according to you?
Absolutely not. We should take politics out of economics. We should not discuss politics while discussing economics.
We should also change our mindset about development. We have to also change the philosophy of development.
GDP is not development. Development is when you talk about employment and equity.
We have to come out of the mindset that FDI and foreign investors would change our country; only our people, our farmers, our youth, our small scale entrepreneurs and our start-ups can develop our country.
The problem with all the governments is, they hire foreign consultants who do not understand the problems of India and follow their instructions.
These people misguide the government.
I would say the PMO is doing a better job than the NITI Aayog!
All the schemes coming from the PMO are far better than the schemes put forward by the NITI Aayog. That says everything.