'Today when people are fighting to get their salary, you are telling them you will privatise airports!'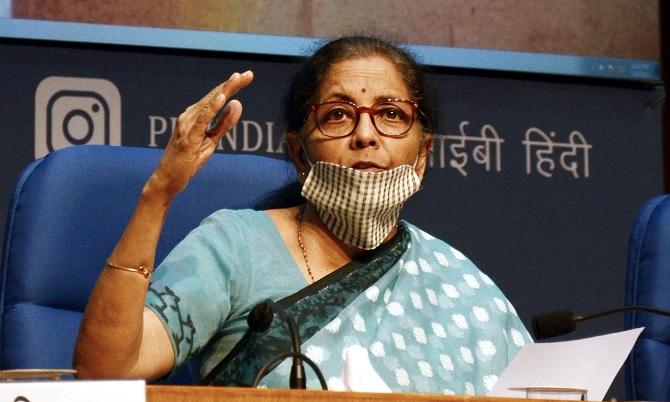 Over five days, Finance Minister Nirmala Sitharaman announced a Rs 20 lakh crore stimulus package to revive India's economy ravaged by the COVID-19 crisis and the subsequent national lockdown.
Will the measures make India an 'Aatma Nirbhar Bharat.
"I can only compare this to the Chennai auto driver. He will use the right-turn signal while his left-hand will communicate he is turning left, but in fact he will go straight! He will leave everybody confused," M R Venkatesh, the well known chartered accountant, lawyer and political commentator tells Shobha Warrier/Rediff.com. The first of a two-part interview:
Do you think the Rs 20 lakh crore stimulus package, announced by the finance minister in five instalments, will stimulate the economy?
To answer quite bluntly, I don't think the government has approached the issue in terms of stimulating the economy during the COVID-19 crisis.
It seems it wanted to rewrite the Budget of 2019 and 2020 which did not address certain pressing concerns and issues.
So, it was like rewinding the clock back to July 2019 and February 2020 and reading out the missed-out portions of the Budget speech in May 2020.
So, we had a whole range of reforms which many of us were advocating for in May 2014. It suddenly comes in May 2020. Of course, these are welcome in the aggregate.
But everything must be packaged in a context. For example, the aviation industry is in doldrums now. And in the next 2-3 years, the industry is going to have huge problems.
And to say we are going to privatise six airports, I don't know whether it is to create headlines or whether you want to say, if you can't have bread, eat cake!
Or, whether you genuinely believe in privatising airports. If so, why now? And how is it relevant to getting my salaries or paying my EMIs this month?
The problem with the reforms, which occupied a substantial portion of the finance minister's presentation, seems to be more out of convenience rather than conviction.
You mean, in today's context the priority should have been on something else, and not reforms?
Exactly. You don't ask someone lying in the ICU to start exercising from the next day. It is not the right advice to give.
You have to help him recuperate and come out of the ICU first; only after that, can he start exercising once he comes out of ICU.
Today when people are fighting to get their salary, you are telling them you will privatise the airports! And this is the solution offered.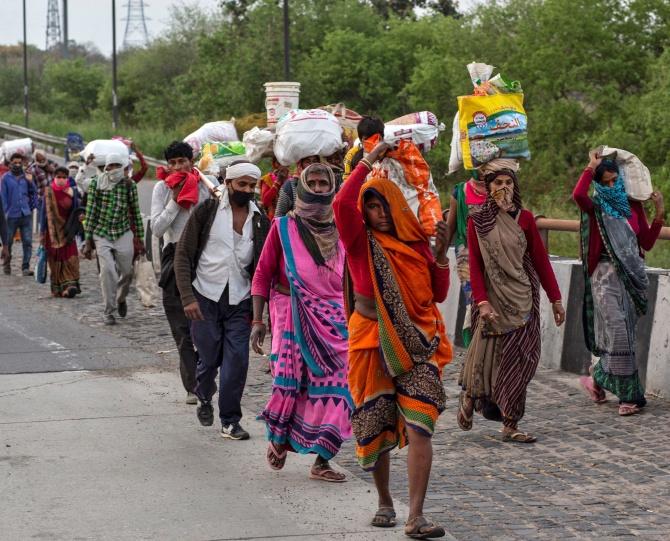 At a time when hundreds and thousands of migrant labourers are walking home...
The scale of the migrant crisis should be a lesson in itself. I think we are having a human migration problem equivalent to that of Partition in terms of its scale if not of severity, minus the violence.
The labour ministry owes a lot of explanation on how it allowed this kind of migration to happen in the first place, and what went wrong.
Unless this explanation is not forthcoming, we will be trying to remedy the situation with the same old bureaucratic ideas, plans, programmes and policies.
Actually, I have lost faith in the system.
I have consistently said that we are lacking in governance. I have also maintained that from Manmohan Singh to Modi, the system has not changed at all.
And this system is creaky, dysfunctional and not delivering, and Covid has exposed it thoroughly.
I remember in the first interview you gave Rediff.com after Narendra Modi came to power in 2014, you had said that what he needed to do first was administrative reforms...
Yes, I expected that the prime minister would start with administrative reforms. Let all the other reforms go to hell.
What we require immediately is administrative reforms and it has not happened and not happening also.
Do you feel the most disappointing aspect of this package is not giving money in the hands of the needy, which many say is the need of the hour?
Not only that. I can understand the money part of it as we have many constraints. If at all the government has done something, it is, they have put money in Jan Dhan Yojna, started Shramik trains, etc.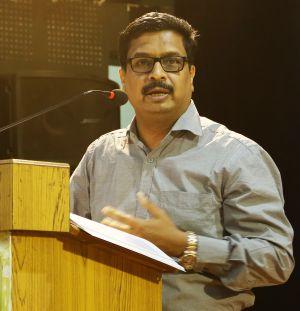 My question is this, do we have the details of the migrant labourers in each district?
For example, we know that Tirupur in Tamil Nadu has a lot of labour from UP and Bihar. Do we have the data on how many people from each district in Bihar have come to Tirupur, or Kerala or Bangalore?
If we don't have this data, we can't offer any solution.
If we don't have the data, we can't decide whether to operate a train to Rajasthan or Bihar, how many trains you need, and how you package them.
These are the questions that the powers that be did not probably even think of.
The biggest failure in this whole debacle is the NITI Aayog. Three Economic Surveys back, (then economic adviser to the finance minister) Arvind Subramanian wrote a separate chapter on migration of labour.
It is not that the government did not know about migration of labour, but it did not have the data to prepare itself for a calamity like this.
In fact, a government must prepare itself for such an eventuality. That is why we have a National Disaster Management Authority. And a government has to plan for disasters.
The issue is not the plan; anybody can write a plan. The issue is delivery.
Take, for example, low cost housing. The idea was mooted to tackle this kind of a problem concerning migrant labour and the poor.
But now the migration is happening because people do not have work, do not have money to buy food and pay the rent.
If the low-cost housing had come up, the problem of people not being able to pay rent might have been taken care of.
I was trying to find out whether there are any low-cost housing in the cities, towns or rural areas, but I couldn't find any especially in cities. But we have been allocating thousands of crores in Budgets.
The prime minister must understand now that all these schemes are only in the PowerPoint of (NITI Aayog CEO) Amitabh Kant.
The migrant labour fiasco would have been stopped to a great degree if we had these low-cost housing for them. They would have at least had shelter in the place where they were working.
We are realising the importance of one nation, one ration card now.
In a country where there is so much migration, they should have implemented it long ago. All we have to do was digitalise the card.
We had a plan, we had a budget, but nothing has happened in reality. Why? Because the bureaucracy was not able to deliver.
Like low cost housing, there is this Skill India programme started with great fanfare. Then, the smart cities.
All these projects with crores of public money pumped in, have vanished into thin air.
If we don't have the wherewithal to deliver, we should not start these programmes.
And this is the balance sheet of the Modi government in the last six years.
This is also a time to reflect on where the Modi government needs to focus in the coming years.
How can you blame the bureaucrats alone? Is it not the duty of the politicians to see to it that the programmes announced by them are implemented?
To implement an idea, we must understand the problem first.
For example, the tax reforms. I don't know whether tax refunds form part of the stimulus package or not.
But the finance minister did say they were refunding tax dues. How can a finance minister even say this?
It is my money, legitimately due, and it cannot be taken to the Consolidated Fund of India.
Likewise, they say they have reduced TDS by 2 1/2% and calculated a Rs 50,000 crore stimulus package because of that.
If we reduce TDS, our tax bill does not go down.
By June 15, the first instalment of advance tax is coming up, and we will have to pay.
So, where is the stimulus? If at all it is there, it is between May 15 and June 15!
The problem with this package is it got enmeshed in many things with no eye for details.
It wanted to reform, it also wanted to find solutions for the pandemic.
Also, there has to be an Aatma Nirbhar vision which suddenly got intertwined.
And all we had is a diffused idea of reforms, package and Aatma Nirbhar idea.
Why so much on stress on Swadeshi now? On one side you are talking about Swadeshi and on the other you want all the companies that may leave China, to be here.
I can only compare this to the Chennai auto driver. He will use the right-turn signal while his left-hand will communicate he is turning left, but in fact he will go straight! He will leave everybody confused.
The Aatma Nirbhar mission has to be a serious, thought-out plan, and not a knee-jerk reaction.
For years, we did not reform our labour laws. Then, from one end of the pendulum, we swung to the other to have no labour laws!
Some states indeed say no to labour laws, and when some of the Sangh Parivar affiliated unions raised this issue, they said, they didn't mean no labour laws.
This was never thought out, never planned, never discussed when there should have been wider consultation happening with experts and stakeholders.
This government acts first, and then thinks and discusses.