'You cannot start an MSME again.'
'It is not like a Yes Bank that someone comes and saves the bank.'
' Once the shutter is down for an MSME, nobody will come to its rescue.'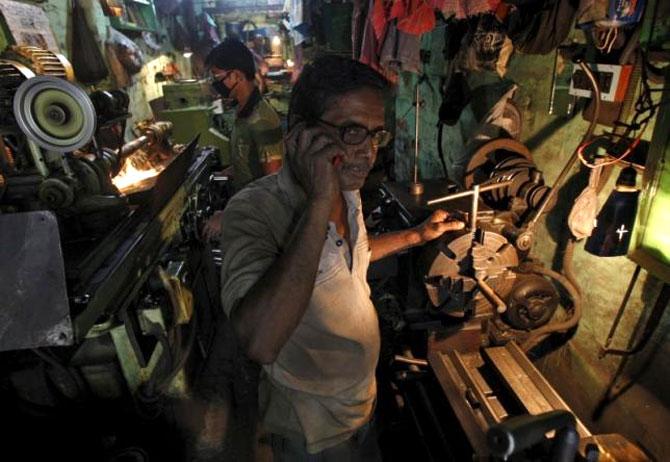 According to a survey conducted by the All India Manufacturers Organisation, over 71% of its member establishments are unable to pay wages owing to various reasons following the 21-day national shutdown to prevent the coronavirus outbreak.
The AIMO, an apex trade body focused on the interests of the medium, small and micro enterprises (MSME) sector, surveyed 5,000 traders and MSMEs across the country over the last few days, to gauge the impact of the national lockdown.
The survey's findings showed that 63% of entrepreneurs quoted cash flow problems for their inability to pay wages at this time.
"To know the feelings of a small entrepreneur you have to be in his shoes," K E Raghunathan, past president, AIMO who conducted the survey, tells Rediff.com's Syed Firdaus Ashraf.
Why did you carry out this survey among your members?
We have been saying for the last 10 days that the first 10 days of a month are the most crucial for any MSME and the cash flow problems are likely to come up while paying the salaries. Because from the 1st to the 5th of every month we have (payment) commitments and so we wanted EMIs to be safeguarded for us.
Unfortunately, the advice from the RBI (on deferment of EMIs) came on March 27. but the clarity never came.
The banks individually took a decision on how they wanted to implement it on April 2. By the time people could make use of this scheme the money was removed from their accounts due to ECS.
Now the field level problem is that this 21-day lockdown has dismantled many people. We did a study across the country as to what happened to payments in the informal sector.
In the formal sector, payment is easy because you transfer it from banks and you can work from home.
In a small enterprise, say, if you have 15 people in an informal sector job out of which two people say are finance guys working from home and 12-13 people are factory workers where there is no work.
How can I then pay salary to these 12 people, that too full salary, when there is no work? And I will have to pay the other two people also who have been working from home.
Is the government telling you to pay the full salary?
There was a directive from the ministry of labour that businessmen must not deduct any salary for the days not worked.
This is a very serious matter because once the direction comes from the Government of India and if somebody violates it, then you are finished.
But that directive is only for one month, isn't it?
During the curfew period no deduction shall be made as a non-working day.
In big companies the managing directors don't even know their employees's names and how many of them work in their company, but here in MSMEs the owners know each and every worker's name and their extended families too.
MSME companies are heart-driven while in big companies it is system-driven.
MSMEs works in emotional and sentimental ways in handling people rather than commercial and financial.
In our survey we asked, have you paid salaries? If the answer is yes, then the next question was, whether you paid full salary or half salary? If not paid, then what is the reason for not paying?
The number one problem they could not pay was because of computation problems as people could not reach their offices to pay the salary. The police did not allow them to come out of homes and they were beaten up when they tried to reach office.
There is a lockdown, so how can we pay salaries? I am not able to compute the salary because curfew is in place.
The chequebook is in the factory which we cannot reach and banks too are not working in full capacity.
I am myself unable to go to the bank and withdraw cash. There is a logistics issue.
The intention to pay salaries is there, but the means are not there as there are operational problems.
The government is not saying they will take harsh action if you don't pay salaries. There is no government notification as such, either.
It goes without saying. Why do you then say, pay. Don't say such things then.
How can I pay? But please tell me, how to make me pay (as there are logistics problems)?
Are businessmen afraid that if they don't pay salaries on time then action will be taken by the government?
It is a legally tenable notice from the ministry of labour. The joint secretary has already issued directions.
No deduction of salary on account of people not able to come to office during the curfew shall be done by any establishment or enterprise.
And when we go to file provident fund and ESCI, the government will come to know the details.
And now I am worried about how to pay as I have three problems. Will the government find a solution or not?
I have a computation problem, a logistics problem and a cash problem.
How long do you expect this crisis to go on?
I don't know for how long, but whether it goes on or not my life will be miserable, that much I know.
If I don't pay people they are not going to come to work.
The kind of salary I am now able to afford to pay, only the people staying in and around my area will be able to come to work.
I am not a Tata or Birla where I can attract talent from across the world. I am not a public sector undertaking or a big corporate.
We have been warning and saying avoid the situation, but nobody cares.
Who did you say this to?
Ten days ago we submitted proposals for assistance required to the government to please avoid a cash crunch in the first week of April.
If only the banks had given us an overdraft facility, we would have been happier, but nothing came.
Before the interview began, you were talking about the impact of the lockdown on industry.
Yes, I fear that a lockdown will lead to shutdown.
Those are strong words to use.
Of course. But the media does not want to listen.
Today I am seeing that newspapers's thickness is becoming less and less.
Salaries will not come and it is a serious problem. Just like coronavirus, salary issue will also be a serious problem.
You cannot start an MSME again. It is not like a Yes Bank that someone comes and saves the bank. You cannot re-start an MSME later.
Once the shutter is down for an MSME, nobody will come to its rescue.
Businessmen and entrepreneurs are positive people by nature, they always live on hope and optimism, but here you are painting a very dark picture.
It will now be very difficult to wake up, get up and walk. We can go on limping.
In small scale industries we don't have computer-aided machines. We have lathes and small machines. Suddenly if they are unused for 25 days with no maintenance and no care, it will not work again.
And all my existing stocks will become outdated when I re-start. It will need refurbishing, polishing, painting and refurnishing.
To know the feelings of a small entrepreneur you have to be in his shoes.