'A key trend that one should expect to see is tonnes of failures.'
'Several blockchain-focused companies will fail.'
Illustration: Dominic Xavier/Rediff.com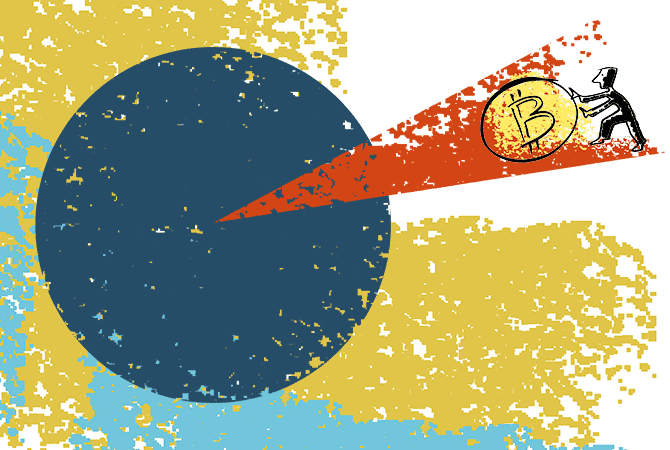 Corporate houses are beginning to invest in blockchain knowledge, with some choosing to hire experienced candidates.
But due to a paucity of candidates with any degree of first-hand experience on blockchain, most companies choose to start their journey with strategy or technical workshops on the subject, Chinmaya Sharma, co-founder, Blockchain Semantics and Zeonlab, tells Ritwik Sharma.
Given that the Indian government has not given legal status to bitcoin, and cryptocurrencies have been banned by the RBI, how does that affect you?
We teach blockchain and develop enterprise-grade blockchain applications.
The RBI's decisions to crack down on cryptocurrencies may turn out to be a move to buy time during which they can develop a more nuanced position.
However, if the negative outlook towards cryptocurrencies continues, it is also going to impact India's ability to adopt blockchain.
Blockchain projects are literally fuelled by cryptocurrencies.
Any exchange of information or value on blockchain is facilitated by tokens, commonly known as cryptocurrencies.
One needs to buy Ethers to be able to run a distributed application on the Ethereum network.
More than 90 per cent applications being developed worldwide are on the Ethereum blockchain.
And if no one in this country can legally buy Ethers, the entire ecosystem is going to die a slow but sure death.
The other risk is that instead of going through legitimate channels of buying cryptocurrency post-KYC, a large number of parties will move to the OTC-cash segment.
What is the uptake for blockchain-focused courses among individuals and corporates in India?
On blockchain, we conduct two certifications online: blockchain solutions specialist and certified Ethereum developer.
Almost all our candidates are working professionals looking to pick up a skill relevant for the future or looking to press the reboot button on their careers right away.
The story is largely true for all blockchain courses in India.
Corporate houses are also beginning to invest in blockchain knowledge.
Some choose to straightaway hire experienced candidates.
However, given the paucity of candidates with any degree of first-hand experience on blockchain, most companies choose to kick their journey off with strategy or technical workshops on blockchain.
The first step invariably is to understand use-cases relevant to your industry via an internal team or a workshop.
Roughly 70 per cent of the demand for blockchain talent is for developers.
Once proof-of-concept and full-scale projects reach a stage of viability, demand for generalist talent to be engaged for change management, sales and marketing, product roles will spike sharply.
It is expected to take another 12 to 18 months.
What are the future trends of blockchain that you anticipate, especially in India?
Here are the three key trends that are going to matter more than others in how blockchain and cryptocurrency evolve in the coming years and months.
Shaping of the regulatory landscape: The regulatory environment the world over will become multi-faceted and less uni-dimensional.
For example, the SEC in the US made a declaration that bitcoin and Ether will not be regulated as securities, but other cryptocurrencies will be.
In India, too, the government will come up with regulations to promote blockchain application in both public and private sectors.
State governments will also take active interest in launching and eventually rolling out blockchain projects to the larger community.
All of this will happen in the background of a sophisticated regulatory climate.
Money meets the mouth: All the excitement around blockchain for the last several months will continue to ebb and flow.
However, we will see a lot of investors as well as corporate houses putting their money where their mouth is.
We will see several start-ups raising money from investors and companies making more investments.
Failures galore: Another key trend that one should expect to see is tonnes of failures.
Several blockchain-focused companies will fail, projects will get shelved, money will be scammed or lost, and a degree of caution would settle in eventually.
It may not be a winter for blockchain and crypto, but think of it as a cleansing phase.
Could you comment on the best use-cases for blockchain and in which sectors could it emerge as a disruptive factor?
The best use-cases for blockchain are marked by the presence of multiple parties exchanging information and value in a traditionally trust-deficient environment.
In the banking and financial services sector, use-cases like international trade finance, clearing and settlement in markets, banking the unbanked, credit scoring and international remittances will come to the fore.
Other applications like educational certifications and property records on blockchain are in the early stages of being rolled out.