'Inquiries and bookings are at quite a healthy level.'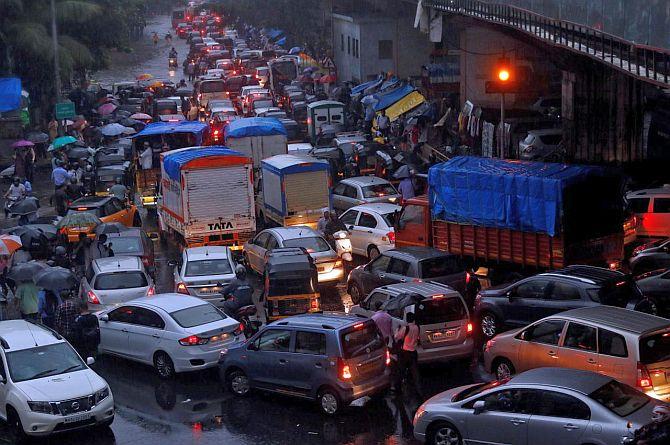 The Indian automotive sector, employing over 37 million people, has been facing a severe downturn since the last quarter of 2018-2019 owing to sluggish consumer demand, the credit squeeze undertaken by banks and NBFCs, confusion over phasing out of BS IV vehicles, high GST rates, and entry of electric vehicles.
Sales were expected to rise in the festival season that began with Navratri in September. While that hope has been belied with the September 2019 vehicles registration data (that reveals how many consumers bought two-wheelers or four-wheelers) painting a grim picture.
Vehicle registrations fell by 12.9%; two-wheeler registrations were down by 12.1%; commercial vehicles was down by 18.5% and passenger vehicles registration down 20.1% on a year on year basis.
Ashish Harshraj Kale, president, Federation of Automobile Dealers Associations, the apex body of automobile dealers in India, tells Rediff.com's Prasanna D Zore that bookings before Diwali have grown 10% to 40% compared to the same period last year, but things will only change if this demand stabilises and sustains for the next two months.
How exactly are retail auto sales panning out?
Inquiry levels and booking have been quite healthy as far as passenger vehicles go.
With regards to two-wheelers it is not as good as the passenger vehicle segment but definitely better than Navratra (the nine-day Hindu festival that ended October 7).
Are any signs of revival visible for the festive season as far as passenger vehicle sales are concerned?
if you ask me today as a dealer, are you happy with the current response? Then, definitely. The current response with regards to inquiry levels and bookings is good.
We will be able to discuss retail numbers post Diwali because what is happening in the past three-four months, we have seen that there have been gaps between bookings and retail sales, which have been unusual. That normally happens in a slowdown.
Are the bookings, which you say you are happy with, higher than say for the same period last year?
It ranges from 10% to 40% (higher) with regards to the same period last year, but then Navratra was not quite good for us in terms of active retail sales.
The response that was expected during Navratra did not happen, but then post Navratra and post Dassehra we have seen a very good pickup in demand in inquiries and bookings.
What's the general trend of bookings getting converted into actual sales?
Normally it's anywhere between 70% to 80%. During a healthy festival period it goes up to as high as 85%. These are well-intentioned customers who want to buy vehicles during the muhurat right during the festival period.
That is a normal trend, but with the kind of environment and the overall demand situation and also because banks and non-banking financiers are still not 100% back to normal (levels of lending to retail buyers), we are seeing a lower response than normal.
What is the reason for this slowdown?
The government has taken a lot of measures, but most of them were in September. There was also confusion with regard to (cutting the) GST (rate) around the 20th of September.
Banks and NBFCs have actually started getting aggressive with retail lending only in the first week of October.
The other key reason is the monsoon has continued beyond its normal period. In most of the geographies you had rains right till October 10. Usually, the monsoon recedes by Navratra. By that time farmers are aware of what is going to be their output. Based on that they start spending, a part of which goes towards purchasing automobiles.
The rural market picks up only once they have 100% clarity on their agricultural produce. So, that (slack in rural demand) has also contributed majorly to the slack sales we saw in Navratra and Dassehra.
What must the government do to revive sentiment and demand?
The government has to urgently step in if the expected demand in the festival season does not pick up. If auto sales do not revive during the festival season then (sales during) other months are definitely lower than that.
One of the key things we had expected was aggressive disbursals of retail loans. That has begun, but we will come to know only by the end of October how far that has been effective.
Banks and NBFCs have become aggressive in terms of returning back to our counters (at dealers's showrooms where customers come for enquiries and bookings). How much of this aggression will actually translates into growth in loans will be known only after Diwali.
The government must immediately announce a clear-cut and attractive scrapping policy. We can see demand picking up immediately once that happens.
Other than that, the overall economic sentiment that prevails currently is not very conducive to retail (buyers).
Specific to the auto sector, we had asked for three things out of which the rate cut in GST was ruled out outright. The other was the scrappage policy, which is being considered. We expect that the government announces this policy as soon as possible. That could immediately kick-start revival and give good impetus to demand.
The government has already taken care of the liquidity part. What is needed is an aggressive push by financial institutions to come back to retail lending as they used to.
With these measures in place, we should be able to see a flattening of the de-growth that has been there and start moving into a growth phase.
Is BS VI acting as a dampener for retail auto sales?
For current retail sales, it's actually an advantage because moving to BS VI (vehicles that comply with stricter pollution control norms than BS IV vehicles and hence are costlier than BS IV vehicles), at least for diesel vehicles and commercial vehicles, and even for two-wheelers, if there's going to be a substantial price difference.
So, it actually is acting as an incentive for a customer today to go in for a BS IV (vehicle; BS IV vehicles cost less than BS VI vehicles).
But there are multiple factors which are today not allowing him (the retail buyer) to conclude his purchase today.
Once we start seeing a general uptick in demand, business confidence and credit, BS VI can act as incentives for retailers to buy BS IV vehicles.
BS VI was a problem in the last quarter (when there was no clarity about how long BS IV vehicles could stay on the road and BS VI being priced at a premium to BS IV vehicles, consumers were reluctant to buy automobiles), when we were transitioning 100 per cent from BS IV to BS VI.
How are auto dealers coping with this slowdown?
Like any business which goes through a downturn, we are also facing a downturn.
Our only issue was that we got into this slowdown very suddenly. Normally, in the retail business, you start seeing trends and you start seeing growth slowing down or volumes dropping one-by-one; not immediately.
What happened last year was a sudden drop in demand and volume. We were in a growth phase for the first five-six months (last year), and then suddenly we hit the de-growth phase. And that has continued till now.
We have still not entered into a growth market. In fact, till about last month we have seen de-growth only.
To cope with this, as an association we definitely focused on the inventory.
We worked hard to build up a consensus, and we have almost reached consensus that inventory should be not be more than three weeks.
Huge inventory is a major cost to dealers. In a growth market we were carrying up to 45 to 60 days of inventory.
Now, for passenger vehicles our inventory is worth 30 days in two-wheelers and commercial vehicles it is still more than that.
Then we cut down on all variable expenses at new locations where we had expanded in the hope of growth. Since our hopes have not translated into reality we have relooked at all our expansions.
We have put all current expansion on hold. In some cases, some manpower which we had inducted last year in anticipation of growth were also let go of if the numbers were not growing at that particular dealership.
All these measures were taken basically to save costs.
What kind of job losses did the auto dealerships see across India?
Around July (2019), we had about 7% (job losses). It has translated to close to about 200,000 job losses on the side of auto dealers in India.
Do you see these jobs and a revival in sentiment coming back post Diwali?
Job growth has already started reviving in September.
There are still some markets which are growing; there are some markets which have slightly revived from (the slowdown witnessed during) August-September. Jobs have definitely started coming back in these areas.
The jobs that were let go were absolute frontline jobs; these are trainees who we take and train them into sales guys in six to eight months, so that they become field sales guys. These trainees are always hired in anticipation of growth.
Say, I am selling 200 vehicles and I have 100 people selling those vehicles. Now if I have targeted 220 vehicles for which I add on about five more people.
These incremental employees were hired in anticipation of growth and when the volumes didn't come they were let go.
They are immediately hired when we see a good and sustained uptick in demand. It has already started happening and it will happen in a major way post Diwali once we are all sure that sales numbers are steady and sustainable.
We need to see stability of demand for at least a month or so for all these jobs to come back.
If sales pick in October-November you will see all these jobs coming back.