India has an unprecedented opportunity to develop solar industry because, like China, it offers scale which is critical to reducing costs and to stimulate innovation, says Shyam Saran.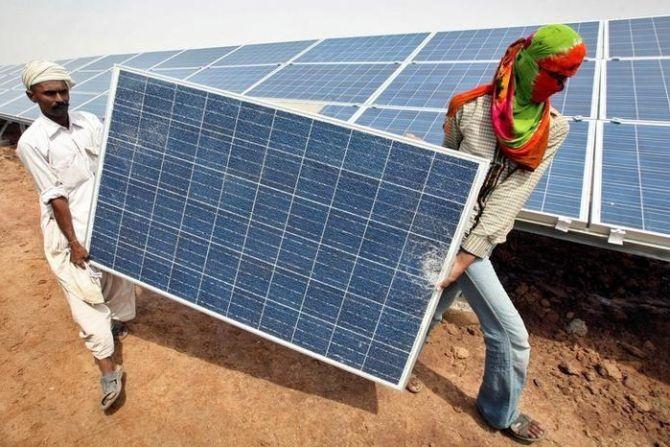 The formal launch of the ambitious International Solar Alliance on March 1 in New Delhi, is an important landmark not only in India's quest for energy security but also in meeting the global challenge of climate change.
No strategy of ecologically sustainable development is possible unless there is a rapid and accelerated shift from economic activity based on fossil fuels to one based on renewable and clean sources of energy.
Solar energy is the most promising of these renewable sources and India, as a tropical country, is uniquely positioned to make solar energy the centrepiece of its energy strategy.
While welcoming the launch of the alliance one must be conscious of the major challenges that lie ahead.
Solar energy is available in daylight hours and even then its availability is variable depending upon weather and cloud conditions.
Technological innovation has to focus on cost effective, compact, reliable and environmentally sound storage in order to make solar power a stable and credible alternative to conventional power.
Solar power requires space for laying out solar panels and in a densely populated country like India space is at a premium.
Nevertheless, despite these challenges there are multiple applications of solar power which are already economically viable, in particular, in decentralised deployments.
India has an unprecedented opportunity to develop solar industry because like China, it offers scale which is critical to reducing costs and to stimulate innovation.
The success of the International Solar Alliance rests on the success India is able to achieve in its own ambitious National Solar Mission.
In taking this initiative forward, it might be worthwhile to recall some of the thinking which went into the adoption of the mission by the then government in 2009 as part of the National Action Plan on Climate Change.
As Prime Minister's Special Envoy on Climate Change I was involved in the drawing up of the NAPCC and among its eight missions, the solar mission was billed as its centrepiece.
At the adoption of the NAPCC, the then Prime Minister Manmohan Singh stated that for India energy security and climate change were two sides of the same coin, that both for reasons of energy security and environmental sustainability India needed to make a strategic shift from its current reliance on fossil fuels to an economic system progressively based on renewable sources of energy, such as solar energy and clean sources of energy such as nuclear energy.
In the context of this strategy he said, "In this strategy the sun occupies centre stage, as it should, being literally the original source of all energy.
"We will pool our scientific, technical and managerial talents, with sufficient financial resources, to develop solar energy as a source of abundant energy to power our economy and to transform the lives of our people.
"Our success in this endeavour will change the face of India. It would also enable India to change the destinies of people around the world."
The National Solar Mission recognised the need to not only expand the use of solar power, but also to chart a technology pathway to resolve some of the challenges referred to.
It was agreed that a major research and development effort must be launched to find power storage solutions aiming for 6-8 hours storage to make solar power comparable to conventional grid power.
The proposal was to invite consortium of research institutions, such as IITs, to submit bids for developing storage systems with specifications laid down by a team of experts.
Similarly, in order to reduce the space requirement per megawatt of solar power, nano-technology applications were envisaged and these too could be part of the consortium approach.
Finally, it was also agreed that in order to deal with the instability and variability of solar power, hybrid solutions should be explored, such as coupling solar power with gas, bio-mass and even thermal power.
In order to do this the mission had envisaged a few pilot projects to demonstrate technical and economic viability.
I believe that in taking the initiative forward the government should revisit the technology pathway spelt out in the original mission but never seriously pursued.
India must be a technology leader in this sector. China is already laying claim to this position and investing heavily in research and development.
The mission has recognised that solar power was most suited for decentralised applications in particular for making power available to rural and remote areas.
Studies undertaken had shown that solar power was already more economical than providing grid power to rural areas.
One of the most promising applications identified was the use of solar water pumps to replace diesel pumps, particularly since there was no time of day constraint in the pumping of water for agricultural use.
Another study revealed that current inverters which were being used on a very large and increasing scale to deal with power cuts both for domestic and industrial use, could be replaced by modern solar inverters which would save on both power and cost.
Electric inverters are wasteful as they typically use up almost 30 per cent of overall power consumption to stay charged.
For a country like India the priority should in fact be on such decentralised applications.
The International Solar Alliance is to be welcomed and India has the opportunity to become a global leader in solar energy.
It has adopted a very ambitious target for itself, achieving 100 Gw of solar power by 2022 which is only five years from now.
In order to achieve this target, technology will be key.
In a sense India is in a sweet spot because international prices of solar power have now reached grid parity much earlier than was envisaged.
If expansion of scale is important then it may be better to import cheaper panels even while putting in place a viable domestic solar industry and pursuing technological innovation.
It is therefore hoped that the government will revisit the original mission to garner some useful ideas contained therein which were the result of very intense and detailed technical consultations.
Photograph: Amit Dave/Reuters.
Shyam Saran is a former foreign secretary and currently senior fellow, Centre for Policy Research.