'The economy is suffering (perhaps 'enjoying' is a better word) the lowest credit demand in decades; banks are struggling with stressed loans equivalent to near 10 per cent of GDP,' points out Devangshu Datta.
Illustration: Dominic Xavier/Rediff.com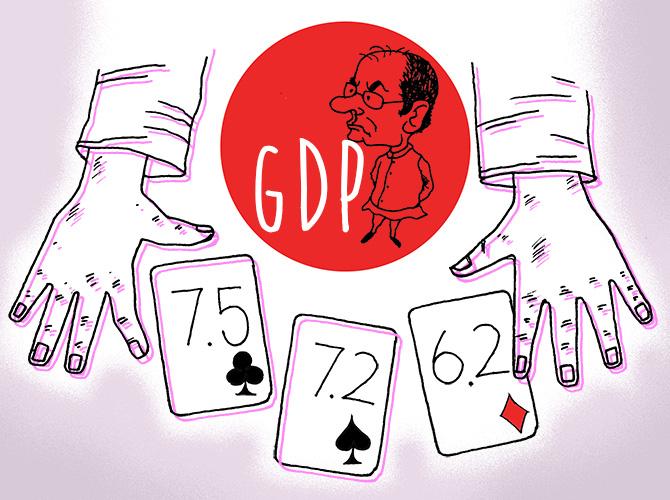 Lawrence Summers called Donald Trump's first Budget 'ludicrous.' It makes extravagant assumptions of high GDP growth for a decade. It also makes the elementary mistake of double-counting. Mr Trump proposes to cut tax rates and to make spending cuts.
The spending cuts are assumed to lead to a $3.6 trillion reduction in federal expenditure over a decade.
The tax cuts will supposedly stimulate activity, leading to annual GDP growth of three per cent.
The growth acceleration will, despite reduced tax rates, garner an extra $2 trillion in tax revenues over the decade.
Hence, the federal deficit will be reduced by $5.6 trillion, if all assumptions are correct.
The tax cuts are 'deficit-neutral', meaning that there will be no reduction in revenue collection -- higher growth will lead to higher revenue.
If you think that's saying the same thing twice, here and above, you're more observant than Mr Trump's policy wonks.
This is the double-counting.
If tax cuts are 'deficit-neutral', extra revenue from higher growth balances off cuts in tax rates.
But that extra revenue cannot be counted all over again in deficit reduction.
The assumptions are pie in the sky anyway. US GDP has grown at a GDP CAGR of 2.5 per cent for the last 40 years.
To expect acceleration by 20 per cent to three per cent, for the next 10 years, is fantasy, in the context of a crackdown on immigration, and increased protectionism.
Governments fudging data and making unrealistic policy assumptions is hardly new, of course.
China has done this so brazenly that even the PRC's premier, Li Keqiang, uses high-speed indicators rather than official GDP numbers to track growth.
Indian data became more suspect, starting 2014-2015, as widespread changes were made.
Many puzzling gaps and contradictions arose.
A new all-India Consumer Price Index was introduced and that is now the benchmark for the Reserve Bank of India's monetary policy.
The GDP base year was changed to 2011-2012, which is normal.
The methodology for GDP calculation was also changed, and a much larger set of corporate data was incorporated into GDP calculations.
The new GDP growth rate was found to be much higher than the old growth rate.
While the calculation method was considered to be in line with accepted practices, and incorporating more data is welcome, it is considered mandatory to 'back-calculate' time-series to allow for comparison between old and new GDP series.
This has not been done, though two years have elapsed since the new GDP series was launched.
This is especially puzzling since many observers, including the government's own economic mandarins, confessed that the new GDP data was puzzling.
Similar problems arise with the recently revamped Index of Industrial Production, IIP. Again, the base year has been shifted up, which is normal.
But there have also been major changes to the groups and weights and a much larger corporate data-set is being used.
Apparently, industrial activity has been much more than indicated by the old IIP series.
Again, we should not hold our breaths waiting for back-calculations that allow comparisons.
Oh yes! The new IIP should also mean a recalculation of the GDP numbers.
The GST should also lead to major recalculations of GDP since tax collection numbers will change quite a lot.
There is another elephant in the room, or possibly it's a whale.
We still don't know how much currency was returned by the public at demonetisation.
Somehow the RBI has been unable to sum up the number of notes returned, although these notes were counted at the instant of surrender.
Since it's hard to believe that counting should have taken five months, any pertinent data now released will be met with incredulity.
High-speed indicators make the new GDP growth numbers seem unbelievable.
The economy is suffering (perhaps 'enjoying' is a better word) the lowest credit demand in decades; banks are struggling with stressed loans equivalent to near 10 per cent of GDP.
The railways has seen anaemic freight growth for three years; exports have declined.
How does this gel with 7.5 per cent GDP growth?
Isn't it high time, somebody created an 'Arun Jaitley' index?