Nowhere in the world do bullet trains make money, though a lot of them make operational profits, much like the metros, which helps them run their service in an uninterrupted way, notes Bhupesh Bhandari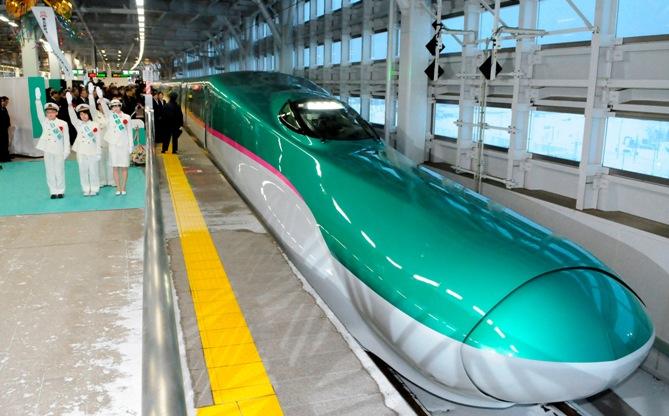 The Hayabusa shinkansen or bullet train departs from Aomori station in Aomori, northern Japan. Photograph: Kyodo/Reuters
The Japanese want to sell their bullet-train systems to India, and so do the Chinese.

If some Indian Railways officers are to be believed, even the French are interested, except they don't have the money that will help India make the investments.
Some would argue that it is too expensive for the cash-starved Indian Railways, and its cost far outweighs the benefits.

There are too many poor in India, others say, for the country to worry about such luxuries.

After all, unlike the spacecraft to Mars, this is not an inexpensive affair.

Laying a bullet-train corridor can cost up to Rs 100 crore (Rs 1 billion) a kilometre.

With signals, rolling stock, etc, the cost can rise up to Rs 115 crore (Rs 1.15 billion) a km.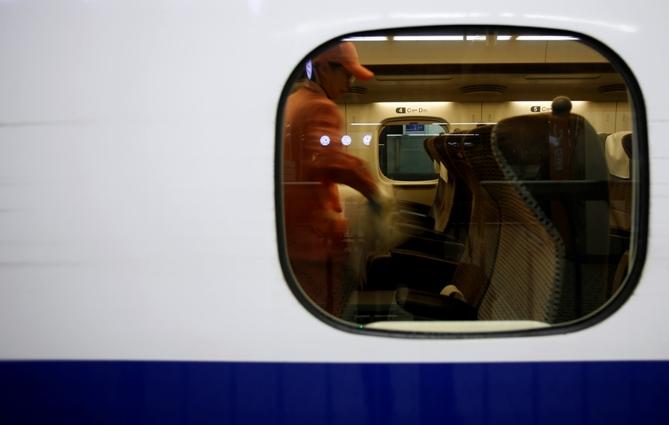 A worker cleans the inside of a bullet train at a railway station in Tokyo. Photograph: Yuya Shino/Reuters
A 500-km line, like the first one proposed between Gandhinagar and Mumbai, will set the government back by over Rs 55,000 crore (Rs 550 billion).

But what does experience tell us?

The first is that bullet trains lead to the development of smaller cities and help check migration into larger cities.

In Japan, it was found that businesses sprouted in all the tier-II and -III towns that were connected by bullet trains.

Their happiness index showed a marked improvement.

Think of it like this: if the travel time from Jaipur to Delhi is shrunk from five hours to one-and-a-half hours, the quality of life in Jaipur will go up significantly.

Or consider the stretch between Gandhinagar and Mumbai: at one go, it will improve the economic prospects of all the towns and cities that fall on that route -- Surat, Anand, Bharuch and others.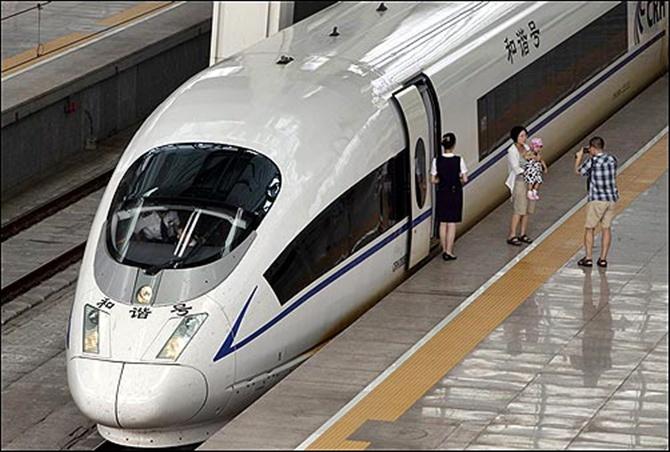 A bullet train. Photograph: Reuters
The second lesson is that nowhere in the world do bullet trains make money, though a lot of them make operational profits, much like the metros, which helps them run their service in an uninterrupted way.

It is environment-friendly (railway projects don't require environmental clearance) and punctual because it runs on a dedicated track.

And its safety record -- especially of the Shinkansen network of Japan -- is pretty good.

Ever since it started in 1964, the Shinkansen has reported zero fatalities.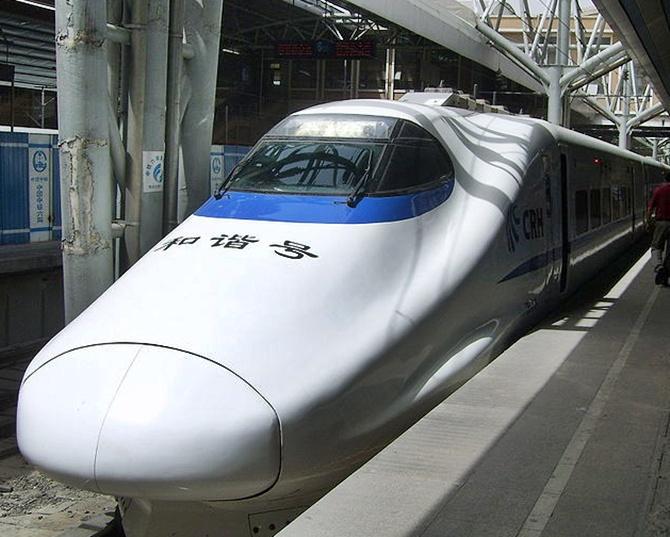 A high speed bullet train. Photograph: Kind Courtesy, Wikimedia Commons
The stiffest resistance to bullet trains comes from the airlines. Experts say that for distances up to 1,200 km, these trains have a distinct edge over air travel.

Studies also show that airlines reduce the frequency of their service on routes that get connected by bullet trains. While airlines provide point-to-point connectivity, bullet trains also connect the towns in between.

And while airports are often located outside cities, or in distant corners, the trains operate out of the city centre.

Bullet trains also offer you advantages like moving around in the train, using your mobile phone at all times and keeping yourself connected through Wi-fi.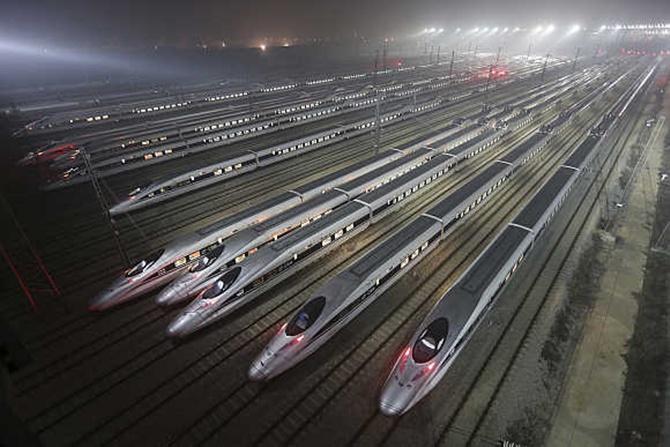 Bullet trains. Photograph: Reuters
And contrary to popular perception, bullet-train tickets are less expensive than air tickets.

The Indian Railways have projected fare of Rs 6-7 a km in 2021-22, when the first bullet train begins its run, which would translate to around Rs 4.5 a km now.

The Indian Railways are excited about bullet trains because in the whole modernisation drive, they have been left far behind.

Indians use state-of-the-art mobile phones and travel in world-class cars but have to make do with primitive trains.

It is expected that the bullet trains will bring about a paradigm shift in the way Indian Railways builds its locomotives and wagons, lays its tracks and operates its signal systems.


A bullet train. Photograph, Kind courtesy,

Jwjy9597/Wikimedia Commons
But finding the money for these trains is a serious challenge.

Some argue that all the money doesn't have to be arranged at once. In most countries, it takes seven to eight years from the planning stage to set up a bullet-train link.

In China, it gets done in less than four years but that is hardly a benchmark for India.

Here, experts feel, it would be reasonable to expect the Gandhinagar-Mumbai link to take 10 years to complete.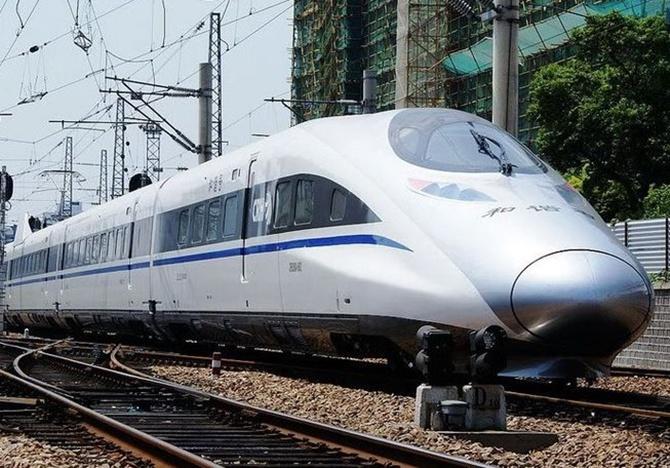 A bullet train. Photograph: Kind courtesy, Wikimedia Commons
If the project cost is Rs 55,000 crore (Rs 550 billion), it translates into an average annual outlay of Rs 5,500 crore (Rs 55 billion).

Even that is a tall order for the Indian Railways.

The surplus of its total receipts over expenditure for 2013-14 stood at Rs 7,942 crore (Rs 79.42 billion) and is projected to slide to Rs 6,063 crore (Rs 60.63 billion) in 2014-15.

Apart from the usual solutions like viability gap funding, grants and supplier's credit on soft terms, some reckon it would be a good idea to tap the states.


A former Railway Board member insists that the chief ministers he met, cutting across party lines, were ready to participate in such projects because they saw substantial economic benefits from it.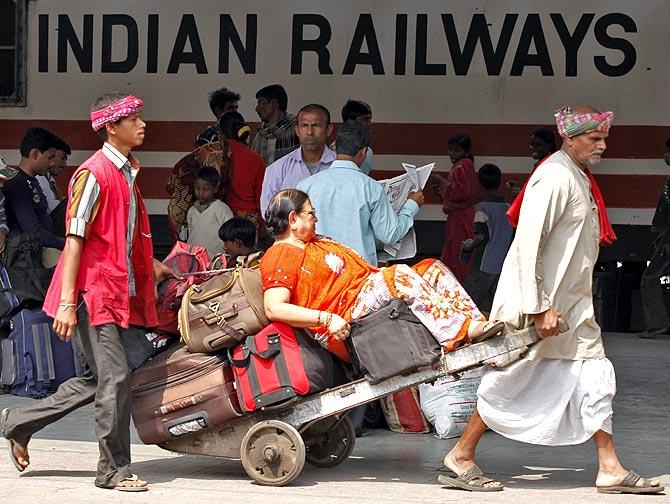 Porters ferrying a passenger at a railway station in India. Photograph: Reuters
Since bullet trains run on dedicated lines, it would make sense to run them at high frequency.

This will help it meet its operating expenses.

The Japanese have done some serious innovations in the last few years in order to improve efficiency.

Instead of steel, the Shinkansen trains now use aluminium, which has made the cars lighter and, hence, more energy-efficient.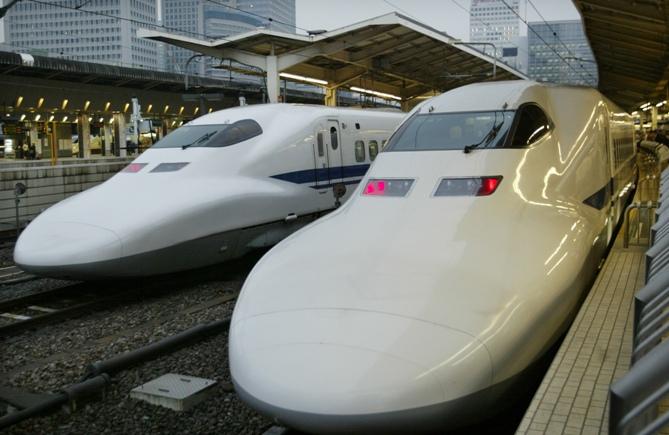 Japan's bullet trains, or the 'shinkansen' at Tokyo station. Photograph: Issei Kato/Reuters
And despite being lighter, these cars can actually carry higher load, which allows the train service to earn more.

In 2009, it was announced that Japan was looking at opportunities to export the Shinkansen system.

But it was in 2004-05 that the Japanese had first offered to set it up for India.

However, at that time, the Indian Railways' priority was to augment its freight network.

While passenger fares were -- and still are -- amongst the lowest in the world, the freight rates were amongst the highest.

That is why focus was diverted on the freight corridors.

It was felt that this would help rein in prices and make Indian exports more competitive.

Though freight trains are not the core strength of the Japanese, they agreed to help with the corridors.

Now that there has been some progress on that front, bullet trains have emerged on the radar screen of the Indian Railways.

Interestingly, the Gandhinagar-Mumbai corridor has been chosen (it might be extended to Pune) for the pilot project not because Gandhinagar falls in Gujarat, Prime Minister Narendra Modi's state, but because it is one of the busiest sectors of the Indian Railways.