The biggest let down for India's aviation sector has been the failure of the government to privatise Air India, says Anjuli Bhargava.
Illustration: Uttam Ghosh/rediff.com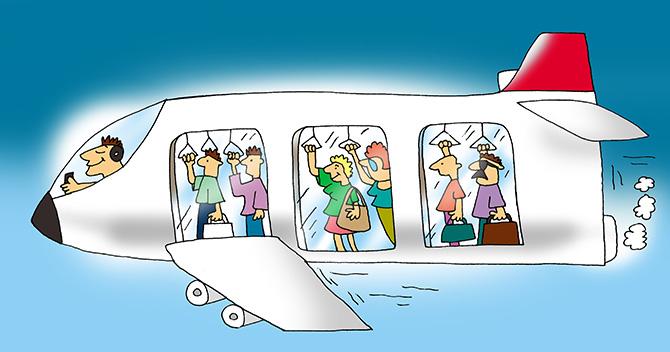 It might be too early for a winners and losers or a year-end sort of column on India's aviation sector but I chanced upon one of the CAPA reports on the sector for 2018 and what to expect in the coming year, and I have to say that things look quite grim.
I am glad I am not among those at the helm of an Indian airline, or for that matter, the civil aviation ministry.
The biggest let down for the sector has been the failure of the government to privatise Air India.
Other industry players were waiting for some finality on this before they firmed up their own plans for the international market but all that remains in a sort of limbo.
Meanwhile, the situation at Air India has, if anything, deteriorated.
Losses continue to mount, a situation the rising fuel prices will accentuate.
There's an uneasy relationship between the management and the pilots and crew, and incidents of the management targeting the latter on one pretext or the other have been on the rise.
Meanwhile, a second carrier, Jet Airways, has its own set of troubles.
There are no clear solutions to Jet's problems and the only hope for the airline lies in further dilution of promoter stake and more fund infusion.
But there's a caveat here: Even if more money comes into Jet, it will soon run out.
The airline needs an overhaul its model and no amount of cash infusion can change this basic fact.
Oil companies have threatened to raise oil prices by seven per cent this month.
Combined with the weaker rupee, this could mean a sharp increase in the costs for all carriers.
As the operating environment gets more hostile, it's anybody's guess which other airlines will find themselves in the red and to what extent.
On the airports front, the lack of buzz and discussion on the proposed Navi Mumbai airport and a disproportionate amount of attention to the proposed new airport at Jewar is a worry.
I have not gone into the merits and demerits of a new airport at Jewar but anyone can tell you the dire need of increasing capacity at Mumbai.
Of course, it doesn't have to be this or that but I'd be happier to read occasionally about Navi Mumbai even as we obsess over Jewar.
Taking this a little further, there are other airports around the country that need upgradation and investment but while there have been recurring noises to this end, no concrete action has been taken as far as I could ascertain.
It appears that the Airports Authority of India has chalked out plans to invest Rs 20,000 crore in a facelift and to improve facilities at several smaller airports across the country but as far as I can tell, so far they remain just that: plans.
This brings me to the one big initiative announced by this government - Ude Desh Ka Aam Nagrik (UDAN).
As a story in this newspaper last week pointed out, UDAN has been at best a partial success so far.
Of all the airlines that jumped in, only SpiceJet has turned it into some sort of a viable operation with 21 UDAN flights per day (by October 16).
Alliance air is doing 19 UDAN flights per day but of course viability is not a criteria for them.
Jet airways is operating on five routes three times a week so it's not a significant operation as of now.
There is a whole host of smaller wannabe players - something akin to a pile of debris - Air Deccan, Air Odisha plus a whole range of unknown names that have either failed to take off altogether or have done a few flights off and on but seem unable to get their act together.
In the second round of bidding in January 2018, I learnt that a total of 325 routes were awarded to 15 airlines.
Who, where, what and which 15? I didn't even know we had 15 airlines in this country!
I'm sure once IndiGo starts its UDAN operations, it will bring some semblance and energy to whole idea of UDAN but I think it's fair to say that desh ka aam nagrik ain't flying anywhere in a hurry.