'I know margins are under pressure, but have banks begin to stoop so low to enhance their floats or slip in strange charges?' asks Keya Sarkar.
Illustration: Uttam Ghosh/Rediff.com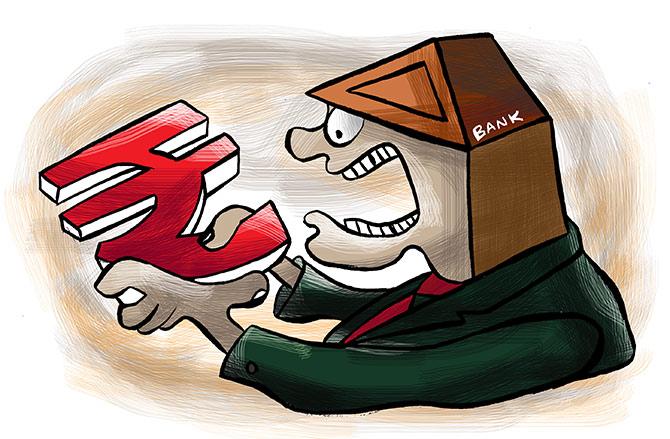 I don't know what exactly to attribute it to: The small town nature or the changing times.
For banking, as I knew it in Mumbai over a decade-and-a-half ago, doesn't seem to be the same now in Bolpur, Santiniketan.
Immediately after I had relocated from Mumbai, one of the largest private sector banks opened a branch here.
Having seen the insides of the other public sector banks before that, I was thrilled to open an account at a branch, the milieu of which was familiar to my Mumbai returned eyes.
Now thanks to electronic banking, I hardly ever visit the bank.
Recently, however, I had reason to.
First was an inward remittance I had received from a Swiss customer that had not been credited to my account even after three days.
The second was a mismatch in my credit card sales amount on a particular day from my shop and the corresponding credit that appeared in my current account.
The latter was less.
One of the pleasures of visiting your bank branch in a small town is that you are immediately shown into the manager's room.
My plea that the matter was not significant enough for the branch manager fell on deaf ears.
My husband and I were seated in the manager's cabin and offered tea.
The manager could offer no reason for the inward remittance not showing up, but offered to Whatsapp my transaction printout to his foreign exchange office.
On the second problem, he had a few ideas.
When I said I did not understand why the credit against my credit card sales was falling short he said, it 'may be' because they had deducted the monthly rental.
When I said that the amount seemed to be too large for a month's rental, he suggested that it may be for a couple of months because I had not paid earlier.
If it was a direct automatic deduction by the bank, how could I have failed to pay earlier?
Confused, I asked the manager whether or not the bank would have to show this deduction separately in my account instead of just subtracting it from my sales?
How do I maintain my cash book?
He assured me that he would get back on both the issues and I left the branch satisfied.
At the end of the work day, the manager called to say that the uncredited remittance was still a mystery because the 'head office' had not found anything, but he assured me that he would keep at it.
I reminded him that my credit card issue still remained unresolved and he said someone from that department would follow it through.
I did get an e-mail the following day explaining the deductions.
One was the rental and another was for 'LTC', which apparently is a charge which the bank levies on total credit card transactions lower than Rs 5,000 transactions a month.
This was surely not the case for my shop.
I know margins are under pressure, but have banks begin to stoop so low to enhance their floats or slip in strange charges?
As an individual customer, I did what I could. I asked the bank for a form to become an ordinary customer.
Being a 'priority' customer seems too fraught with risk.