'The problem is not the performance under Vishal Sikka, but the quality of Infy's board of directors, argues Debashis Basu.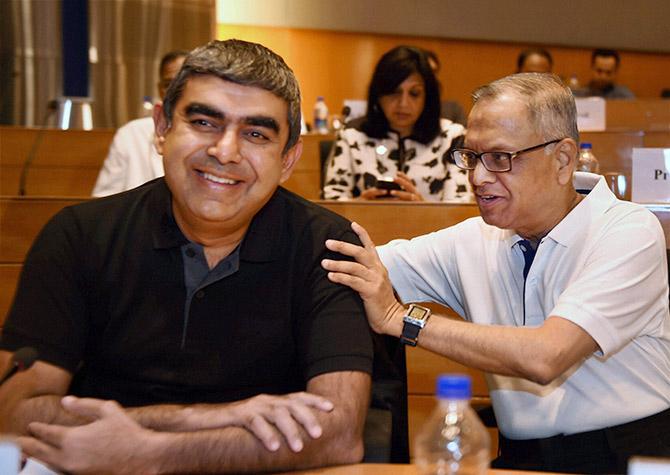 IMAGE: Then Infosys executive chairman N R Narayana Murthy with the newly appointed CEO & MD Vishal Sikka in Bengaluru, October 2014. Photograph: Shailendra Bhojak/PTI
When it comes to political issues, you may be able to get away with powerful rhetoric, even if it is false or exaggerated.
When it comes to issues of business, finance and economics, fortunately, there are usually numbers available to prove or disprove a point.
Put the numbers on the table and arguments can then start taking a more sensible or different direction.
Let's apply this to the recent controversy surrounding Infosys -- touted for its high governance standards.
Sometime in the summer of 2014, Infosys appointed Vishal Sikka as the first non-founder chief executive officer, after four founders had held the top position among themselves by turns for more than three decades.
Four weeks ago, the Indian corporate world woke up to the sudden shock of a front-page interview of Infosys Co-Founder N R Narayana Murthy lashing out at the board and the CEO for poor governance.
What went wrong? Maybe we should let the numbers tell us the main story.
When Mr Sikka was recruited to steer Infosys, it was making around Rs 3,500 crore (Rs 35 billion) in operating profit. (Operating, rather than net profit, is a better measure of a company's core operations).
In the December quarter of 2016, that figure has jumped to Rs 4,767 crore (Rs 47.67 billion). This is a leap of almost 37 per cent.
In contrast, how has Tata Consultancy Services done? TCS is a much bigger operation than Infosys.
It had a run rate of around Rs 6,800 crore (Rs 68 billion) in operating profit in the quarter ended September 2014. In December, this figure has gone up to Rs 8,230 crore (Rs 82.30 billion). This is a jump of only 21 per cent.
The market takes note of these things. On June 30, 2016, the Infosys stock was trading at Rs 774. It is around Rs 1,000 today -- a leap of 29.1 per cent.
TCS was at Rs 2,356 at the end of June 2016. The stock is barely above Rs 2,400 now -- a rise of 2.2 per cent over two-and-a-half years.
The shareholders of Infosys, which includes the 'promoters', can hardly complain.
There's more. The operating profit margin of TCS has declined from 31.04 per cent in March 2014 to 27.67 per cent today.
Operating margin of Infosys was around 25 per cent till June 2014. In September 2014 it was up to 26.11 per cent and in December 2016 had gone up to 27.6 per cent.
Isn't this why Infosys hired an outsider -- to emerge from stagnation?
To understand the rut Infosys had got into five years ago, let's look at another set of numbers.
On Saturday, June 1, 2013, Mr Murthy stepped in as the executive chairman after having retired in 2011. His tenure lasted for a year until Mr Sikka was brought in.
Why did Mr Murthy have to come back from retirement? Between June 2011 and June 2014, TCS was recording strong double-digit growth in operating profit. The average growth was around 30 per cent.
Infosys, by contrast was recording erratic growth -- some quarters were good, some not. Average growth was 15 per cent.
Indeed, when Mr Murthy stepped in, for two of the three quarters, Infosys had recorded a fall in operating profit, quite unprecedented when Indian software companies were doing quite well.
This was the time when one of the founders, S D Shibulal, was given charge of running the show, consistent with the socialistic power-sharing principle that Infosys followed.
Any retail shareholder looking at the above data will wonder what the fuss is all about.
There is one point, though, that retail shareholders may not be able to see, which the retired promoters of Infosys possibly can: Where the company is headed.
It is indeed true that beyond the financial data, under Mr Sikka and Chairman R Seshasayee, Infosys has been found wanting on governance issues.
The way it agreed to pay Rs 23.02 crore (Rs 230.2 million) to former chief financial officer Rajiv Bansal (Rs 17.38 crore -- Rs 173.9 million -- in severance pay) and kept it under wraps before mentioning it in the annual report, stinks.
Worse, it is shocking that Infosys' board not only did not record the proceedings of the meeting which discussed the payment but is now dismissing it as a 'housekeeping issue.'
It is also devious that despite Mr Murthy wanting to be classified as a public shareholder, the board has continued to treat him as a promoter-shareholder. This saddles him with accountability, without information or power.
So, the real problem for Infosys is not the performance today under Mr Sikka, but the quality of its board of directors.
It was a surprise that it chose to appoint the head of a commercial vehicles major as chairman of a global software company like Infosys.
This was accompanied by the appointment of some rather mediocre people or yes persons to the board. This was the biggest failing of the founders, as they stepped away from the company.
Perhaps, they should have remained on the board and/or ensured better quality of replacements. They need to reverse this if governance continues to be an issue.
If not, their main option is to sell their shares and move on.
Debashis Basu is the editor of www.moneylife.in