Even a rump Air India could not hope to get away with the shoddy service and scrappy fare for which I paid nearly two lakh, complains Sunanda K Datta-Ray.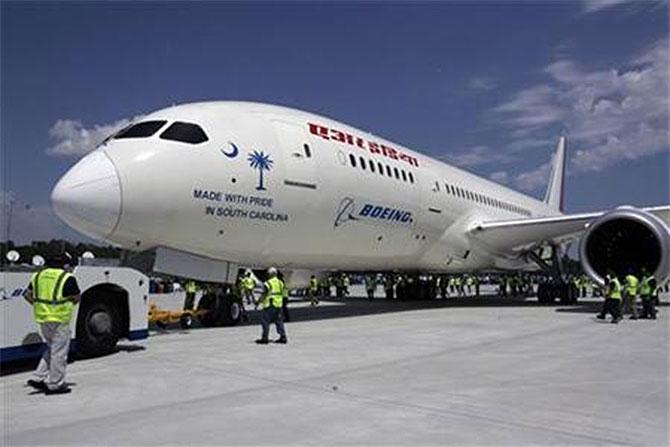 It's unfashionable now to endorse anything Donald Trump ever said.
But J R D Tata might not have disagreed when the fallen US president turned round one of Bobby Kooka's immortal slogans ('There's an air about India') to denounce India's air as 'filthy'. Tata thought much the same ever since Air India's nationalisation meant his ouster from the airline's board.
Unsurprisingly, the connection occurred to me on a recent non-stop 11-hour Kolkata-London flight for which Air India charged Rs 169,913 and during which it dumped just two cardboard boxes of dry food (breakfast and lunch) before us by way of refreshment.
Only 35 passengers occupied the aircraft's 256 seats, a sprinkling of six of us instead of 18 in executive class. The meagre fare could not, therefore, be blamed on overcrowding.
Nor, I must confess, could I fully echo the complaint of Singapore's late president, S R Nathan, who recalled after flying Air India with his wife as ordinary fare-paying passengers, 'The crew, the staff, the stewards and stewardesses, they couldn't be bothered with us. Lolling away behind, drinking, chatting, having tamasha. No discipline at all!'
If there was no misbehaviour such as Nathan encountered, there was hardly any behaviour at all. The staff could hardly have been more inattentive.
I like to think they were too ashamed of the cheap cardboard boxes, unappetising food, flimsy plywood cutlery, absence of small eats or even of any niceties, to appear before the six of us.
Instead of wines and cocktails flowing generously as is usual in executive class, they served only beer in small cans. Canned beer isn't my favourite beverage; nevertheless, I could not help noticing how grudgingly it was produced.
They blamed COVID-19 for shortchanging passengers.
Crises affect different people differently. London is jubilant about Boris Johnson's U-turn to spend £450 million on free meals for poor children over the Christmas break.
Earlier, his government had rejected the free food request by 21-year-old black Manchester United and England footballer Marcus Rashford. But with more than a million signatories supporting Rashford's petition, the prime minister realised it would be politically unwise to spurn public opinion.
If generosity is Britains astute response to the pandemic, India's is to cut corners and rake in easy profits.
With trains still not running when I left Kolkata, illegal private taxis were making fortunes like hoarders and blackmarketers during the Bengal Famine.
Like Air India's austerity, Covid was also blamed for office absenteeism and astronomical vegetable prices.
No wonder, then, Singapore Airlines dropped out of the bidding in 2001 when Air India expected partial privatisation to wipe out its $70 million debt and raise money for a long overdue aircraft upgrading.
Singapore's founding prime minister Lee Kuan Yew felt there was 'too much vested interest' for a slightly diluted ownership to make any difference. He told me there would be 'too much opposition all down the line, within the company and in the government, in the civil aviation department and ministries' because Air India serviced them.
Time was, Nathan recalled, when Lee would fly no other airline because Air India was the best. 'Once Air India became government, then you had all this.'
He saw only a bleak future. 'I ask you, how do you run an airline when every chairman when he retires -- he's got a new job -- still travels free? It's an entitlement! Are you a commercial airline or are you not?'
Lee's prescription was predictably drastic. He would 'Let Air India die naturally' instead of breaking heads and making everyone miserable trying to revitalise it. A new airline could cater to VIPs.
Perhaps that inspired Narendra Modi to order two special aircraft for the President and prime minister.
Being familiar with India's bureaucratic caste hierarchy, Lee went further, saying, albeit caustically, 'You can have Indian Air Force One, Air Force Two, Air Force Three for the president, prime minister and ministers and officials.'
His plea was that a dynamic airline would help India's economy by bringing international tourists and businessmen, facilitating global connections and relieving the crippling burden of huge losses and debts.
But even a rump Air India could not hope to get away with the shoddy service and scrappy fare for which I paid nearly two lakh.
But I forget. That money also included the still-to-come London-Kolkata return flight with its promise of two more cardboard boxes.
Unless, of course, by some miracle Air India becomes a little more sensitive by then to passenger reactions, civilised travelling norms and the need to give value for money charged.