After at least 50 women got in touch with me, I realised that housewives had suddenly discovered that WhatsApp could give them a whole new profession, says Keya Sarkar.
Illustration: Uttam Ghosh/Rediff.com.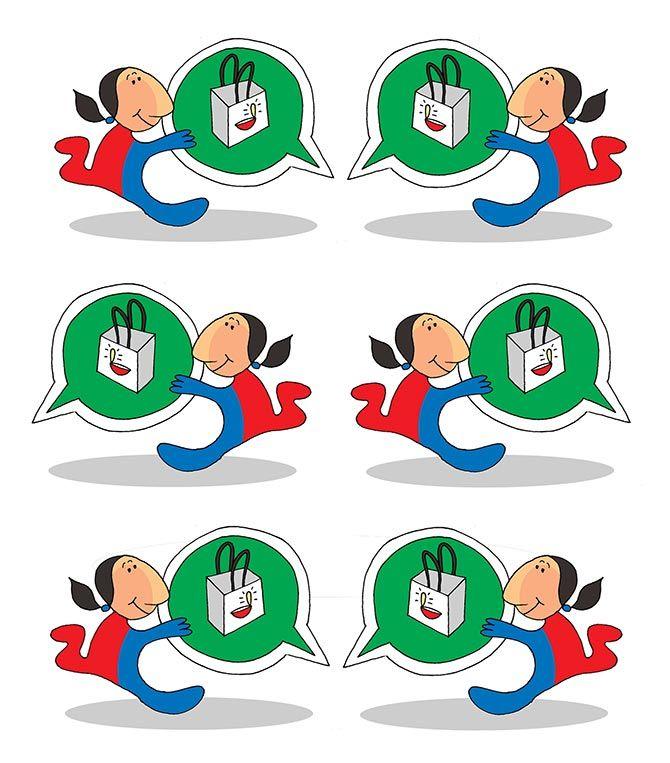 I haven't exactly been able to figure out the reason, but have definitely noticed a trend -- of an explosion of unorganised sector retailers in the last six months. Now with Durga Puja and Diwali round the corner, these retailers are a frenzied lot.
Although I have been in the business of handloom and craft of Santiniketan for over a decade now, never have I witnessed such a demand for our products from resellers. But my training in economics keeps me from thinking of myself as some design diva whose products are being so appreciated and makes me look for the macro reason for this sudden spike.
For a few years now, we have been getting a steady stream of orders from brick-and-mortar stores, which produce some of their own stuff and probably source some from vendors to complete their offering. Simultaneously, we have been getting orders from online "curators".
Sourcing sounds a tad downmarket and doesn't leave space for contribution by the reseller. Curating is a superior word as it probably justifies better the resellers' margin. These online platforms have their own constraints as each product needs to be replicated according to the first picture in the post. I am sure they themselves realise the pitfalls of such a constraint but for the moment are tied to the diktats of the business model they have chosen.
Then there are those that have neither brick-and-mortar stores nor online platforms but do occasional pop-up shows with "curated" supplies. They are practitioners of the Japanese "just in time" inventory, so they pay as close to their pop-up shows as possible and earn it back with returns during the two-day show.
But at least they have a business model. As more and more Bengali non-resident Indians call me to buy products -- as they have set up businesses in the countries of their residence -- I wonder how in this day of the internet, businesses of arbitrage can prosper. But after at least 50 women got in touch with me, I realised housewives had suddenly discovered that WhatsApp could give them a whole new profession.
They need to physically do nothing to either source or sell. And it is a business model that requires no capital. You get the vendor to WhatsApp you their catalogue, share it with friends and family at inflated prices and when anyone likes a piece the WhatsApp expert just does an idhar ka maal udhar (taking goods from one place to the other) and earns a little pocket money.
If I complain about the advent of WhatsApp and the ridiculous uses it's being put to, my friends and acquaintances are often surprised. "Aren't you happy it has opened up possibilities for you to sell more," they ask.
I would be, I say, if these new business tycoons knew a little more about the commodities they were dealing in. The questions they ask or the demands they make let on how little they know of fabrics and techniques, how they are made, how long a process takes. Not to mention that I need to employ a person for full-time catalogue WhatsApping.
But the reseller who stumped me was a woman from Kolkata, who kept taking the train to buy a few products from our shop. The only request she would make, when she got to know me, was to let me know in advance when she was coming and what stocks I should have a variety of for her to choose from.
Then one day she WhatsApped me to say the stock that I keep aside for her should not have our label! Which label should they carry then, I asked disbelievingly. But she had hung up already.