The key reason for the country's stagnating exports is its failure to build a strong manufacturing base, says T N Ninan.
Illustration: Dominic Xavier/Rediff.com.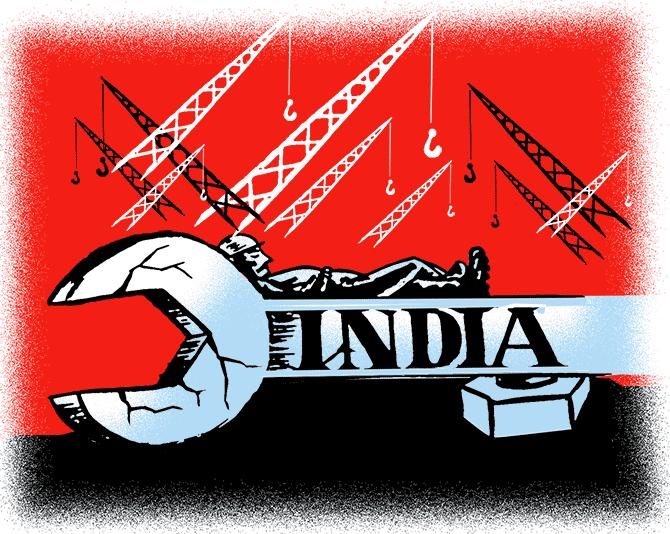 The trade numbers for 2016-17 will be released this week or so. They will show total merchandise exports at about $270 billion. This is against a backdrop of exports topping $305 billion in 2011-12, and staying above the 300-mark for the next three years before dropping off sharply in 2015-16.
The fall is explained in part by the drop in oil prices since 2014.
Consequently, the export of petroleum products has shrunk in value. Even allowing for this, though, the picture is one of stagnant exports over the last five years.
You could argue in defence of this performance that world exports show a similar trend.
Global merchandise exports in 2016 may not have been very different from the 2015 figure of $16.5 trillion — which was down by about 10 per cent from $18.2 trillion in 2011.
In percentage terms, this broadly matches the shrinkage in India's exports relative to 2011-12. As a consequence, the country's share of global exports has remained more or less unchanged since 2011, at about 1.7 per cent.
It bears pointing out, though, that prior to this period India had been steadily improving its share of world merchandise exports, from 0.8 per cent in 2004.
Perhaps more importantly, the two major reasons for the lack of momentum in world exports do not affect India.
One is the growing energy self-sufficiency of the US, which has sharply reduced its energy imports.
The other is the enormous success that China has had in import substitution — supplanting imports from East Asian countries with domestic inputs into the manufacturing supply chain.
By one count, domestic value addition has gone up from 35 per cent to 60 per cent.
Neither of these two factors has affected India's trade prospects, except perhaps through limited second-round effects.
If we are to look for the reasons behind the country's stagnant exports, we have to look elsewhere.
Some would argue that we don't need to look beyond China, which single-handedly accounts for about half the trade deficit.
India-China trade is one of the most unbalanced anywhere, with an export-import ratio of about 1:5.
But would imports come down if China were removed from the map, or would other countries replace China as a supplier — of everything from mobile phones to domestic electrical gadgets, and from solar panels to plain steel?
Given that India runs a trade deficit with about two-thirds of its most important trading partners, the problem is at home, not abroad.
A few commentators have argued in recent months that India's exports are concentrated in too few products and too few markets, making the country vulnerable to negative swings in world trade.
This argument is contra-indicated by the country's score on the Economic Complexity Index, which gives India a 2014 rank of 45 in a list of 124 countries; this is substantial improvement from the rank of 61 for 1995.
The index measures two broad metrics: The diversity of the export basket (greater diversity reflects more broad-based capacities in the system) and the knowledge content of the basket (exports with greater knowledge content are more sustainable and also have greater potential for growth).
India scores relatively well on both metrics; its 2014 rank is better than for all Brics countries except China (ranked 20th), and better also than for all its South Asian neighbours, including Sri Lanka.
The heart of the problem is not world trade stagnation, or Chinese mercantilism, or a narrow export base -- though all of them are contributory factors.
The nub of the issue is the all-too familiar failure to develop an efficient manufacturing base.
India has a surplus in services trade, it even has a surplus in the agricultural goods trade (being the sixth largest exporter), and it has a surplus in transfer payments (remittances come in from non-residents, and go out as dividend or royalty payments, among other things).
The only sector where it does not have a surplus is in manufacturing -- whose share of the total trade in goods and services combined has been declining steadily.
Since space has run out, exploration of this manufacturing failure -- and for pessimism about the prospect of change -- must wait for another column.