How do we make world class products when most of our engineers are unemployable, wonders M R Venkatesh.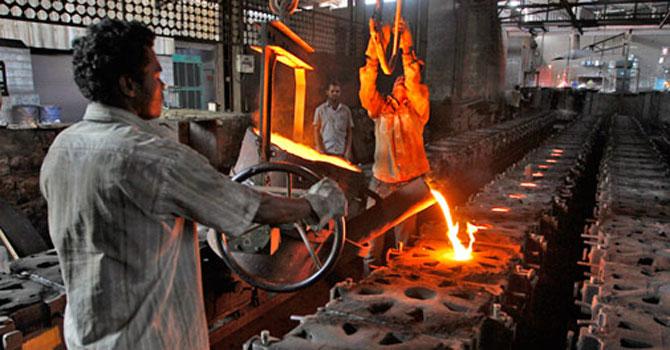 Image: India's manufacturing is defeated not abroad but even within the country. Photograph: Reuters
Economics is a simple subject complicated by economists. Economics, as a reader would know involves production of goods and services for consumption. Nevertheless production must exceed consumption to allow savings. Savings must in turn convert into investments. Again investments must ensure production.
This cycle needs to flow unhindered. And whenever the flow of goods and services (the aggregate of which is called GDP) gets derailed - and often it does 1 we need intervention from government. In turn, the government has to get its policy mix correct at the right time. Going by the historical evidence one must hasten to add that government often does too little, too late.
Theoretically, government intervention is often through a range of economic policies - monetary and fiscal. This manifests through investment, interest, taxation, export, import and a range of other policies which are spelt out during the annual Budget of the government.
Notwithstanding this Indian economy faces shortage of goods and services in some sectors while facing a glut in others. There is excess capacity in some sector and none in others. To add to the confusion we import some products at times which are already in excess supply and export those in short supply.
The Union Budget is thus expected to cognise all these and address the entire range of economic distortions! And given the horrendous track record of the UPA government let me hasten to add that the finance minister has a huge task of addressing the distortions that has crept in over the past decade.
Thus contrary to the popular belief, a Budget of the government is not merely a simple statement of its income and expenses. Rather it is much more. It is the pithy expression of its overall economic policies of course laced with usual dose of politics.
A blast from the past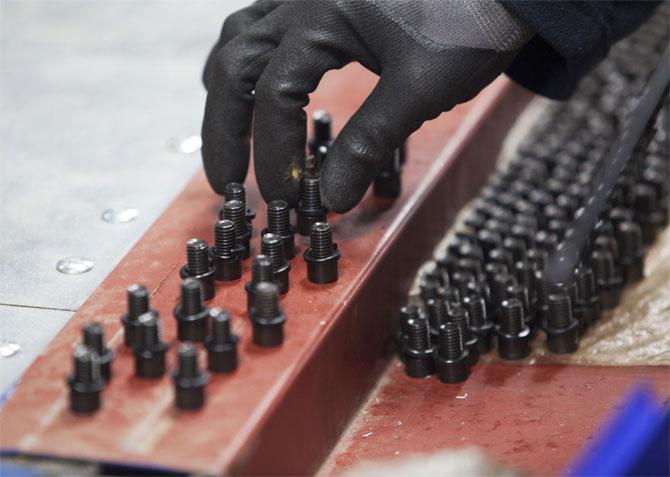 Image: The share of manufacturing has been stagnating at approximately 16 per cent of our GDP since 1980s. A worker lines up bolts during the assembly of a bike. Photograph: Randall Hill/Reuters
One of the major policy initiatives of the NDA government since assuming office has been "Make in India." At a philosophical level it is designed to facilitate investment, foster innovation and enhance skill development. While seeking to protect intellectual property it seeks to build best-in-class manufacturing infrastructure.
Naturally it is expected the Budget will lay emphasis on this policy.
It may be recalled that the share of manufacturing has been stagnating at approximately 16 percent of our GDP since 1980s. Everyone within the government is aware that inadequate infrastructure, complex regulatory environment and inadequate availability of skilled manpower have been its bugbear. Yet not much has been done.
It is in this connection the National Manufacturing Competitiveness Council (NMCC) had come up with a "strategy" in February 2006 seeking to increase the share of manufacturing to a minimum of 25-35 per cent of the GDP. That called for a growth rate of 14-16 per cent annually in the manufacturing sector alone.
"Though in the recent past, the growth of the manufacturing sector has generally outpaced the overall growth rate of the economy, at just over 16 per cent of GDP, the contribution of the manufacturing sector in India is much below its potential."
Now that was not the NMCC stating the obvious. Rather it was yet another report of the government of India - this time in November 2011.
"Inadequate growth in manufacturing has had its adverse impact on employment generation. The current mismatch between distribution of workforce and value added in agriculture is one of the main reasons for the large number of poor. This needs urgent correction."
No. This is not from the 2011 report of the government of India. Rather it was the Foreword penned by the then Prime Minister Dr Manmohan Singh to the NMCC strategy document in 2006.
"Over the next decade, India has to create gainful employment opportunities for a large section of its population, with varying degrees of skills and qualifications. This will entail creation of 220 million jobs by 2025 in order to reap the demographic dividend." Now this is not Dr Manmohan telling us in 2006. Rather this is from the 2011 Report of government of India.
In short, between 2006 and 2011 (in fact during the entire period of UPA) not much was done for manufacturing. Consequently, the share of manufacturing has stagnated at 16 per cent of the GDP for the past several years. The world meanwhile, notably China, has whizzed past us.
What needs to be done?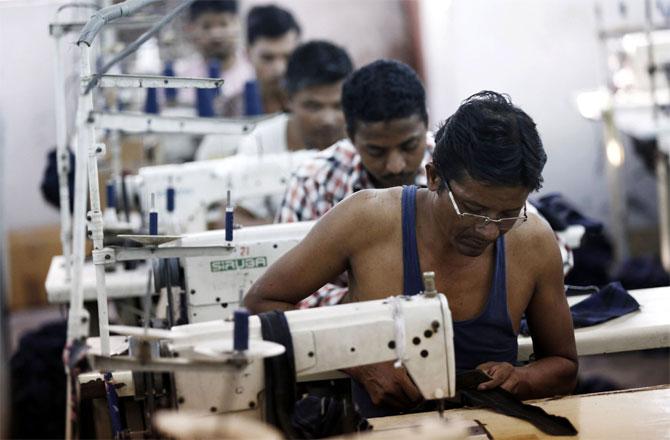 Image: Employees sew clothes at a garment factory in New Delhi. Photograph: Adnan Abidi/Reuters
There are several challenges before Indian manufacturing emerges on top of its global peer. And pundits both with the government and outside have proffered plethora of solutions. But there is a crucial catch - most of these pundits have managed a factory for a day, much less, set it up? Is that why manufacturing has been languishing at 16 percent of the GDP?
Whatever be it let us look into the net impact on Indian economy. The net import of capital goods into the Indian economy between 2007-08 and 2013-14 was approximately $568 billion. Likewise the aggregate trade deficit (exports less imports) was approximately $950 billion.
What adds fat to the fire is that the imports from China alone during the corresponding period aggregates to $290 billion. It may be noted that we do not have a Free Trade Agreement with China. Yet, Chinese imports account for a significant portion of our imports.
But why? The answer for the same is not far to seek. Success of a nation in (manufacturing) globally is a culmination of several factors. It depends on skilled labour, low cost capital, access to technology, infrastructure, weak currency and of course the availability of raw materials.
It is in this connection it is to be understood that several East-Asian countries between 70's and 90's have witnessed a surge in their growth by increasing share of manufacturing in national GDP by getting the above-mentioned matrix right.
Chinese growth was basically adopting the South-East Asian growth model adjusted for global scale. And the beginning was made by first significantly devaluing Yuan - their Currency - in early 90's but holding it steady for well over a decade to a dollar. And believe me during this period Chinese did not bother about global criticism of adopting mercantilist policies.
Now that China ends up with a trade surplus (exports minus imports) close to $300 billion (while our annual exports are approximately $300 billions) and has emerged as the world's largest exporter it has begun to allow appreciation of its currency. Put pithily Chinese did not bother about how the world perceives it till it emerged as a global winner. Significantly, it charted a unique path for its economic success and pursued it with missionary zeal.
The idea of Make in India has not come a day too soon. However, concerns arise on account of several factors - notably power. And wherever power is available it is uncertain and of questionable quality. Power is indicative of all our infrastructure woes - port, railways, road, airports, effluent treatment, pollution control et all are in shambles or simply non-existent.
Skill development is another area of concern. How do we make world class products when most of our engineers are unemployable? How do we produce world class engineers from universities that are not world class? And how do we produce world class universities unless we overhaul the entire educational system including primary education?
Importantly, even the best of companies in the organised sector end up paying 12 per cent interest on working capital when foreign companies pay far lesser rates. Naturally, all this add to their competitiveness.
Added to all this is our archaic labour laws, extortionist tax enactments and lethargic bureaucracy. Remember we are ranked 142nd in the ease of doing business. The net result is for all to see - India's manufacturing is defeated not abroad but even within the country.
The problem for the Finance Minister is that if he raises the import duties or restricts imports of such products prices shoot up. On the contrary if imports are allowed unrestricted, manufacturers in other countries on account of an overwhelming competitive advantage will never allow Made in India initiative to succeed.
Put pithily, the FM has a Hobson's choice. To allow this initiative to succeed he has to bite the bullet and the nation has to pay a price for this initiative. Implicit in the argument is that the FM needs to prepare the nation for the long haul.
For starters, he must spell out areas where India enjoys competitive advantage and can succeed. Similarly, he must lay out a road map with appropriate check points.
It is easy for the FM to say (as did the UPA) that the share of manufacturing in national GDP in 2025 would be in excess of 25 per cent. But as UPA realised it is easier said than done for what is required is a comprehensive plan with great attention to details and implementation. Crucially, he must revisit his targets once in three months and present a progress report to the nation.
The Billion Dollar question - Will Budget 2015 provide us the comprehensive plan to ensure Make in India initiative is a success?