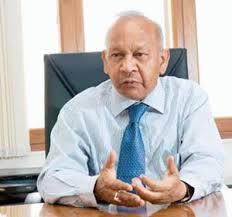 It's time the finance ministry and its civil servants put in place a system whereby non-IAS experts feel welcome to operate in govt-run bodies, says A K Bhattacharya.
The sudden exit of Yogesh Agarwal as the chairman of the Pension Fund Regulatory and Development Authority, or PFRDA, has once again brought the relationship between financial sector regulators and the finance ministry into sharp focus.

The facts of the case are also a clear pointer to the need for a better system for appointing regulators as well as removing them if indeed such a step becomes necessary.
Agarwal does not belong to the Indian Administrative Services (IAS), a powerful cadre of officers who have a virtual monopoly over regulatory jobs across sectors.
He is a banker. As the managing director of State Bank of Patiala, Agarwal was among the first to introduce core banking solutions that gave customers the freedom of transaction from any of the bank's branches.
However, Agarwal faced his first setback when he was pipped to the post in the race to become the chairman of State Bank of India. His colleague, Om Prakash Bhatt, got the coveted job. A disappointed Agarwal soon decided to leave State Bank of India and joined IDBI Bank as its head. But here, too, he ran into trouble with bureaucrats in the finance ministry.
The bone of contention was Agarwal's decision to grant a pay hike for the staff that included a variable component linked to their performance. That move was unprecedented since no public sector bank had till then mooted such an idea.
It is important to remember that Agarwal was not an IAS officer. Nor was he a civil servant. Indeed, Agarwal as a banker was not considered very popular among civil servants in the finance ministry.
Yet he was chosen to be the pension fund regulator, a job that was earlier held by a civil servant. The first head of the PFRDA was Dhirendra Swarup, who spent several years in the finance ministry and retired as expenditure secretary. True, Swarup did not belong to the IAS, but his long stint in the finance ministry certainly facilitated his selection.
So how did Agarwal get selected, although he was not a civil servant and did not enjoy a friendly relationship with finance ministry mandarins? One of the factors could be the change in the political dispensation in North Block, headquarters of the finance ministry.
Pranab Mukherjee took charge of the finance ministry in January 2009 and continued to head it till June 2012. Agarwal was appointed as chairman of the PFRDA in June 2010 with five-year tenure.

Remember that Agarwal was one of Mukherjee's first choices in a key regulatory position and the move was hailed as one where the IAS control over such jobs appeared to be weakening. Not surprisingly, the tension between the finance ministry and Agarwal did not become public as long as Mukherjee was at the helm in North Block.
Things changed in North Block after P Chidambaram took charge of the finance ministry on July 31, 2012. Among many other initiatives, work on giving statutory powers to the PFRDA picked up speed. This also meant more work for the regulatory body, which under Agarwal till then had moved at a relatively slow pace in the absence of statutory powers and without any scope for foreign investment. Finally, in September this year, Parliament approved the PFRDA Bill and the president gave his assent later that month to convert it into a piece of legislation.
It may be coincidental, but the fact is that Agarwal's problems with the finance ministry got more complicated in the last 15 months. There was also pressure on Agarwal because of the financial terms on which pension intermediaries were allowed to operate, which in the finance ministry's view were not investor-friendly.
Seen from Agarwal's point of view, the financial terms devised by the PFRDA were aimed at creating an incentive structure to attract more players in the field and let competition drive costs down for investors and thereby make the schemes for them more attractive. It seemed to be a difference in perspectives and style of functioning that set Agarwal against mandarins in North Block.
Such differences are not unusual. But what certainly appeared unusual was the manner in which a regulator's tenure came to a premature end. Could a civil servant or an IAS officer heading a regulatory body meet a similar fate?
That would be most unlikely. It is time the finance ministry and its civil servants did some soul-searching and put in place a system by which non-IAS experts with domain expertise feel comfortable and welcome to operate in regulatory bodies and government-run organisations. It is ironic that the Supreme Court has talked about fixed tenure for civil servants and the government cannot even assure the completion of a five-year term for one of its regulators.
This is not to say that the government or the finance ministry should not have the right to cut short the tenure of a regulator if the need arises. But in such extreme steps, it becomes necessary for the government to make necessary disclosure on how and why the regulator was found unfit to complete his term.
Such disclosure should also be accompanied with some advance planning. In the case of the PFRDA, it became headless last Wednesday as the finance ministry announced that Agarwal had quit his job without giving any reasons. A joint secretary in the finance ministry was asked to take additional charge of the regulatory body till a replacement was found.

Was the decision to let Agarwal go so sudden that no alternative chairperson could be found in anticipation of his departure? A void at the top of a regulatory body is as harmful as an investor-unfriendly pension fund regime.