We have a government with an extremely weak economic team advising a PM who hardly pays attention to their thoughts, says Jayanta Roy.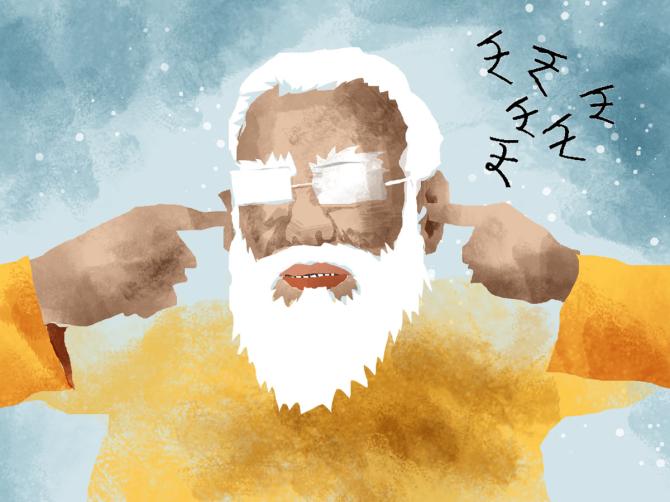 I had the privilege of working under six prime ministers during my seven years as economic adviser to the Government of India.
I started off in the then Planning Commission under Morarji Desai (1977-1979). We had a fantastic team of economists in Vijay Kelkar, Nitin Desai, T L Sankar, Lovraj Kumar, Yoginder Alagh, Montek Singh Ahluwalia, who had just joined then, D C Rao, Shankar Acharya and many others.
Our guiding guru was the late Sukhamoy Chakravarty. We all worked as a team and took the right economic steps with full support of the prime minister.
I then went back to the World Bank, and returned in 1988 and stayed on till 1993 as economic adviser, commerce.
My initial period was with Rajiv Gandhi, who is not given sufficient credit even by his family for laying the foundation for the 1991 economic reforms.
He promoted exports, introduced telecom and electronic reforms. We had a crackerjack economic team -- Montek Singh, Shankar Acharya, Rakesh Mohan, yours truly, D R Mehta, Arvind Virmani, Nitin Desai, Vijay Kelkar, Y V Reddy, Bimal Jalan, and top bureaucrats like Amar Nath Verma, Gopi Arora, and S Venkitaramanan.
This team continued after the PM's death and ushered in the 1991 reforms, which turned the Indian economy from inward-oriented to fully integrated in the world economy.
How the reforms were designed and implemented are very well described in Mr Ahluwalia's latest book.
One thing that needs to be emphasised is that throughout this period the PMs listened to our advice.
I am including Morarji Desai, Rajiv Gandhi, V P Singh, Chandra Shekhar Singh, Narasimha Rao, and Manmohan Singh.
I did not have the good fortune to work under Atal Bihari Vajpayee, whom I regard as one of our best PMs.
The United Progressive Alliance-II made a big mistake, however, by inviting economists with no exposure in the GoI to serve as chief economic adviser.
Although their reputation is outstanding, most of them did not make valuable contributions during the short period they were there.
The CEA, as in the past, must be totally familiar with the complex Indian bureaucracy. PM Narendra Modi repeated the same mistake by hiring outsiders as CEA.
Compare that with the situation today. We have a government with an extremely weak economic team advising a PM who hardly pays attention to their thoughts.
The PM probably has more faith in some bureaucrats whom he consults, often bypassing their ministers.
Can we expect this government to undertake reforms? The answer certainly is no.
This is clearly manifested in the trade initiatives of the government under a weak Ministry of commerce and industry starting from taking a highly protective stance killing international competitiveness, to dropping out of the Regional Comprehensive Economic Partnership and degrading itself by not taking the right leadership position at the World Trade Organisation and instead still clamoring for special and differential treatment while simultaneously boasting of being a top-rung economic power.
We also are not carrying through the good reforms we initiated under PM Modi in logistics and trade facilitation.
We have no economic modelling capability in the government. We suffer from a weak statistical system.
The same problems are seen elsewhere -- from banking reforms and fiscal decentralisation to demonetisation and to the recent farmer's agitation. The PM's actions lack economic focus.
What we need now is to strengthen the economic team, rely on the outstanding think tanks and be guided by economic analysis, and not politics.
The PM should start listening to economists. We need to have, as in the past, top economists in the key economic ministries as economic advisers.
These posts should not be reserved for the Indian Economic Service officers alone, but outside economists should be allowed to compete for these jobs.
We need to revamp the NITI Aayog. It should serve two major roles.
First, it should be the Secretariat of Economic Reforms where economic policies would be analysed and presented to the PM. This is the role played now by the prime minister's office.
Secondly, it should focus on achieving efficient fiscal decentralisation with better center-state fiscal relations. For these, the NITI Aayog must expand the number of members.
We need a strong economic team within the government to help the PM undertake the much-needed post-Covid economic reforms. The time to build that team is now.
Jayanta Roy is a former economic advisor to the Union commerce ministry.
Feature Presentation: Rajesh Alva/Rediff.com