How much would collectors be willing to pay for owning a part of Indian history, asks Kishore Singh.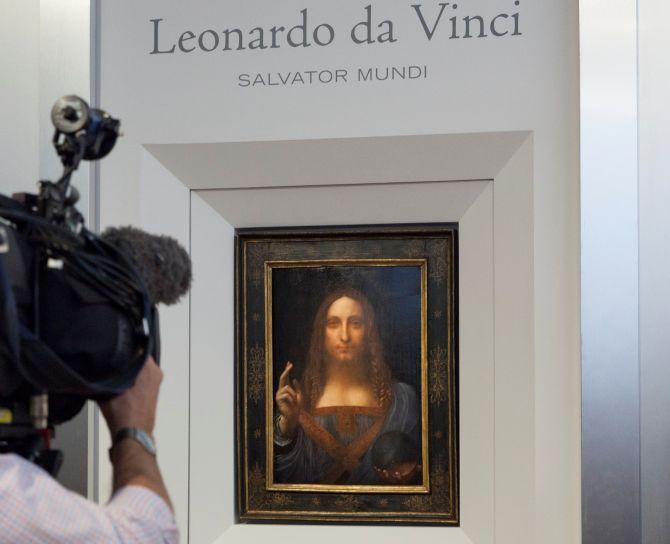 I met Salvator Mundi a fortnight ago within a tightly regulated security cordon, and though I was permitted to take pictures, and even a selfie, I flubbed it because the security guards admonished me for using a flash.
The gentleman was so old, the light could likely cause him damage.
Certainly, his eyes looked a little dazed -- perhaps at the late recognition he was receiving, having lived in relative anonymity -- as a result of which his worth had rapidly gone up from $10,000 in 2005 to, on Thursday, November 16, a handsome $450 million (about Rs 3,000 crore/Rs 30 billion, give or take a few lakh).
On the occasion, and in conversations subsequently, everyone seemed to have a view on poor Mr Mundi and what to make of his relatively recent appearance.
Unless you have been living under a rock, everyone by now knows that the slightly over two feet long painting of Jesus Christ by Leonardo da Vinci auctioned by Christie's in New York has become the most expensive painting in the world.
It has also became infamous for the chin-wagging around its authenticity, or lack of it, its scrubbed-up appearance post restoration that stripped layers that had been painted over it, and the unlikelihood that da Vinci might have painted it, or at least all of it, given a missing cross over the globe (blasphemy, if the painting was commissioned by the Church), and for the globe not allowing for the distortion of light and form that the painter, widely recognised for his scientific temper, could not have missed.
Those doubts were widely reported, and made an instant expert of everybody who cared to share his opinion on the subject, overturning the views of those experts who must have provided proof of its authenticity to convince the, as yet, anonymous buyer of its genuine credentials.
Or maybe the attribution to da Vinci and its 500-year-old history was enough reason to pay for a work that is now ascribed as the only painting by the master in private hands.
Whatever the case, it shifts, once again, the spotlight to art as an asset class. The da Vinci -- loosely, or laughingly at least, referred to as 'Mr Mona Lisa' for the attention it has drawn -- has had a trail of making money for its owners that probably far surpassed their expectations.
Spotted, and sold, in 2005 for $10,000, it was resold to the Swiss art dealer, Yves Bouvier, for $80 million, and then, again, to the Russian collector Dmitry E Rybolovlev for $127.5 million.
Whether it will be re-sold once again remains, for now, a matter of speculation, but at that price, it seems more likely to form part of a permanent collection.
But that doesn't mean it will not be coveted at a higher value, if not for its quality -- which seems to have the art community's knickers in a twist -- than for its very engaging history.
Parallels might be odious, but it would be fair to ask how much collectors would be willing to pay for owning a part of Indian history, and what such works might be.
The problem is, most of our magnificent miniatures have always been privately owned and simply do not have the aura that works by artists in the West command for being better documented and written about.
Still, enough works are well identified, whether paintings or, of course, sculpture, to render them virtually priceless.
But whatever the anomalies, there's no escaping the fact that well-chosen works of art create value the way no other asset class has so far managed. It's time our fund managers realised this.
Kishore Singh is a Delhi-based writer and art critic. These views are personal and do not reflect those of the organisation with which he is associated.
IMAGE: Salvator Mundi, now the most expensive painting in the world. Photograph: Christie's New York/via Reuters