The more one thinks about it, the more difficult it is to see how India will be able to reap the benefits of a demographic dividend, says Aakar Patel.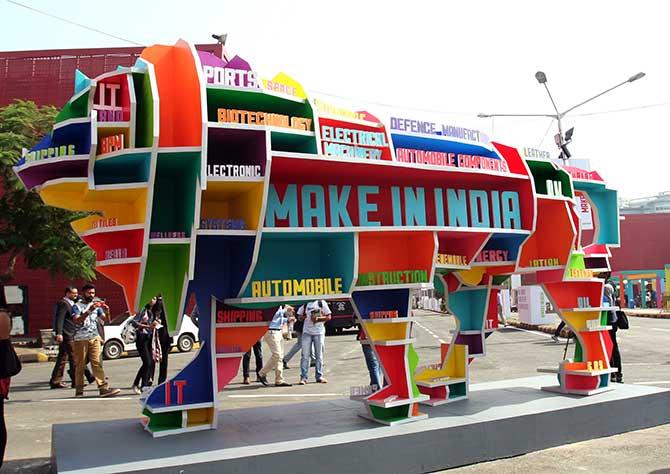 In four years, India will have the world's largest population of working people, about 87 crore in all. When nations reach a high ratio of such people they are expected to earn something called a demographic divided.
This simply means that because most citizens are working, economic growth goes up. The expectation and anticipation is that India is approaching such a position soon.
However, there is a second view on this. A few months ago a report by Indiaspend, which does data-based journalism, looked at the issue of employment and made six observations. These were as follows:
1. In 2015, India added the fewest organised-sector jobs -- in large companies and factories - in seven years across eight important industries.
2. The proportion of jobs in the unorganised sector -- without formal monthly payment or social security benefits -- is set to rise to 93 per cent in 2017.
3. Rural wages are at a decadal low, as agriculture -- which accounts for 47 per cent of jobs -- contracted 0.2 per cent in 2014-15, growing 1 per cent in 2015-16.
4. As many as 60 per cent of those with jobs do not find employment for the entire year, indicating widespread 'under-employment' and temporary jobs.
5. The formation of companies has slowed to 2009 levels, and existing companies are growing at 2 per cent, the lowest in five years.
6. With large corporations and public-sector banks financially stressed, the average size of companies in India is reducing, at a time when well-organised large companies are central to creating jobs.
This indicates that a very large labour force is moving into an environment which does not have the ability to absorb them.
The report pointed out that though India had seen high growth after 1991, less than half the population was fully employed. In comparison, a United Nations Development Programme report said that in China "the number of jobs grew from 628 million to 772 million between 1991 and 2013, an increase of 144 million, but the working-age population increased by 241 million."
It added: "A wider gap in India than China suggests a more limited capacity to generate employment -- a serious challenge given the continued expansion of the workforce in India over the next 35 years."
Unless there is a change in the economy, and I mean a major change, not just a continuation of what has been happening over the last 25 years, these jobs will not materialise. The traditional way in which countries have become developed is through low-end manufacturing, like garments exports, and then migrating to higher-end work like automobiles and electronics.
India has all these sectors but without any great scale. On garments, for instance, we compete and often lose to countries like Bangladesh, Vietnam and Sri Lanka which are more efficient and cheaper. The slowing down of the global economy in the last seven years has meant there is no external demand of large size that we can capitalise on.
If the traditional route is not clearly open to India, how will we manage to profit from our demographic dividend? This is a question that must be answered quickly because, we have seen, there is not much time.
I think it is totally wrong to expect that the government alone or even for the most part can provide a solution here. One reason we have not received large investments in manufacturing is a lack of infrastructure and connectivity.
Here we can clearly see the role of the central government in terms of its investments and prioritisation.
But another equally big reason is a lack of qualified manpower. This will surprise upper class urban Indians who can get jobs relatively easily because of their access to reasonably good education. But the vast majority of Indians has no access to this education resource and is therefore not equipped to work in the modern economy.
This is true even at the basic level of skilled blue collar functions like assembly-line work. Meanwhile countries like the Philippines are eating into our backend services jobs in an environment where automation is reducing the total number of new jobs every year.
The prime minister recognises the problem and has launched an initiative called Skill India to equip millions of people with basic blue collar skills. Even here the results will take time because the quality of primary schooling in India is very poor. The more one thinks about it, the more difficult it is to see how India will be able to reap the benefits of a demographic dividend.
A period of mass unemployment and social unrest is looming unless there is a shift, both internal and external, that at the moment is nowhere to be seen.
Image: A display at Make in India week celebration in Mumbai, February 2016. Sanjay Sawant/Rediff.com
Aakar Patel is Executive Director, Amnesty International India. The views expressed here are his own.
You can read Aakar's earlier columns here.