Falling private sector investment and farm distress are problems that call for immediate attention, says T N C Rajagopalan.
Illustration: Uttam Ghosh/Rediff.com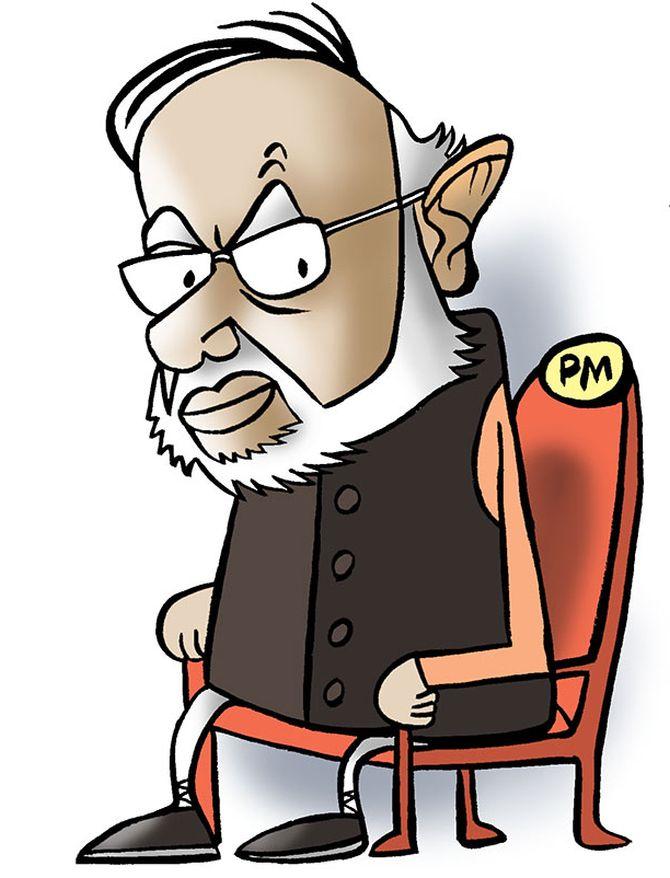 Prime Minister Narendra Modi has started his second term with a team of 57 ministers.
Amit Shah, president of the ruling Bharatiya Janata Party, is now home minister and expected to play a critical role on many issues.
Arun Jaitley, finance minister for the past five years, has opted to stay out on health grounds.
Suresh Prabhu, commerce and industry minister for the past two years, finds no place in the new cabinet.
The challenges for those now in charge at the two latter ministries are formidable.
Nirmala Sitharaman, the new finance minister, has to quickly find ways to revive the economy.
Falling private sector investment and farm distress are problems that call for immediate attention.
Jaitley played a very important role in forging consensus at every meeting of the Goods and Services Tax (GST) Council.
He ensured all state finance ministers were on board for every issue.
He also ensured low inflation and fiscal rectitude during his tenure.
And, tried to tackle the problems of bad loans of banks through the new law on insolvency and bankruptcy.
His successor is expected to ensure continuity in these policies.
During Jaitley's tenure, however, many exporters suffered for faulty implementation of the GST laws.
In her role as commerce minister, Sitaraman was party to some of the poor decisions taken at the time of GST introduction.
So, she should be aware of the consequences of her acquiescence in these bad decisions.
Anyway, she commands the confidence of the prime minister.
Hopefully, with native intelligence and willingness to work hard and learn fast, she will succeed in the new role.
Experience as commerce and industry minister should help her better understand the issues in the external sector and fine-tune the policies.
Railways Minister Piyush Goyal now gets additional charge of the ministry of commerce.
Hopefully, he will be able to give enough time to his new responsibilities.
Export growth has been near stagnant for five years. He ought to be more pro-active in promoting it than his two predecessors in the commerce ministry.
First, he must understand the state of our global competitiveness in various sectors and strategise the negotiating stance at trade negotiations.
He must build a team of good negotiators, who both understand 'give and take' and have the ability to explain the trade-offs to domestic constituencies.
He must meet exporters, listen to what they say, understand their problems and try to help.
More important, he must be able to stand up to the revenue-oriented finance ministry officials, when necessary.
Meantime, the Directorate General of Foreign Trade (DGFT) has issued a draft export policy for all items, giving ITC (HS) Codes and restrictions and conditions imposed by partner government agencies for each item.
The idea is to consolidate all the norms and not to change the existing policy.
It would be a ready-reckoner to help exporters quickly understand the conditions or restrictions applicable for any item.
The DGFT is also preparing a new Scheme for Rebate of State and Central Taxes and Levies on export.