Prospects are grim for many, as humans and organisations aren't keeping up with the pace of technology. Shyamal Majumdar ponders the future of employment.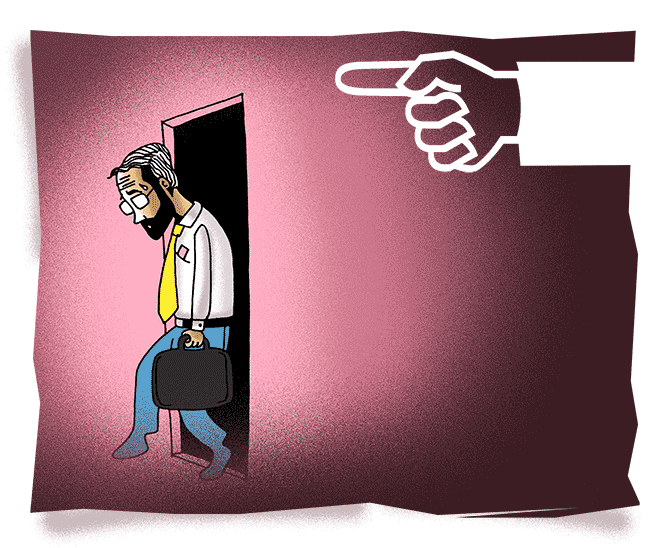 Illustration: Dominic Xavier/Rediff.com
It's difficult to understand the recent hype over automation taking away jobs.
Everyone knew all along that this was coming, but when it did come, most seemed to have been taken by surprise. The number of such lay-offs in the information technology sector this year isn't much, but the future can be disturbing if companies and the government don't take retraining and skilling efforts seriously.
In the absence of that, employment prospects are grim for many, as humans and organisations aren't keeping up with the pace of technology. For example, the computer processor doubles in power every 18 months, 10 times greater every five years. So technological unemployment is a term one has to be ready for.
There isn't any doubt that technological progress has deep consequences for skills, wages and jobs.
Faster, cheaper computers and increasingly clever software are giving machines capabilities that were once thought to be distinctively human-like -- understanding speech, translating from one language to another and recognising patterns. No wonder, yesterday's ubiquitous call centre operators are gradually being replaced by question-answering, automated systems.
Artificial intelligence (AI) or automation is rapidly moving beyond factories to areas that provide most jobs in the economy.
Our everyday experience shows how technological change over the last two decades has wiped out many low- and middle-skill jobs. Has any company (except for the Air India variety) retained its big army of secretaries, typists, telephone and computer operators and payroll clerks?
Infosys Managing Director Vishal Sikka has been warning about this automation-induced obsolescence for some time now.
That explains the company's Zero Distance programme, a grassroots effort to encourage, tee-up and vet the best innovative ideas emerging at the points where its people interacted with their clients. It identified around 300 champions across the company, who would serve as initial evangelists.
In his first New Year message to Infosys employees, Sikka had a serious warning for the staff: The biggest disruption that's taking place is the "tidal wave" of automation and artificial intelligence (AI) that can easily replace tech jobs. So in order to stay ahead, they must shed their "lackadaisical" attitude and bring "greater value" to customers, instead of just mechanically executing the jobs.
"We will not survive if we remain in the constricted space of doing as we are told, depending solely on cost arbitrage, and working as reactive problem solvers," he said.
The buzzwords now are big data and data analytics, forcing the traditional IT recruits and managers to diversify their skill sets or be in the firing range.
It is now starkly clear that given this digital transformation of our world, the traditional services industry of the past is in real danger. In their report The Future of Employment, Carl Benedikt Frey and Michael A Osborne from Oxford Martin School and faculty of philosophy in the United Kingdom have predicted AI techniques of today can automate half of the jobs that exist in the US now within a couple of decades.
"According to our estimate, 47 per cent of total US employment is in the high-risk category, meaning that associated occupations are potentially automatable over some unspecified number of years, perhaps a decade or two."
As industrial robots are becoming more advanced, with enhanced senses and dexterity, they will be able to perform a wider scope of non-routine manual tasks. From a technological capabilities point of view, the vast remainder of employment in production occupations is thus likely to diminish over the next decade.
But the point is that AI/automation can't be stopped because it provides companies with attractive returns and because non-humans can do things humans cannot, and often do them more efficiently. For example, Boston Consulting Group estimated that in the US, a human welder is about three times more expensive per hour of employment than a robotic welder. So, companies will recruit, but only those who have the required skill for a higher-end job.
The issue is particularly serious for countries like India where more than 10 million people enter the job market every year. When people cannot support themselves with work at all -- let alone with work they find meaningful -- there can be serious social problems.
There is no option but to go in for a dramatic shift in skilling and retooling the job aspirants.