'Well done Mr Jaitley, now go and implement your schemes. No leakages, no lapses and no laziness,' columnist Sudhir Bisht's mother's wise words for the finance minister.
Illustrations: Uttam Ghosh/Rediff.com.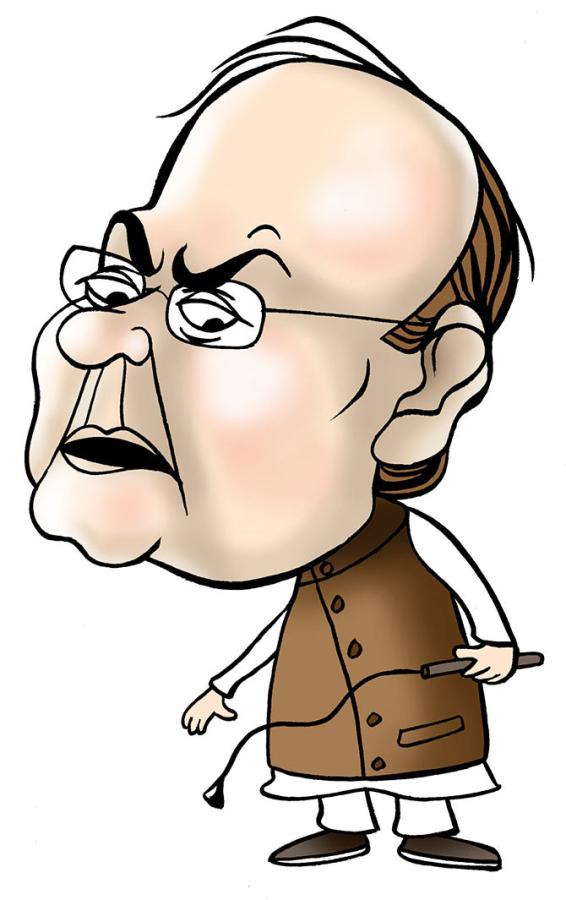 Every year, after the finance minister announces his Budget for the next financial year, my mother, a 78-year old homemaker who lives with my 82-year old father, a retired bureaucrat, asks me a few questions.
I try to answer them in the form of giving facts, without offering my opinion unless she specifically asks for it.
She then smiles -- sometimes approvingly, sometimes in dismay and often cryptically. And then I ask her to declare the result of my viva voce, which is of course the verdict for the finance minister.
My mother never fails anyone but she is a bit of a miser when it comes to awarding marks.
When Arun Jaitley, arguably the most learned among the top 10 politicians in India, finished presenting his Budget on February 1, I started preparing the answers for my mother's usual questions.
Her first question was a bit different this time.
How is Arun Jaitley's health? He seems to have thinned down considerably.
"Mummy, the FM has slimmed down, yes. And I think that has to do with his good health. No problem on that count. He seems fit, alive and kicking."
Has he been prudent with the finances? Was he miserly, thrifty or extravagant?
"Mummy, Jaitley has done a fine balancing act. He will borrow but not indiscriminately. The fiscal deficit, the gap between expenditure and revenue, will always remain but he has kept the fiscal deficit target down to 3.2 per cent of GDP, although he himself would have liked to peg it down to 3 per cent."
Why can't he keep the fiscal deficit target at 3 per cent? He should aim high at least.
"Because, mummy, Jaitley always errs on the side of caution. Since 2014 he had been aiming at 3 per cent but his optimism has now become subdued after some reality checks. But still, a target of 3.2 per cent can be seen in the light of the actual fiscal deficit that was 3.9 per cent in 2015-16; 4 per cent in 2014-15; 4.5 per cent in 2013-14 and 4.89 per cent in 2012-13."
But what about the actual fiscal deficit for 2016-17?
"Mummy, the actual fiscal deficit for 2016-17 has not been announced yet as the year will end on March 31, 2017."
Oh yes, you are right, son.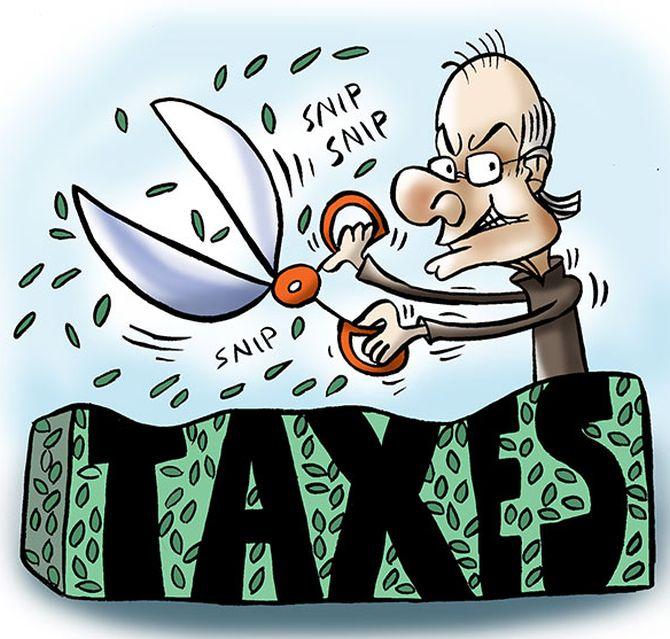 My father always sits there when I am explaining all the Budget stuff to my mother. He never speaks a word before, after or in between our conversation. But he enjoys it nevertheless.
"Beta, what has he done for the poorest of the poor? In one sentence, please! Don't load me with your numbers," asks mummy dearest, a Bachelor of Arts from Delhi University.
"Mummy, in one sentence he has allocated Rs 48,000 crore (Rs 480 billion) for MNREGA (Mahatma Gandhi National Rural Employment Guarantee Act). This is the highest ever allocation. Last year he had allocated Rs 38,500 crore (Rs 385 billion)."
What? But the prime minister and finance minister were against MNREGA when they were in the Opposition!" says my surprised mother.
"Yes, mummy. I had thought that the National Democratic Alliance would slowly eliminate MNREGA budget and replace it with some other scheme that aims at asset creation.
"But keeping MNREGA alive and thriving could be a political compulsion. Maybe the present dispensation has a way of ensuring that the money spent under MNREGA is utilised for nation-building and not for digging the trenches and filing them up.
"I say this because the government has been saying that it has transformed the way MNREGA is implemented. How it has done so, at least I don't know except the recent statements by Jaitley that the scheme doesn't suffer from non-allocation of sufficient funds (allocated in the Budget)."
So what has the NDA done to MNREGA that a man like Jaitley has become its supporter?
"Mummy, frankly he didn't say anything with much clarity on this."
"He should have explained in detail. But I am happy they haven't stopped MNREGA just because they once felt it wasn't useful."
Beta, what has he done for the salaried class? Will your father pay less income-tax or more?
"Mummy, papa will pay less tax but many who earn something like half a crore a year will pay more tax. And the FM says that many who didn't pay income-tax would start paying it now."
Great news! And those who earn so much more must pay more. And I would be so happy if all my neighbours who own more than one car start paying some income-tax at least. Why should the salaried class be burdened with this?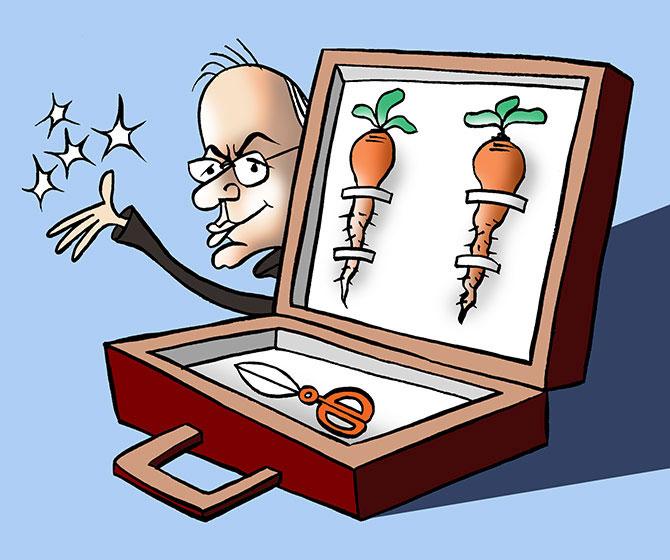 Tell me beta if he has done something for the business houses. After all, none of my children or grandchildren work for the government.
"Mummy, just as individuals pay taxes, companies also pay income-tax. The I-T rate for companies has now been reduced to 25 per cent from 30 per cent."
Five per cent discount? Suit-boot ki sarkaar?
"Mummy, the FM was perhaps expecting you to say this. He has cut the income-tax rate only for small companies. For big businesses there is no change."
Oh! He has done the right thing then. Otherwise he would have been pilloried by the Communists.
Tell me son what has he done for our soldiers?"
"Mother, Jaitley has introduced something called 'centralised travel system' which will make their travel easier. The soldiers don't have to stand in queues with their warrants anymore.
"They can book tickets online using their travel warrants. He has also created an online interactive pension distribution system for raising any pension related matters."
What has Arun Jaitley done to waive off the loans of the farmers? With all the money in his banks now, I am sure he can waive off loans.
"Mummy, this is what he hasn't done."
Why? Maybe because that would have given him a bad name. People would have linked it to the UP and Punjab elections. Jaitley is a little scared of taking risks, isn't he?
"Mummy, I don't know if he is scared of being accused of indulging in populist politics ahead of elections. I also don't know if all the money that sat in the banks is still there or not. Maybe people have withdrawn it by now. I really don't know."
Beta, I understand that Arun Jaitley also presented the Railway Budget. Has he announced any new trains for Amritsar, his constituency that never was his anyway?
"Mummy, Arun Jaitley didn't talk of any new train. He said the department will work independently."
Super, super, beta. No tamasha of new trains. Every year it's just for political mileage. Anything else that you would like to tell me? But just one thing…
"Yes, mummy, he says political parties can't take cash, if the donation is more than Rs 2,000."
Super, super. I tell you he will one day remove that limit of Rs 2,000 also.
As I finished my viva voce on behalf of Arun Jaitley, I asked my mother to announce her result.
First class with distinction. Now he should go and implement it with an iron hand. No leakages. No lapses. And no laziness.
My mother is a bit tight-fisted with marks. The only other time she awarded a distinction was when a certain turbaned retired professor with thickset glasses used to be the finance minister.
Well done, Mr Jaitley! and as my mother says, "Go and implement your schemes. No leakages, no lapses and no laziness."
Sudhir Bisht, author and columnist, writes from New Delhi. He tweets at @sudhir_bisht